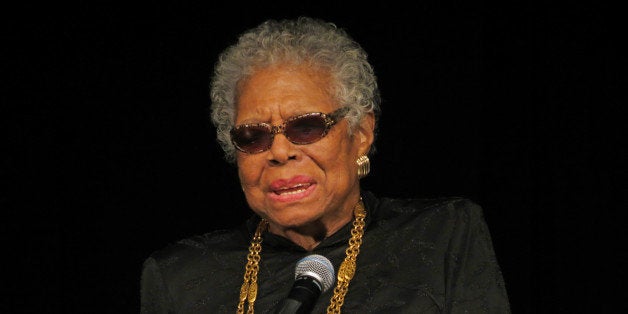 The recent passing of the iconic author and poet, Maya Angelou, closed the chapter on one of the most enduring and prolific personal brands America has ever seen. While most of us know her as that unique creative spirit who lent her distinctive voice to occasions both great (presidential inaugurations) and small (community book readings), an examination of her extraordinary life reveals a broad range of pursuits and professions -- a true artist, educator and activist. She was living proof that, counter to F. Scott Fitzgerald's observation in This Side of Paradise, there are indeed second acts in American lives, if not third and fourth, and her brand will endure in a wide variety of landscapes long after the final words of the final memorial celebration are spoken.
Dr. Maya Angelou on love and laughter (from a 2010 interview):
Her life résumé is a collage of achievement, commitment and spirit. Despite experiencing the sting and brutality of racial and gender discrimination during the first half of the 20th century, her faith, intellect and talent allowed her to pursue the lives of an actress, singer, dancer, poet, memoirist, novelist, educator, dramatist, producer, historian, filmmaker and civil rights activist. She danced with Martha Graham and Alvin Ailey; she toured with Porgy & Bess in Europe and performed off-Broadway in NYC; she was an editor and journalist in Cairo, music and drama professor in Africa, worked for racial equality with Malcolm X and Dr. Martin Luther King, Jr., wrote a Pulitzer Prize-nominated screenplay, directed and performed in feature films and television, and of course, she wrote some of the most memorable prose and poetry America has ever seen. One of her favorite pastimes was conducting a salon in her NYC brownstone, entertaining all the greats from theater, music, dance, politics and arts & letters. They came from far and wide to dine on her delicious cooking and listen to her wisdom.
10 Questions with Maya Angelou (interview from 2013):
Maya Angelou was no dilettante -- everything she pursued, all the lives she lived, were executed with depth and brilliance. Like a comet streaking across the galaxy, Maya Angelou's brand stood for words and actions that stir souls, energize bodies, liberate minds and heal hearts. Her most enduring quote says it best: "I've learned that people will forget what you said, people will forget what you did, but people will never forget how you made them feel." Regardless of the discipline, Maya's brand elevated our feelings and enhanced our lives.
Maya Angelou delivering the poem, On The Pulse Of Morning for President Bill Clinton's 1993 inauguration:
Calling all HuffPost superfans!
Sign up for membership to become a founding member and help shape HuffPost's next chapter