You would be wrong if you thought Maya Rudolph's band, Princess -- a girls' Prince cover band -- is a comedy act parodying the artist formerly known as Prince. Sure, that sounds fun; the strut, the smut and the swagger of The Purple One is ripe for lampoonery.
But Princess, who performed to a sold-out crowd Sunday night in San Francisco as part of the SF Sketchfest comedy festival is a tribute band, not a spoof. Unlike so much smart comedy, there's not a snide vibe in the room.
Rudolph and her college friend Gretchen formed Princess to express their mutual love of the funk star who rocked their girl world. It's a sassy fan club cabaret performed by women acting like girls who are acting like women.

Rudolph was 12-years-old when Purple Rain came out and even younger when her big sister turned her on to the racier 1980 album Dirty Mind. She and Lieberum come to their performance with their 12-year-old selves, their approaching middle-age selves and also their actually talented selves.
Rudolph has a unique knack for conveying just the slightest hint of deadpan tongue in cheek. She did this in Bridesmaids, when she got goofily down to Wilson Phillips' 1990s song "Hold On."
For a moment, Rudolph looks like she is making fun of her material and then you realize she is having way too much fun for this to be simple mockery. Her enthusiasm is so surprisingly fun because it isn't at all ironic. Rudolph expresses a hyper-sincerity that makes her performance delightful -- and more interesting than a SNL sketch.
She performs with the reverence of a tween fan. She sings and vogues with a teen's dramatic intensity paired with the wonderful incongruity of a middle-age mother of four singing lewd, male POV lyrics.
For instance, it rocks, it's hot and it's also a little goofy when Princess sings "Head":
U know you're good, girl/I think you like to go down/
U wouldn't have stopped/But I came on your wedding gown.
These lyrics, in this context, bring an element of "Take Back the Night... club" subversiveness to the stage show.
It reminds me of something 90s' performance artist Karen Finley said (she was the one who got famous for smearing chocolate all over her naked body and possibly shoving a yam or two up her butt.) Finley had started out as a stripper but she got fired, she told me, for making the customers laugh. She would put Jell-O in her bra and jiggle around. Giggling can kill the mood.
The Princess sense of humor is a refreshing counter-balance to the twerkers of the world. And it's a bit of light-hearted feminism because it's a cockeyed take on what's expected and what's not in female spectacle. Rudoph and Lieberum sing, "I'll jack you off, I'll jack you off." Next, Rudolph will comment on how the stage's smoke machine is so good for her pores. And, she tells us, "it eliminates toxins as well!"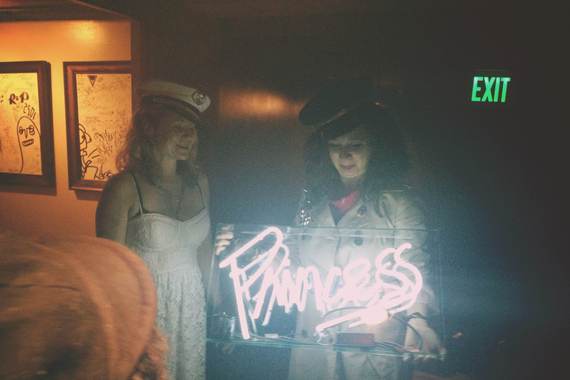 Calling all HuffPost superfans!
Sign up for membership to become a founding member and help shape HuffPost's next chapter