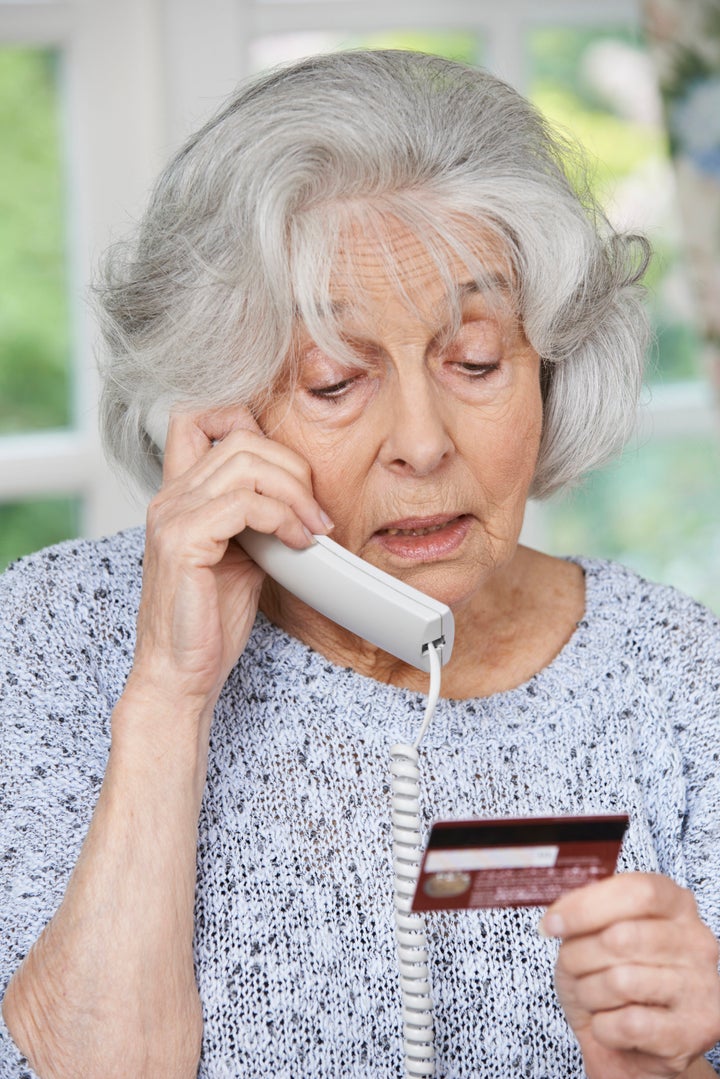 I have tried screaming, blowing a whistle into the phone, and cussing like a drunken sailor. I've even tried Jewish mother guilt and asking the caller on the other end of the phone "How do you look yourself in the mirror knowing that what you do for a living is scam people? Do you have kids? Do you hope they grow up to be just like you? Get a real job!"
But alas, I am ready to concede the battle with my husband about keeping our landline phone. He accurately noted (about a year ago) that the only time the bloody phone even rings anymore is when someone wants to send me to jail for tax fraud unless I pay them.
Our phone rings constantly, not just at dinner. Someone wants me to believe I've won a vacation from a sweepstakes I never entered. Callers want to upgrade my credit card (if I would just so kindly give them the number), repair my roof (because, they insist, I told them to call me back this week), or to alert me to a problem with Microsoft on my Mac. Trust me, the only problem with my Mac is that my teenagers don't let me get near it nearly often enough.
Morning, mid-day, dinner time -- our phone rings. We have days when we clock in more than a dozen calls. And the reason is perhaps even more annoying than the calls themselves: My husband and I are 80 and 65 respectively, making us prime targets for scammers. They are calling us because they expect us to have addled brains. To them, we are the low-hanging fruit for scams -- old people.
Consumers Union, the policy and advocacy arm of Consumer Reports, is leading the charge against robocalls. (And by the way, a robocall isn't just a tape-recorded message, but also can be a call from an auto dialer. Notice the little five-second pause from when you answer and someone on the other end speaks? That's an autodialer at work.) Consumers Union puts the blame for robocalls squarely at the feet of the phone carriers. If they wanted to stop these calls, they could.
There are "a number of existing technologies that phone companies could use to block unwanted robocalls from reaching their customers. Robocalls are a top consumer complaint but the phone companies have failed to offer effective tools to stop them," according to the consumer group, which released a report this week on the problem.
So far, all the phone companies have done is pass the buck and make excuses, said Maureen Mahoney, report author and policy analyst with Consumers Union. "It's time for the phone companies to start listening to their customers and offer real solutions to stop robocalls."
There are a bunch of filtering technologies that would protect consumers from unwanted robocalls, says the report. Third-party companies have already developed smartphone apps that block unwanted calls; why can't phone companies offer the same technology to their customers for free? The Primus Telemarketing Guard blocks robocalls and has been available at no extra cost to traditional landline and VoIP users in Canada for years. The FCC approved it last June, but phone companies in the U.S. are not offering it or a similar service to their customers. According to Primus Canada, its Telemarketing Guard could work for customers in the U.S., said the Consumers Union report. Phone companies also have the technology to reduce call "spoofing" –- the practice of disguising the origin of robocalls on Caller ID.  This would improve telephone security and call-filtering techniques.
But instead, phone companies in the U.S. are still playing ostrich. Americans have registered more than 217 million phone numbers on the Federal Trade Commission's "Do Not Call" list, yet robocalls remain rampant. Telephone scammers who target the elderly and other vulnerable consumers result in an estimated $350 million in financial losses annually. 
Maybe it's time we start robocalling the phone companies?
PHOTO GALLERY
10 Tips From The Better Business Bureau To Avoid Online Dating Scams
Calling all HuffPost superfans!
Sign up for membership to become a founding member and help shape HuffPost's next chapter