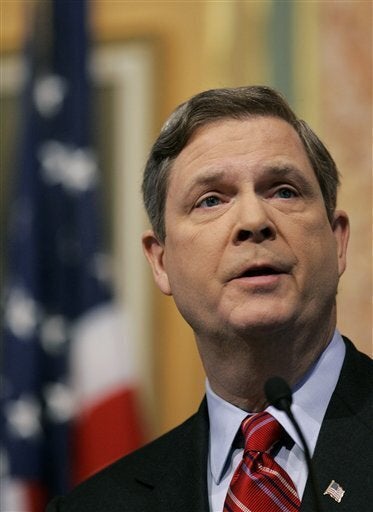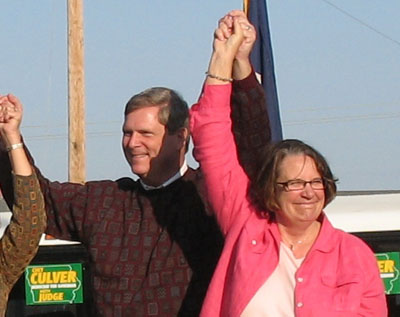 Tom Vilsack & Denise O'Brien
Obama's selection of GMO-lovin', bio-fuelish, feedlot-friendly Tom Vilsack for Secretary of Agriculture drew a resounding "Bleech!" from the blogosphere this week. Vilsack has a long history of Agribiz alliances that's giving progressive foodies a bad case of heartland heartburn.
His support of GMOs (genetically modified organisms) brings to mind another kind of movie -- a horror film in which mad scientists tinker away in their labs and unwittingly unleash a Pandora's box of unforeseen -- and disastrous -- consequences. I know, it sounds like another low-budget sci-fi flick, but as Jill Richardson ably documented this week, IT'S HAPPENING NOW (apologies for invoking Wolf Blitzer.)
And don't forget the biofuel boondoggle. Clearly, corn-based ethanol -- which Vilsack endorses -- is a lose-lose proposition; it's not going to solve our energy problems, and it's exacerbating the global food crisis. What about cellulosic biofuels? Vilsack and Stephen Chu, Obama's newly appointed Secretary of Energy, are all gung-ho about those cowpie-in-the-sky fuels-of-the-future, too. But Tom Philpott's written a compelling post over on Grist about the folly of emphasizing biofuels over more low-impact energy sources, conservation, and public transportation.
OK, so it's pretty easy to villify Vilsack. He doesn't have much in common with the dream candidates endorsed by the more than 57,000 folks who signed on to the Food Democracy Now! petition launched by activist David Murphy, who, in the words of Ethicurean Bonnie Powell, "tilted tirelessly at Washington's windmills like a madman with a laptop for a lance."
Then again, Vilsack is someone's dream candidate -- that someone being Jennifer Donahue, who happens to be a personal friend of Vilsack's. Donahue, political director at the New Hampshire Institute of Politics, wrote a post for HuffPo with the Onion-esque title "Vilsack Best Possible Secretary Of Agriculture," in which she lauded Vilsack's ability to listen.
Some snarky bloggers (I may have been among them) dismissed it as pure PuffPo. But in between the fuming and the fawning over the Vilsack nomination, a more even-handed "let's make the best of this and move forward" consensus is emerging, as exemplified by Brian Depew's post at the Center For Rural Affairs blog.
I honestly don't know what to make of the Vilsack nomination, so I asked Denise O'Brien, the organic farmer who ran for Iowa's Secretary of Agriculture in 2006, to share her invaluable Iowan insights. O'Brien confirmed what Donahue asserted in her HuffPo piece -- that Vilsack is a politician who actually seems to listen. Here's O'Brien's surprisingly upbeat take on Vilsack:
On the one hand people are ballistic because he is a trial lawyer and doesn't come "from the farm." On the other hand many who have known and worked with him in Iowa are not happy with him and his relationship with big ag, especially Monsanto.
Here's the story. Vilsack was the first Democrat to hold the office of Governor in Iowa in forty years -- yes, forty. The last Democrat holding the seat was Harold Hughes when many of us were children or not even born yet.
Many were ecstatic that a Dem had made it to this high office and that at last, we would have access. There is no doubt about it; the Governor's office was accessible. For the first time in years, Dems could walk into the office of the Governor and talk to a Governor of the same party. Expectations were high among the progressive farm and labor folk. We thought we could stop Confined Animal Feeding Operations (CAFOs) and do something about genetically modified organisms (GMOs) and have a voice for fair trade. But alas, we found that even though we were of the same party, there were some differences.
Over the years the Governor's office was open for a number of meetings relating to trade, prior to the Seattle WTO meeting; for meetings to solve the farm financial crisis that emerges every few years; and for meetings developing food policy. During Vilsack's administration we were in his office more than all of the past twenty years of farm activism.
It wasn't far into his administration, it finally dawned on many that our Governor Tom Vilsack was a centrist as was the leader of our country -- Bill Clinton -- and that we were likely to disagree on a lot of issues. What's a progressive to do? Give up? Not bother to even engage in discussions about relevant issues? The best thing to do was to keep talking and to keep exposing the governor to a more progressive line of thinking. We resigned ourselves to the fact that our expectations of a Democratic Governor were exactly that, expectations and that there was still a lot of work to do.
There were a number of times that Governor Vilsack did act on issues that were more in line with a progressive agenda. He brought people together for problem solving. He appointed a strong leader as the head of the Department of Natural Resources who worked hard to reign in the CAFOs but was ultimately unsuccessful. The Governor also appointed people to the Environmental Protection Council who were intelligent and outspoken in their opposition to the CAFOs. Alas, big ag still had the upper hand.
One of the best issues that addressed a progressive agenda during his administration was the creation, by Executive Order, of the Iowa Food Policy Council. This was the second one to form in the United States. A number of progressives served on this Council and were able to make inroads on issues of food security, local foods, farmer's markets and programs addressing the needs of people in poverty -- food stamps and WIC. Yes, this happened in Iowa, the "Belly of the Beast" of agribusiness, and Vilsack was the leader who made it happen.
The bottom line is that we can work with Governor Vilsack. I know this from a personal perspective. When I ran for Secretary of Agriculture in the state of Iowa, I had to first win a primary. Vilsack encouraged and supported a man who had worked for him during his governor years. My opponent had much help -- money and volunteers -- to make his campaign successful. It didn't work. I was able to win by a margin of fourteen or fifteen points. And, you know what? The night I won the primary, Governor Vilsack called me up and told me that a large check would be waiting for me when I saw him the next day. I admire that. I beat the pants off the man he supported, but when the contest was over, he gave his full support to me.
During the months prior to the election, Governor Vilsack was often at the same events I was and he heard my platform many times -- "Safe and Healthy Families, Safe and Healthy Farms and a Safe and Healthy Iowa". I can't help but think that some of what I said has taken root and that he will be an ally to us.
Please, please, you say, don't go all emotional on us! I want you to know that I am not selling out. I am not naïve -- I am a realist. My principals are still intact. I am a progressive from the word go. I am not happy that someone from the progressive foodie constituency was not chosen. The sustainable/organic ag/foodies/local foods progressives have not quite arrived to the point of having as much influence as we would like to believe. Many times I feel that I live in a bubble and that everyone is on the same page with me. It is at a time like this, when a mainstream person is appointed to an influential position, that I realize there is still a lot of work to do.
My years of being a farm and food activist have taught me how to work with what I've got and to never give up. What we have is Tom Vilsack and what we have to keep in mind is that he knows the sustainable/organic/foodie community in Iowa and beyond. He knows we are hardworking, serious individuals who believe passionately in the issues of food and farm. My hope is that this will be present with him as he moves into his work as the Secretary of Agriculture. Our work is cut out for us. It is important to keep the pressure on and continue to recommend people to fill the positions that will facilitate the scaling up of the work we have already accomplished. The pathway of agriculture and agribusiness is complex. The new Secretary of Agriculture needs our help to maneuver that path.
We have much work to do and we must continue to carry the message of HOPE.
Calling all HuffPost superfans!
Sign up for membership to become a founding member and help shape HuffPost's next chapter