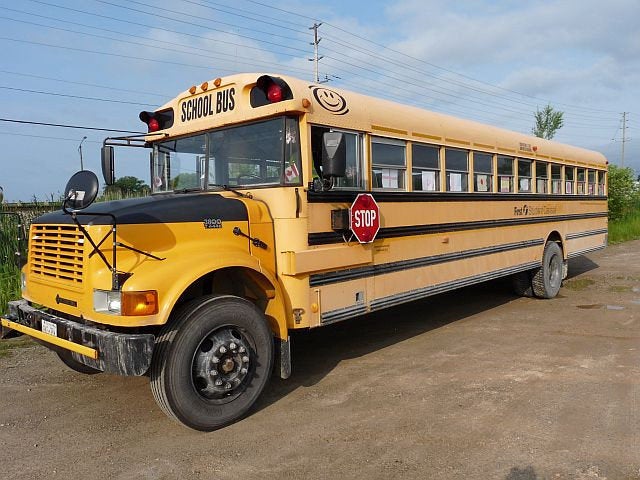 Parents, teachers, children and community members protested the scheduled closing of two Southwest Detroit schools Friday and attempted to deliver a letter outlining their concerns to Detroit Public Schools Emergency Manager Roy Roberts.
But Southwest Detroit residents aren't ready to let the schools go. More than 80 percent of Maybury's students are Latino, and the school offers a bilingual education program that neighborhood parents say is essential.
Both Maybury and Southwestern faced closure under the district's previous emergency manager, but parents fought to keep them open. This round of school closings looks likely to provoke another fight.
A diverse crowd of about 100 people gathered at Maybury Friday at noon. Members of the Clark Park Coalition, Occupy Detroit and By Any Means Necessary (BAMN) attended the rally. Standing next to a large Occupy Detroit banner, activist Erik Shelly said his group wants to keep all Detroit schools open.
"We're here to protest austerity measures that are the same as are happening in Greece," he said. "They're trying to solve economic problems by picking on the weakest amongst us."
Edgar Lebron, a recent Southwestern High graduate said he worried about the possibility of gang-related violence if his former school is consolidated with Western International High School.
"We stuff a lot of these gangs into one school and a lot of people are going to get hurt," he said.
After the rally, some attendees packed into a bus provided by the Detroit Hispanic Development Corporation and drove to DPS headquarters at the Fisher Building.
The coalition demanded Roberts meet with members of the Maybury Local School Community Organization, a parent-teacher group, and offer a response to a letter sent on Feb. 13 raising issues of cultural and linguistic sensitivity and offering alternatives to closing Maybury.
Gabriela Alcazar, a translator who went with two LSCO parents and their children to redeliver the group's letter to Roberts Friday, said they weren't allowed into his office.
"Security wouldn't let us up to the 14th floor," she said.
DPS Communications Director Steven Wasko said he couldn't confirm whether Roberts had received the letter, but noted Roberts had answered questions from Maybury parents at the time of the school closing announcements.
Speaking to Southwest Detroit parents' immediate concerns, Wasko said the district was working closely with police to minimize any possible gang violence and to ensure all schools in the area accommodate the needs of Spanish-speaking students and family members.
DPS has contracted an outside non-profit group, the Detroit Parent Network, to arrange customized meetings to answer concerns and questions from parents across the district.