WASHINGTON -- Nearly every effort by Mayday PAC to elect a candidate who favored campaign finance reform in a contested race fell flat on Tuesday.
The super PAC to end all super PACs, established in May 2014, was highly successful in raising money but much less so in targeting races it could win. The group reported making $7.5 million in independent expenditures across eight races this year. It won just two.
"It was a tough night across the board for supporters of reform, but we're glad we engaged in this fight," said Mayday's founder, Harvard law professor Lawrence Lessig, in a statement. "The fight to root out corruption in our politics is one of the most important in our time and we will continue to pursue it with fierce urgency," he vowed.
Mayday's two victories came in safe districts for the party of its chosen candidates -- Ruben Gallego (D-Ariz.) and Rep. Walter Jones (R-N.C.) -- and represented the smallest investments by the super PAC. Where Mayday intervened to help candidates in tough races, they lost.
Independent Greg Orman did not oust Republican Sen. Pat Roberts in the Kansas Senate race. In the South Dakota Senate race, Democrat Rick Weiland lost badly to former Republican Gov. Mike Rounds. A late infusion of money to support Democrat Paul Clements' bid against GOP Rep. Fred Upton in Michigan did not succeed. Two other Mayday-backed Democrats running for House seats, New Hampshire Rep. Carol Shea-Porter and Iowa candidate Staci Appel, both went down to defeat.
These losses came on the heels of Mayday's failed effort in support of Republican Jim Rubens in the New Hampshire Senate primary. The spending on Rubens, a tea party candidate who supported campaign finance reform, raised questions from more progressive supporters of Lessig's efforts. After Rubens' loss, Lessig noted, "The burden of this mistake rests with me, and me alone."
That primary contest aside, Mayday PAC's failures may well have been a product of bad timing. The majority of the candidates it backed were Democrats, and 2014 was rather unkind to their party. Senate Democrats lost seven seats, with another two still hanging in the balance, while House Democrats lost between 14 and 18 seats depending on votes not yet counted.
"It was a bad year for Democratic candidates," said Adam Green, executive director of the Progressive Change Campaign Committee, which managed the majority of Mayday's political efforts.
Lessig and his super PAC declined to comment.
Nonetheless, electoral failure doesn't strengthen Mayday's hand. The super PAC's operating theory is that candidates and elected officials will only pursue campaign finance reform once they face a credible threat over the issue at the ballot box.
Green argued that Mayday should not be judged solely on its record of wins and losses. Its campaign efforts in 2014 were intended to put the fear of God into otherwise secure incumbents or candidates over their opposition to campaign finance reform and support for corporate interests. Mayday's message, Green said, was that "no matter how safe or how powerful you think you are, you could be forced to scramble for your political life."
He pointed to the Michigan House race between Upton, chairman of the powerful House Energy and Commerce Committee, and challenger Clements. Upton had been headed toward what looked like an easy victory, just as in all his previous elections, until Mayday spent more than $2 million against him. Upton ultimately won re-election, but he did so with his lowest margin of victory ever while emptying his campaign war chest.
"The fact that Fred Upton was forced to scramble for his political life -- that was the goal, to change the political culture," Green said.
The strategy sounds similar to that used by the Club for Growth, which is known for backing GOP primary challengers to Republicans deemed insufficiently conservative. Political observers have said for years that the nonprofit's threats of well-funded electoral opposition drive Republican lawmakers to support its stated policy priorities.
Mayday hopes to do the same to lawmakers on the issue of corruption and campaign finance reform. In Green's words, the super PAC is providing "a new disincentive to be one of the most egregious corporate sellouts."
There is reason to believe that Americans support Mayday's agenda, even if they didn't vote that way Tuesday. A 2013 Gallup poll found more than 50 percent back publicly funding elections and 79 percent support limiting the role of money in politics. And in municipalities and cities across the country, voters did show their support for reform this week.
But while losing elections may not invalidate Mayday's strategy in the long run, Lessig had previously voiced deep concern about the immediate response to not winning -- from donors and other reform advocates.
"It's completely plausible that we win nothing," Lessig told The New Yorker last year. "So here I've created this whole movement and energy and passion around how we're going to do this. Then we go out there and get squat. Zero. And then all the reform-movement people say, 'You've destroyed it for us.'"
In an April article in The Atlantic before the launch of Mayday, Lessig laid out a goal of electing a pro-reform majority in 2016. But he also warned that the initial round of spending in 2014 would test what works and what doesn't, and that lessons would be learned in this first round.
One contest that could offer useful lessons occurred in South Dakota, where Mayday paired with Every Voice Action, another super PAC opposing money in politics, to try to make the race competitive for Democratic candidate Weiland. According to an Every Voice Action official, the two super PACs' spending helped to tighten up the race -- before the political parties got involved.
"That race narrowed because of our work and then widened because of the money coming in on the other side," said David Donnelly, executive director of Every Voice Action.
The money backing Rounds, the GOP candidate, came in largely after the Democratic Senatorial Campaign Committee announced that it would spend $1 million on the race -- a decision slammed by Weiland. The DSCC never came through with the full $1 million, but its threat brought out nearly $900,000 from the National Republican Senatorial Committee to support Rounds.
Weiland was also critical of the spending by Mayday PAC and Every Voice Action. He told the Rapid City Journal in October, "I don't like the fact they're here, but I can't tell them to leave."
Donnelly suggested that what won big Tuesday was "an anti-Washington message ... fused with an anti-Obama message." He said that created "a difficult environment to have a different kind of anti-Washington message get through."
He also noted that Every Voice Action pursues a strategy different than that of Mayday. "A lot of our work is trying to win the very close races and not trying to close a big gap on this one issue," Donnelly said. His group won only two of its eight federal races (with a third result still outstanding), but added another two state-level victories in New York and Maine.
Still, Donnelly argued that Mayday PAC shouldn't be condemned over Tuesday's results, as strategies may not work in one year but succeed in another. "We shouldn't rush to judge an organization based on one election cycle," he said.
Take Karl Rove's two Crossroads groups as an example.
In the 2010 midterm elections, the super PAC American Crossroads and its allied "dark money" nonprofit Crossroads GPS were credited with powering huge Republican Party gains. Then in 2012, Rove's groups became pariahs after failing in a lot of races. This year, the Crossroads pair is back on top, having won 96 percent of the contests in which the groups spent money.
Mayday PAC, for its part, is disappointed but not defeated. In a brief email to supporters acknowledging Tuesday's losses, Lessig quoted the 20th century inventor Charles Kettering: "The only time you mustn't fail is the last time you try."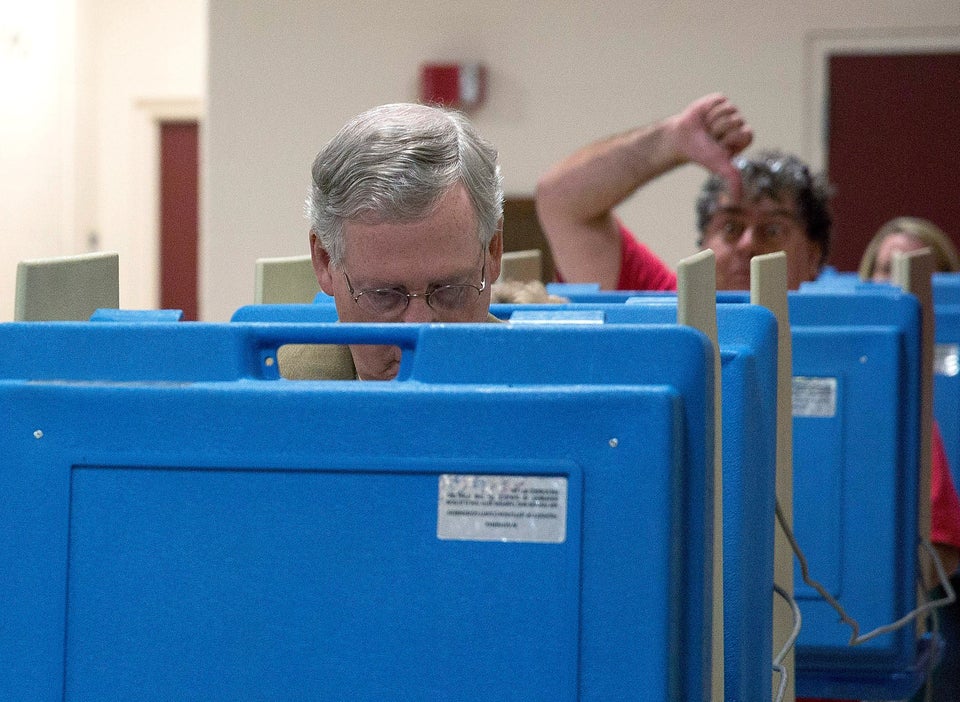 Scenes From Election Day 2014