From baby boomers to the "dot-commers", and now the millennials, each generation has shined, been scorned, and ultimately soared in their own way. Yet when it comes to the elements of high-fashion, timeless wisdom and career longevity, epitomizing nearly every era shines Maye Musk, an unconventional "it" girl.
Playing mother to many (both in real life and on endless photoshoots), Maye's modeling accolades stem from the highs of covering Elle magazine, and most recently a national advertising campaign for Virgin Atlantic Airways, over to quick spots in Beyonce's Haunted music video (2:10 mark in the video), to more highbrow honors like receiving a "Top Nutrition Entrepreneur Award" from The American Dietetic Association. With accomplishments stretching over 5 decades, Maye makes an effervescent and entrepreneurial tie to her love for health and wellness, and the glory of a seemingly unending modeling career.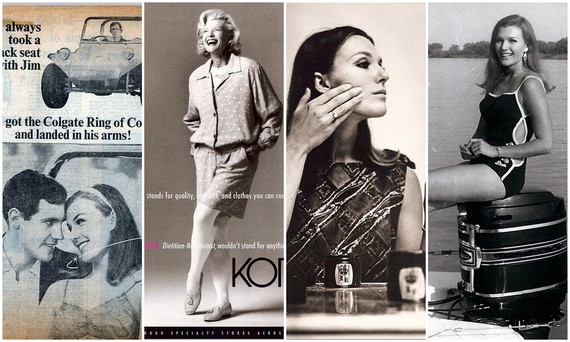 [Photo: (l-r) Maye's early modeling days included a 1960s Colgate ad(far left), and winning beauty pageants in her hometown of South Africa. "I was told modeling would be over by 18. As I was modeling through the university years, I had to study really hard or be called the dumb model. After runway shows and on print jobs, I had to study. I took my studies with me all the time. I was too proud to fail." shared Maye.]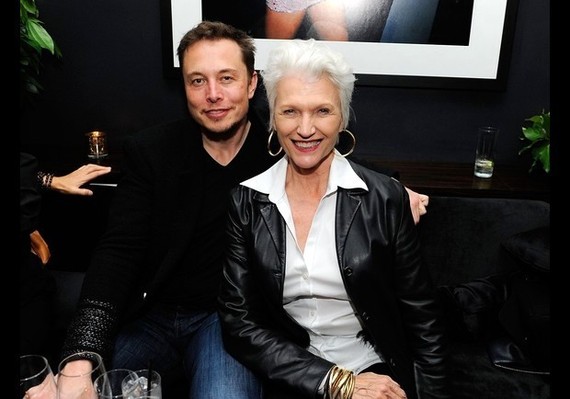 [Photo: Andrew H. Walker, Maye kicks back with billionaire son Elon Musk(Paypal co-founder and Tesla CEO) at the after party for Baseball In The Time Of Cholera at Parlor nightclub in NYC.]
On the day our interview & shoot, Maye spun in, beaming and radiating, with crystal clear make-up free skin, and a hair style only a 'hip' grandmother could pull off. Despite the fact that she's raised three highly successful children (her son Elon Musk- Paypal co-founder, Tesla CEO, Space X founder- has a net worth of 11.3 billion), she struts with humble hightails, her memory clearly serving her well. "I just work really hard to survive. Poverty makes you work really hard." she said, reminiscing over her days of being a single mom.
As we sat down in New York City, amongst the groovy loft of fashion photographer Ron Contarsy, Maye exclusively shared with me how she's maintained a healthy (but fabulous) career while raising three of the most influential people in our society(in addition to Elon, her daughter Tosca is a Hollywood film director and her son Kimbal Musk is a restaurateur), still lands billboards, and has sustained her modeling career for 50+ years.
Tony Triumph: Maye! You've been modeling since the age of 15, but at what point did you say 'hey, I've got a brain, and I too, am going to build a brand'?
Maye Musk: I never had that thought. I was a nerd from Grade 1. There was rarely a girl or boy in all my school years that could beat me at math or science, even French. At 15, my mom's friend booked me for runway shows, then print. I didn't take off school for modeling as it was a hobby, although it paid well.
TT: Speaking as a business woman, how lucrative is a modeling career in 2015?
MM: With the years where I had campaigns such as Revlon and Clinique, my modeling income would surpass my nutrition income. At 67, I'm surprisingly doing more modeling than nutrition [Smile].
TT: How does it compare to the nutrition business?
MM: My main business was always in dietetics. I used to have a busy private practice, give talks all over the world, wrote many articles and a book, lectured at universities, and consulted to the food industry. Now that I've moved to Los Angeles, I'm spending more time with my 3 children and 10 grandchildren. I teach public health and nutrition at a private school as they are willing to give me flexibility for modeling and traveling. I have a small private practice as model castings are a 4-hour process in LA: get ready, drive for one hour, line up, drive back for one hour.
TT: Landing those covers for Special K cereal boxes and Elle magazine, you've obviously synced your personal brand well with your modeling career?
MM: I've never thought of myself as a brand, maybe other people did. I just tried to survive! [Laughs] Syncing two professions requires careful planning and good organization which I've done for 50 years.
TT: Is there a general process to syncing two careers? As a creative entrepreneur, I know that it can be quite hard reeling it all in, and making sense of it.
MM: The story regarding my book being featured on a cereal box started with a talk I gave on healthy eating for the Canadian Dietetic Association. In the audience was an editor for MacMillan Publishers. She asked me to write a book. After the book was published, Kellogg's asked me to give a talk on wellness. I included the section on self-esteem and appearance. Their marketing people saw a good match for my book and Special K as their theme was women and confidence. I had already moved to San Francisco when I was asked if my book could be on their cereal box. I was ecstatic! To my knowledge, I was the first dietitian to appear on a cereal box.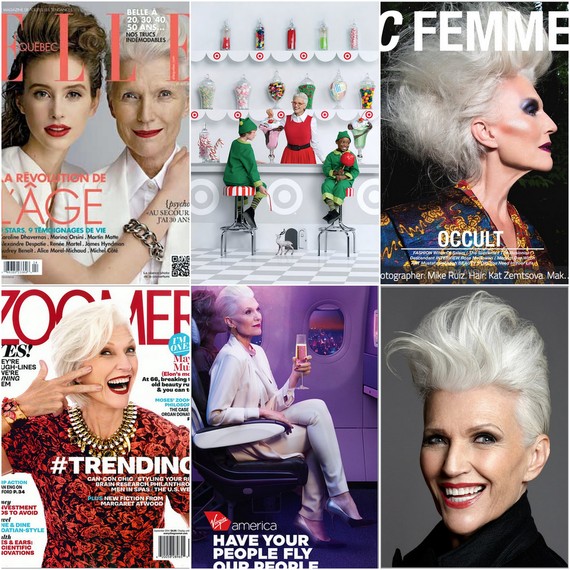 [Photo: The 'glam-ma'- Maye models for the cover of Elle Quebec(top left), as Mrs.Claus in a Target Christmas ad(top middle), for the cover of Zoomer magazine(bottom left) and most recently in a Virgin Atlantic Airways ad(bottom middle].
TT: And the Elle cover?
MM: When it comes to the Elle Quebec cover, I lived in Toronto for 6 1/2 years and modeled for Elite. An agent at Ford started Push Management. He contacted me when I was living in NYC and asked me to join his agency. He booked the Elle cover. This was very exciting. I flew in early, stayed in a boutique hotel in the middle of the old city and walked around exploring. I do that with most jobs now that I don't have to rush home to look after kids.
TT: You seemed to have always been ahead of this new-found age of personal branding? Why was it so important for you to be multi-faceted?
MM: I had no idea about personal branding. I just knew I had to survive. After my divorce, I had to house and feed 3 kids without maintenance. Poverty makes you work really hard. I remember crying when one of my kids spilled milk. The saying goes "don't cry over spilled milk." I cried because I couldn't buy another milk that day. I was juggling my private nutrition practice, wellness talks, modeling and kids schooling and activities. Those were busy times. Fortunately, we were healthy and my kids were well behaved and helpful.
TT: You've played the mom in countless jobs, do your real kids ever get a little jealous? [Laughs]
MM: Never! They don't like modeling. I got them on a few jobs as kids, and they were paid. They still didn't like it. Tosca was modeling in runway shows until she was about 11. Then someone did her hair in a way she disliked and she refused to walk out. That was the end of her career.
TT: You once relocated your entire family from South Africa to Canada, not to mention you have modeling representation all across the world? Clearly, fear has never crossed your mind?
MM: I'm not afraid of moving or travel. There's nothing to lose. I could always return if things didn't work out. Actually, Elon moved to Canada first. Tosca wanted to move so I went to Canada to see where I could study a PhD and work as a model. It seems most universities and model agencies were happy to take me on. When I returned, Tosca had sold my home, it's contents and my car so we had to move. With model agencies worldwide, I contacted them. Many signed me on and have booked me jobs.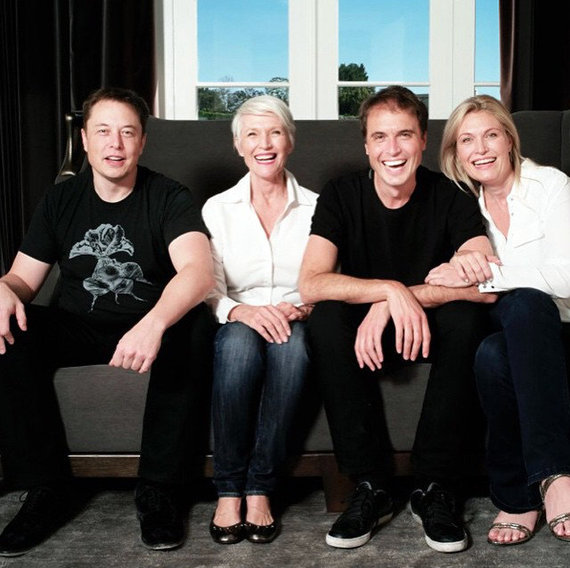 [Photo: The Musk bunch- Children(l-r) Elon Musk, Kimbal Musk, and Tosca Musk join mom Maye(2nd left) for a family photo. Credit: Instagram]

TT: As for your time living in Toronto, this had quite a big impact on you and your family?
MM: When I moved to Toronto, I had no free time. My funds in South Africa were blocked. Fortunately I found a rent-controlled apartment. Elon, Tosca and I spent 3 weeks making it habitable. I was a research officer at the University of Toronto (so my children could have free tuition) while taking 6 undergraduate courses to show my grades were up to par, and studying for the registered dietitian exam. My PhD was cut short and I received another MS degree, in Nutritional Sciences. I lectured at a college 2 nights a week, and taught modeling 2 nights a week at a model agency in exchange for using an office for my private practice. My practice grew huge in Toronto so I moved to a doctor's building. As I was seeing 25 clients a day, 3 dietitians worked for me part-time. They could take over my clients when I received a last-minute modeling job or traveled for presentations.
TT: Well, your children have certainly inherited your get-up-and-go spirit.
MM: Yes, my kids followed me as I moved to different cities, then I followed Elon to Canada with Tosca, and Kimbal followed soon after. Then they wanted me to follow them to the Bay Area. I did and stayed in San Francisco for 2 1/2 years. When they sold Zip2 and said I could buy myself a home and car, I started looking in the Bay Area and Los Angeles, where Tosca now lived, working in the film industry. I had to go to New York to give a presentation, and LOVED it. So I said goodbye and thought I'd be in NYC forever!
TT: Your son Elon has become a household name. Would you consider him a radical for his internet, energy efficiency, and space exploration inventions?
MM: I don't consider Elon radical. He just knows the physics and engineering possibilities that improve our lives. Unfortunately they [Elon's inventions] have nothing to do with my nutrition business or modeling. I wish he had contacts in the modeling industry. Maybe I wouldn't have to go to castings or auditions.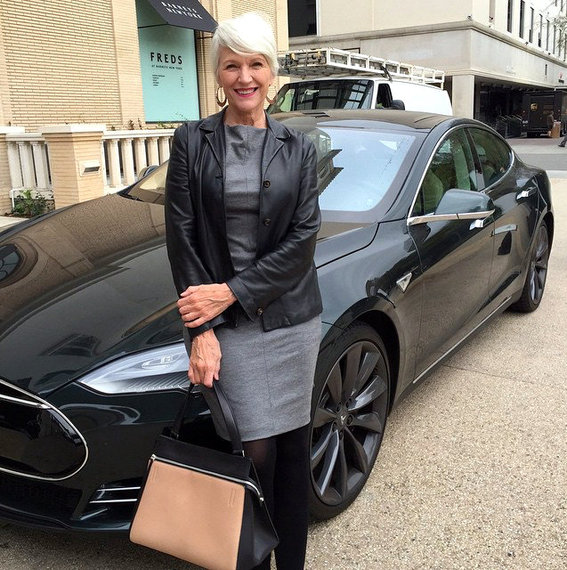 [Photo: Posing with her Tesla Model S car, Maye admits, "If Elon wasn't CEO, I would still have bought the Tesla," Credit: Instagram]
TT: Where do the the Elon inventions fit into your life?
MM: When Tosca told Elon I was moving to LA, he said he would give me a Tesla. Well, that's amazing. It means traveling in LA traffic is a pleasure, not torture. It drives like a spaceship - silent, smooth, handles well. I've never liked cars, but I LOVE my Tesla. If Elon wasn't CEO, I would still have bought the Tesla, as I'd sold my coop and could afford it. It's environmentally friendly and the safest car ever! I can also listen to French and German news stations and keep my languages going. A huge plus we never think of, is that I never go to the gas station. No longer the bad smell and dirt. The disadvantage is that I will have difficulty driving an ICE car as I never open or lock my car, that happens automatically. I don't fiddle with music, direction, AC, etc as that's all on my 17" screen.
TT: Can you credit his work ethic, budgeting, and business strategies to traits learned from momma Musk? [Smile]
MM: I hope he learned his work ethic from me. Also budgeting, as we lived in a rent-controlled apartment in Toronto with a very limited food budget. We could not afford to dine out. I had a client with a butcher. Once a month he would give me a beef roast. I would cut it up in 4 pieces, freeze 3 and cook one so we could have meat once a week. When Elon was at Wharton, I used my savings to fly to Philadelphia for Thanksgiving dinner. We splurged at Boston Chicken.
TT: What about your other two children, Kimbal and Tosca?
MM: Kimbal is doing well with his 8 restaurants, www.thekitchen.com. He has built Learning Gardens in over 200 underprivileged schools in the USA so children can grow their own fruits and vegetables. www.thekitchencommunity.org. He just received an order for 100 gardens in Memphis.
Tosca is a successful movie producer, and is directing a movie this Spring. She is on the board of the Los Angeles Cystic Fibrosis Foundation and recently received an award.
TT: For models seeking your career longevity, can you offer them any advice?
MM: 1.) Maintain a healthy weight. 2.) Keep modeling until no one wants you, then change agencies. 3.) Update your look every year. 4.) Find your images and continuously update your portfolio. 5.) Have a presence on social media: Twitter, Instagram, and Facebook. 6.) Be nice to everyone.
MM: My goal is to become such a well-known model, that I'll no longer have to schlep to castings and auditions. Please direct book me! [Laughs]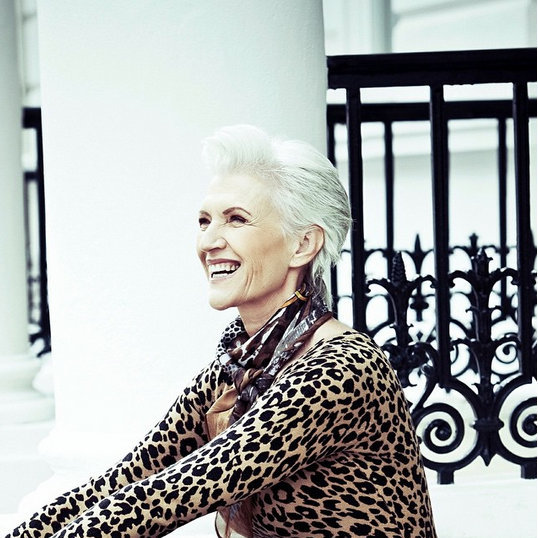 Related
Popular in the Community