For the past three years, Mayer Hawthorne has been the new look of modern pop music. Dipping back to the old sounds of Motown, doo-wop, and funk, the Michigan-native Hawthorne (born Andrew Mayer Cohen) would set a firestorm for himself with simple, yet poignant songs of the ups and downs of love and life. It became just the right concoction to garner much critical praise for his debut album, 2009's A Strange Arrangement, along with a who's who of both music and entertainment singing his praises.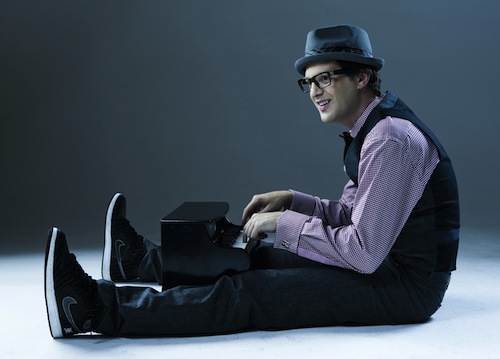 For us though, Mayer Hawthorne is a testament to the continuing legacy of great music coming from Michigan, and we could not be any prouder. With a father, also a musician, who taught him to play the bass at age six, the heart of both Detroit and Ann Arbor is in the blood of Mayer Hawthorne.
Since his ascendance into stardom, it's the support back here in Michigan that has meant the most to Hawthorne. Packing shows at legendary clubs like The Blind Pig, Saint Andrews Hall, and The Majestic Theatre -- all places dear to the heart of Hawthorne while coming up in the Michigan music scene -- he has definitely conquered his home. "It's an incredible feeling. I was tearing up at the last show at the Majestic," describes Mayer Hawthorne. "It means a lot to me to know that the city is behind me. That's one of the most important things to me is that Detroit and Ann Arbor got my back. If you don't have hometown love, then what's the point."
While most look at him as the fresh face of soul music, we see it much deeper. We see the Andrew Cohen who was known as DJ Haircut of the Ann Arbor-based hip-hop outfit Athletic Mic League. As a DJ, he was impeccable to say the least. Whether it was at the Elevation hip-hop night at The Firefly with DJ Graffiti on Sundays in Ann Arbor, or Tuesday nights with DJ House Shoes for Shoes' House at Northern Lights Lounge in Detroit, Cohen had some special about him that we can all look back at and feel. The varied styles of music that he could seemingly blend together can be attributed to his wide range of influences growing up and are ever so present as Mayer Hawthorne.
When he recorded his debut album A Strange Arrangement for the Los Angeles-based Stones Throw Records, no one, not even Cohen, could have know what would become of it. His first single, "Just Ain't Gonna Work Out," caught the emotions of the listeners with his tales of breaking up, while catching the hearts of record collectors everywhere with its cute heart-shaped vinyl die-cut pressing. Questlove of the hip-hop band The Roots even acknowledges it was one of his favorite records in his massive collection.
Going into his sophomore album How Do You Do, Mayer Hawthorne has since been signed to a major label (Universal Republic) along with high-profile late-night TV performances on Conan and Late Night With David Letterman.
While A Strange Arrangement was made with not much in the ways of expectations in mind, Hawthorne comes into his own with How Do You Do. Building off that retro style of the first album, a polished, yet particular sound all of his own is present on the new album. "I think How Do You Do is a lot less derivative. It's more of my own unique Mayer Hawthorne sound," explains Hawthorne. "It's very soulful and I went back to Detroit to record a majority of it. I didn't want to lose what I loved about A Strange Arrangement, but for me it's all about doing something original and unique. The more I make this kind of soul music, the more my other influences are blending into it."
While the Mayer Hawthorne tidal wave continues on, Cohen found himself in the middle of a recent campaign to oust Nickelback from performing at the Detroit Lions-Green Bay Packers Thanksgiving Day halftime show in Detroit. A petition was created that was actually signed by people worldwide to try to leverage the NFL to just find someone better than Nickelback to play the highly televised game. In the midst of all that hoopla, Cohen threw his name in the hat via Twitter just letting them know he's available "in the event that they need somebody." Major outlets such as ESPN and Time Magazine picked up on the Mayer Hawthorne campaign, and Rolling Stone even went as far as creating a tongue-in-cheek campaign video with Hawthorne for it. The NFL and the Detroit Lions did eventually announce they would stick with Nickelback for the halftime show, but it was a valiant effort from all parties.
Mayer Hawthorne's How Do You Do is available now via Universal Republic on CD, vinyl, and digital formats. For more information, visit www.mayerhawthorne.com.

Calling all HuffPost superfans!
Sign up for membership to become a founding member and help shape HuffPost's next chapter