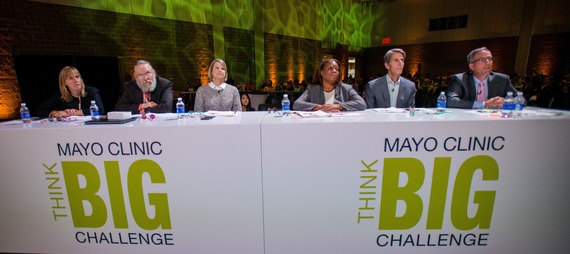 When you think of a typical pitch competition, you usually think of an entrepreneur pitching their product, business idea or company to a room full of investors, venture capitalists and startup gurus usually after going through an accelerator or mentorship program. Or you might think of a reverse pitch competition where a municipality or corporation has a problem they need fixed and they pitch entrepreneurs to come up with ideas to find solutions to help them evolve to meet the needs of their constituents or shareholders. What you don't think of is what the Mayo Clinic is doing with entrepreneurs. That's because no one has done it.
It's hard to imagine that any American has not heard of the Mayo Clinic. However, if you have not, it's a nonprofit that is heavily involved in clinical practice, education and research that works with individuals who need medical care or healing. The Mayo Clinic is based in Rochester, Minnesota. Now what many, if not all Americans, don't know is the Mayo Clinic has a Center of Innovation and a Mayo Clinic Ventures operation that is turning pitch competitions upside down with the Think Big Challenge. Talk about flying under the radar.
First off, when I think of the Mayo Clinic, I don't think about pitch competitions. To be honest I don't think about pitch competitions much at all in the health care world. The Mayo Clinic has decided to grant one business or entrepreneur the opportunity to license Mayo Clinic technology, take it to market with a team around them and oh by the way give them $50,000 in cash. So wait a second, the Mayo Clinic is saying here is our technology we have developed and we want you to scale it with our help? Not a bad spot for an experienced entrepreneur to be in. I have never heard of anything quite like this in the pitch world.
"Our goal is to reach as many people as possible and to reach lives outside of the ones we currently care for and engage with at the Mayo Clinic," says Jeanne Huddleston, M.D. and medical director for the Mayo Clinic Think Big Challenge. "We want to improve the health of people around the world by finding innovative and successful ways to partner with entrepreneurs."
So why is this so unique? Tech transfer is a complicated process. The traditional way to do tech transfer is through peer review. If your resume doesn't read a certain way its hard to get in the door. However, in order to save lives with the tech its imperative to start working with entrepreneurs with strong intellectual capital to get the job done. The Mayo Clinic believes it has found an innovative, effective way to stay nimble and partner with outside entrepreneurs to improve health around the world. This feels almost like Tinder for tech transfer.
This new way of conducting a pitch competition seems like it will benefit both the entrepreneur and the Mayo Clinic. If you're an entrepreneur you will have the opportunity to work with a product or technology that is already functional with the name brand and assets of the Mayo Clinic behind you. You will have a home inside the Mayo Clinic. Essentially you're starting a new company with the Mayo Clinic. Plus you get to build relationships and have new access to many high-level investors and venture capitalists through the pitch competition. If you're the Mayo Clinic you get to utilize and meet some of the brightest innovators and entrepreneurs in the health care space to take your technology from the shelf to market and scale it over a 12-month period. You typically don't have these type of people walking your halls. You heal people; you don't have the core competency to bring something to market. You will get to see a go forward strategy that various entrepreneurs will bring forth during the pitch competition for your technology. If the challenge is successful you have a pipeline of entrepreneurs for your new devices and next technologies.

The Think Big Challenge will take place on September 15th, 2016 at the 10th annual Transform Conference (September 14th-16th), which brings people together in the health care space, public sector, corporate world and insurance industry to discuss innovation and health care. Applications for entrepreneurs opened on July 12th and close on August 15th.
Will this type of pitch competition become mainstream? Most likely, it makes sense. Suffice to say the Mayo Clinic is blazing the trail on a future trend.
Related
Popular in the Community