recipe by Sportello, photograph by Matt Duckor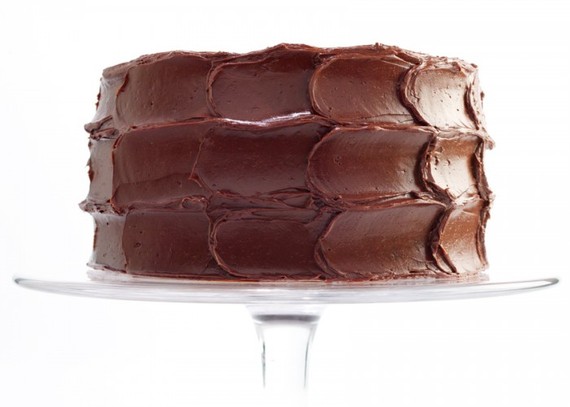 There are some desserts in the world that we'll always have room for, come cheesy gut bomb or 20-course tasting menu. One such dessert is chocolate cake. Because of this, we're always looking for ways to make our chocolate cakes more moist, more chocolatey, and just more... better.
This recipe definitely gets the job done. The secret to this super-moist cake? Good old mayonnaise. We know what you're probably thinking, but trust us, it totally works. Mayo is really just eggs and oil mixed together, so adding some to the batter doesn't actually affect the cake's chocolate flavor. All it does it make everything extra moist, which is pretty cool. See, we're not insane after all. Well, except maybe that time we tried to eat this after finishing a whole pizza.

SEE MORE: 22 Recipes Everyone Should Know How to Cook

CHOCOLATE-CARAMEL CAKE WITH SEA SALT
Mayonnaise in the batter isn't as weird as it sounds--it's just eggs and oil, after all. It's also why this cake is so moist.
SERVINGS: 10
INGREDIENTS
Cake
Nonstick vegetable oil spray
2¼ cups all-purpose flour
¾ cup natural unsweetened cocoa powder
1¾ teaspoons baking powder
¼ teaspoon baking soda
½ teaspoon kosher salt
3 large eggs
1½ cups sugar
1¼ cups mayonnaise (not low-fat)
1 tablespoon vanilla extract
Frosting and Assembly
12 oz. bittersweet chocolate, chopped
¾ cup sugar
1 tablespoon light corn syrup
1 cup heavy cream
1½ cups (3 sticks) unsalted butter, room temperature
¾ teaspoon flaky sea salt (such as Maldon)
Extra-virgin olive oil (for drizzling; optional)

SEE MORE: The Ultimate Chocolate Chip Cookie

PREPARATION
Cake:
Preheat oven to 325°. Lightly coat cake pans with nonstick spray and line bottoms with parchment paper; spray again. Whisk flour, cocoa powder, baking powder, baking soda, and salt in a medium bowl.
Using an electric mixer on high speed, beat eggs and sugar until pale and doubled in volume, about 4 minutes. Add mayonnaise and vanilla and beat until just combined. With mixer on low speed, add dry ingredients in 3 additions, alternating with 1⅓ cups lukewarm water in 2 additions, beginning and ending with dry ingredients. Scrape batter into three 8"-diameter cake pans, dividing evenly.
Bake cakes, rotating halfway through, until a tester inserted into the centers comes out clean, 25-30 minutes. Transfer pans to wire racks and let cool 20 minutes before turning out onto racks. Let cool completely.
Frosting and Assembly:
Put chocolate in a medium bowl. Bring sugar, corn syrup, and ¼ cup water to a boil in a small saucepan over medium-high heat, stirring to dissolve sugar. Boil, swirling pan occasionally and brushing down sides with a wet pastry brush, until mixture turns a deep amber color, 10-12 minutes. Remove from heat and whisk in cream (mixture will bubble vigorously). Return to medium heat and cook, stirring, until smooth, about 2 minutes. Pour caramel over chocolate and stir until mixture is smooth; let cool, stirring occasionally.
Using an electric mixer on medium-high speed, beat chocolate mixture, gradually adding butter, until frosting is thickened and smooth, about 1 minute. Chill, stirring occasionally, until stiff enough to spread easily, 20-25 minutes.
Place 1 cake layer on a cake stand or platter. Spread 1 cup frosting over to come just beyond edges. Sprinkle with ¼ tsp. salt and place second cake layer on top, pressing down gently. Repeat process with 1 cup frosting and ¼ tsp. salt. Place third layer on top, and spread remaining frosting over top and sides of cake.
Just before serving, sprinkle remaining ¼ tsp. salt over top of cake; drizzle slices with oil, if desired.