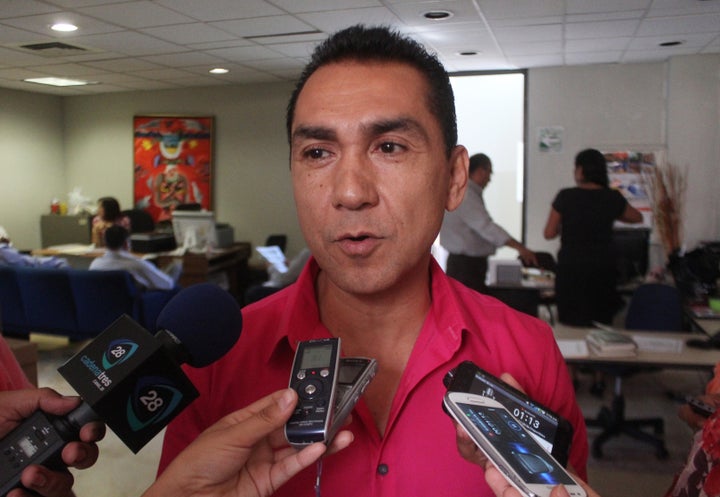 In their first interviews with the media since their arrests nearly one year ago, the former mayor of the Mexican city of Iguala and his wife say they didn't order the attacks against 43 missing students -- a high-profile human rights case that sparked a national protest movement and an international outcry.
Speaking to journalists Anabel Hernández and Steve Fisher, former Iguala Mayor José Luis Abarca said he didn't even have direct communication with the local police on the night of Sept. 26, 2014, when the attacks occurred. The federal police didn't answer his phone calls, he added, and the military refused a request to head to the scene.
His wife, María de los Ángeles Pineda Villa, said Mexican authorities tortured her and told her that they would arrest their children as well if she protested the criminal charges against her, which include association with the drug cartel Guerreros Unidos. She and her attorney say authorities arrested her without a warrant.
"I was deprived of my freedom illegally," Pineda Villa said in the article, which appeared in Mexican magazine Proceso's Sunday edition. "I was physically, psychologically and verbally tortured to force me to appear. They violated my human rights, my guarantees, they threatened to arrest my children too if I didn't go along with what they were charging me."
The Mexican attorney general's office did not immediately respond to a request for comment about the Proceso story.
In September 2014, Mexican police attacked a group of students from the Ayotzinapa Rural Teachers College who had traveled to the city of Iguala to commandeer buses they planned to use to shuttle other students from the state of Guerrero to Mexico City for an annual demonstration commemorating the 1968 Tlatelolco student massacre.
But Abarca, who is currently jailed at the maximum-security Altiplano prison -- the same facility that infamous drug lord Joaquín "El Chapo" Guzmán Loera escaped from in July -- said he found out about the attacks that night from media reports and spoke with other local officials by phone about them through the night.
Abarca said he asked Iguala Security Director Felipe Flores Velázquez to request help from the federal police and the military to respond to the attacks, but Flores Velázquez told him they refused to do so.
"I told him [Flores Velázquez], 'Get in touch with all the police and military forces,' and he told me, 'I already did, sir, but they informed me that they don't have forces to deploy,'" Abarca said. "I told him, 'What? Are they not hearing the gunshots?' And he says, 'Well, that's what they told me.'"
Abarca said he then tried to personally call the federal police by phone, but couldn't get through.
"I don't know who did this, but what I think is unjust is that they have me here [in prison] for something that I didn't have anything to do with," Abarca said.
Mexican authorities have sought Flores Velázquez for arrest without success.
The case that the Mexican attorney general's office built over the last year has been widely discredited by independent experts, investigative journalists and a panel of experts created by the Inter-American Commission on Human Rights.
Both Abarca and Pineda Villa denied collaborating with organized crime or playing a role in the attacks against the students. Their lawyer, Luis Arguelles, said the two haven't even been charged with ordering the attacks against the students, but rather the 2013 killing of social activist Arturo Hernández Cardona, alleged ties to the Guerreros Unidos and, in the case of Pineda Villa, charges of money laundering.
Prior reports from Hernández and Fisher based on leaked government documents showed that police monitored the students from the moment they left for Iguala and that federal authorities and the military knew about the surveillance and the attacks in real time because they were discussed over the C4, a system used to coordinate communications between federal and local authorities in Mexico.
Independent forensic experts, including the IACHR panel, have concluded that the forensic evidence contradicts Mexican authorities' contention that the students' bodies were burned at the Cocula trash dump. The killers would have needed to burn 30 metric tons of wood over 60 hours to incinerate the bodies, and no evidence that such a large fire took place there exists, the IACHR report said.
Despite the gaping holes in the Mexican government's investigation, more than 100 suspects remain in jail on charges related to the students' disappearance.
Popular in the Community