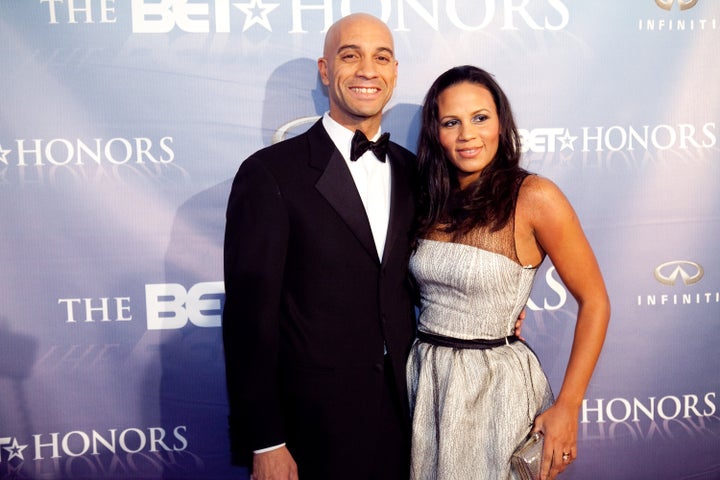 **Scroll down for slideshow and video**
At age 35, Adrian Fenty was the youngest person to be elected DC mayor in 2006. He and Michelle Cross Fenty, whom he married in 1997, have three kids: twin boys Matthew and Andrew Fenty, who were born in 2000, and daughter Aerin, who was born in November. Mayor Fenty, like President Obama, has a white mother and black father.
The Fentys met at Howard University Law School, where, like the first couple again, Michelle acted as Adrian's mentor. According to the Washington Post:
"I had probably seen her walking the halls for some time," Adrian Fenty said of Michelle. "I asked her to be my mentor. . . . It was love at first sight."

Michelle Fenty laughs. "He'll say it was love at first sight, but it wasn't."
Michelle, the daughter of Jamaican immigrants, grew up in working-class south London:
With three girls, Annett Cross remembers braiding a lot of hair, ice skating and playing board games. "As a little girl, Michelle was a very bright kid," said Cross, 58, who now lives in Brooklyn's Crown Heights neighborhood. "She was always writing on walls. If she found a blank space, she would write. She didn't play with a lot of toys."

Their neighborhood of flats was diverse, with Jamaicans, whites and Indians. Michelle ran track, loved Maxi Priest and lip-synced to Shalimar. "Michelle was always doing the right thing all the time," Athena Cross said. "She's very studious. That was always her priority."
Michelle still works four days a week as a lawyer and is an active member of Washington's social scene, though she told Politico that's not necessarily her favorite part of the job:
"In order to get a lot of the things done you do have to do some social events, because a lot of networking takes place, and I think that's part of the job," she said. "Is it something I enjoy any more than anything else? No. I think it's a means to an end."
"People recognize that I have children and a job. They're incredibly grateful when I show up--I didn't feel a massive expectation to be out there everyday."
The Washington Post writes that Michelle, like her Obama counterpart, "doesn't believe in nannies; if a sitter is needed, they call on the mayor's mom."
WATCH Mayor Fenty discuss inauguration preparations, Ben's Chili Bowl, and get teased by Bill Cosby on "Meet the Press":
WATCH Mayor Fenty endorse Barack Obama on July 17, 2007: