A racially charged report by ABC affiliate KSTP accused Minneapolis Mayor Betsy Hodges of throwing up a "gang sign" while posing for a photo with a voting rights advocate during a charity event.
According to Daily Kos, Hodges teamed up with the charity Neighborhoods Organizing for Change for a get-out-the-vote effort one week before Election Day. Among the group's volunteers is Navell Gordon, whom KSTP describes as "a twice-convicted felon for drug selling and possession and illegal possession of a firearm."
During the event, Hodges and Gordon posed for this picture: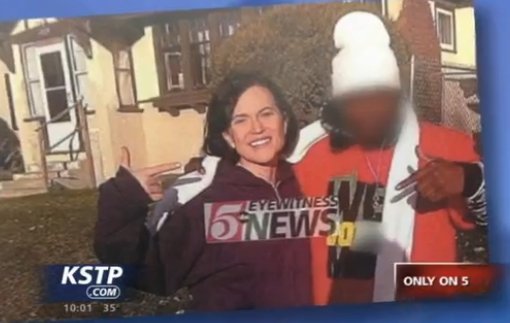 While that may look like just an innocently pointed finger, to KSTP and local law enforcement, it's apparently a "known gang sign." KSTP noted it was tipped off to the photo by law enforcement sources, who said they were browsing Gordon's Facebook page while doing "investigative work."
"She's putting cops at risk," Michael Quinn, a retired law enforcement officer, said in KSTP's report. "The fact that they're flashing gang signs back and forth at each other, showing solidarity with the gangs, she's legitimizing what they're doing, she's legitimizing these people who are killing our children in Minneapolis."
John Delmonico, president of the Minneapolis Police Federation, wondered if Hughes would "support gangs in the city or cops."
Based on what police told the station, KSTP reports there's "no evidence" Gordon is in a gang but he does have "connections to gang members." KSTP reports a spokesman for Hodges told them, "The man in the photo is well regarded by the nonprofit that employs him and the mayor is simply 'pointing at him' in the photo."
Watch KSTP's video below:
Daily Kos points out the Minneapolis chief of police, Janee Harteau, was also present during the get-out-the-vote effort, but was not mentioned in KSTP's report.
Neighborhoods Organizing for Change put out its own video on the get-out-the-vote push, in which Gordon acknowledges his criminal past and notes how he's trying to change things for himself and other felons who wish to vote after serving time.
"I made some mistakes in life. I can't vote, I'm not ashamed to say that," Gordon says in the charity's video. "I'm working on fixing that right now so I can be able to vote for my next president, do you understand?"
Watch that video below. At 33 seconds, Hodges and Gordon appear to flash their "gang signs":
From the YouTube video above, this appears to be Hodges and Gordon at the time of the photo:
Kolls did not immediately respond to a request for comment from The Huffington Post.
"Law enforcement sources alerted KSTP-TV to a photo they believed could jeopardize public safety and put their officers at risk, especially given the recent increase in gang violence," said Joe Johnston, director of public affairs for 5 Eyewitness News. "Multiple sources from several law enforcement agencies told 5 Eyewitness News the photo had the potential for undermining the work they are doing on the streets. 5 Eyewitness News blurred the individual's face and did not name the group he was working for because police called into question only the judgment of Mayor Betsy Hodges."
This isn't the first time Gordon has been targeted while trying to get out the vote. The Minneapolis Star-Tribune reported in September that while collecting signatures for a petition to restore felons' voting rights, Gordon was tackled and handcuffed after a brief exchange with an officer, who then threatened to shoot witnesses who were protesting the incident.
The Minneapolis Police Department has been under scrutiny for a number of high-profile incidents, as well as a recent American Civil Liberties Union report that found blacks in the city are far more likely to be arrested for minor crimes than whites. While the mayor has worked to smooth over some of the department's issues, the Star-Tribune reports she has also criticized the police:
"Some officers abuse the trust that is afforded to them, and take advantage of their roles to do harm rather than prevent it," the mayor wrote in an "open letter" to Minneapolis residents. Because of this, she wrote, "good cops face even more hurdles to fostering a positive culture and bad cops have even more room to maneuver, and the downward spiral continues."
In response to the news report about Gordon and Hodges, Nekima Levy-Pounds, a law professor at the University of St. Thomas Law School and the founding director of the civil rights legal clinic Community Justice Project, penned an op-ed in the Star-Tribune titled "Dear White People: Mayor Betsy Hodges is Not in a Gang." She wrote about how she met Gordon and was impressed by his efforts to make change.
"This young man personally knocked on thousands of doors during the election season to help get out the vote and educate community residents about the impacts of felon disenfranchisement in Minnesota," Levy-Pounds wrote.
"As a young black man with a criminal history, he has experienced numerous challenges in attempting to successfully reintegrate back into society," she continued.
Read Levy-Pounds' entire op-ed here.
The story has since spawned criticism on Twitter, with the hashtag #pointergate. Posts have targeted the seeming absurdity of interpreting two people pointing at one another as throwing up a "gang symbol."
This story was updated to include the police chief's recent comments on frustration with the media. Michael Calderone contributed reporting.
Before You Go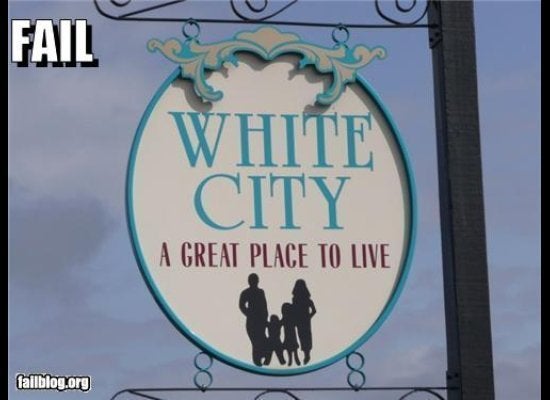 Ridiculous Examples Of Accidental Racism
Popular in the Community