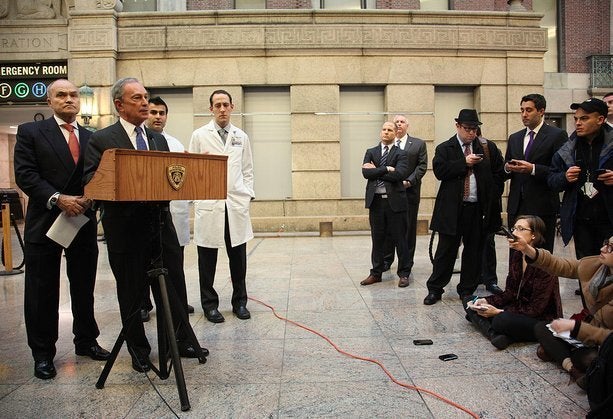 Despite having recently expressed sympathy for Occupy Wall Street, Mayor Michael Bloomberg doesn't seem too impressed with Thursday's "Day of Action," in which protesters celebrated the movement's two month anniversary with a series of large rallies across New York City.
In his weekly radio address Friday, the mayor said the protests weren't necessarily representative of the Occupy Wall Street movement but rather "just an opportunity for a bunch of unions to complain or to protest, or whatever they want to do."
He explained further, "I think that one of the noticeable things was that a vast percentage of the people were union members protesting, some private unions and municipal unions, and they had organized signs and leadership and that sort of thing, so it really wasn't the protesters that have been in Zuccotti Park or that you see around the country."
Bloomberg also downplayed the protests at a Thursday news conference, before tens of thousands of protesters had marched across the Brooklyn Bridge, saying "Occupy Wall Street had predicted on their website that tens of thousands would be participating in today's protests, but there have been far fewer&mdash: and so far they have caused what can accurately be described as minimal disruptions to our city."
Hizzoner's sentiments echo the tabloid's coverage of Occupy's make-or-break day. The New York Post (who thought Demi dumping Ashton was more important) called the protests a "bit of a piffle" and "all talk," while The New York Daily News said, "[Protesters] didn't occupy Wall Street for long, shut down the Brooklyn Bridge, or win many new fans."
The "Day Of Action" began Thursday with an attempt to literally occupy Wall Street, continued with demonstrations in the city's subways, rallies in Union and Foley Squares and culminated in a large march across the Brooklyn Bridge. By the end of the day, the NYPD had arrested over 300 protesters.
Occupy Wall Street itself has portrayed the day as "historic":
Tens of thousands took action Thursday, November 17 to demand that our political system serve all of u— not just the wealthy and powerful. The NYPD estimated tonight's crowd at 32,500 people, at the culmination of the day of action. Thousands more also mobilized in at least 30 cities across the United States. Demonstrations were also held in cities around the world.
Bloomberg also defended his decision Friday to evict the protesters from Zucotti Park, saying, "One of the surest signs we did the right thing is that no one in city, as far as I know, is calling for return of the tarps, tents and encampment of Zuccotti Park," and adding, "Now, there are protestors that are probably calling for it, but I don't know of any elected officials who have stood up."
A slew of local politicians, including Public Advocate Bill DeBlasio, Manhattan Borough President Scott Stringer, and city councilmen Jumaane Williams and Ydanis Rodriguez were all highly critical of the Bloomberg's eviction of protesters from Zuccotti.
Meanwhile, it seems Occupy Wall Street protesters are taking the opportunity to rest and reorganize Friday, while NYPD spokesman Paul Browne defends his department's handling of the protests in an interview with WNYC:
Calling all HuffPost superfans!
Sign up for membership to become a founding member and help shape HuffPost's next chapter