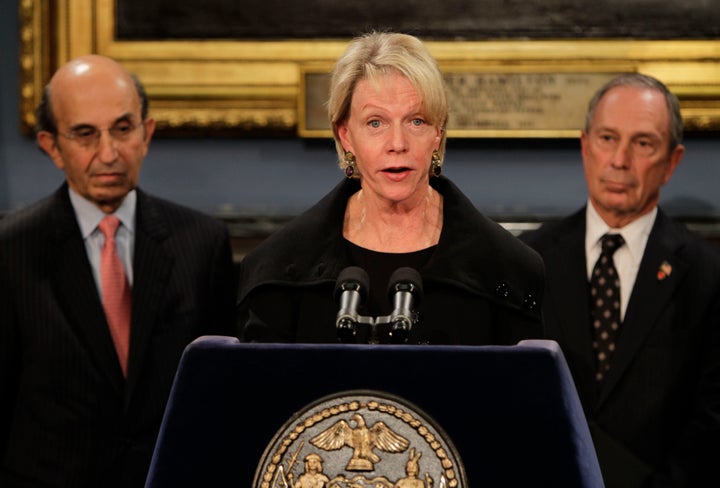 NEW YORK -- Whether circumventing term limits or banning smoking in restaurants, Mayor Michael Bloomberg is nothing if not a politician accustomed to getting his own way -- without apologizing for it.
But the perceived guilt resulting from the publishing executive's appointment and abrupt removal from office offers a timely lesson to school districts across the country now searching for new education leaders: a primer on precisely what not to do.
Early in Bloomberg's first term, the same ruthless acumen that made him a billionaire in business was transferred to the governance of New York City. Nowhere was this more evident than in his power over the nation's largest school system. After wresting control of the largely failing system, he appointed the Department of Justice's trust-busting attorney Joel Klein to preside over the city's 1.1 million schoolchildren and their teachers. Dennis Walcott is Bloomberg's new appointee.
Nationally, Klein's promotion signaled an important shift in what had otherwise been a more traditional governing structure. In other words, Bloomberg brought his private boardroom manner into the city's grittier public classrooms.
A business-minded approach, whether in merit pay or shutting down schools, ruled the day. Seen in this light, and in the light of similar policies promoted by U.S. Secretary of Education Arne Duncan, Black's promotion as an outsider wasn't really all that different.
But the jury is still out on whether what works in big business can so easily be transposed onto the fixing of schools.
"In the business world, there's an assumption that if you can sell soap, you can sell automobiles," said Diane Ravitch, a New York University education historian and former U.S. Assistant Secretary of Education. "That doesn't transfer to education."
Hence, the lesson: Bloomberg's latest gaffe may have larger implications, especially for cities like Detroit, Atlanta and Newark that are currently on the hunt for new education leaders.
The credentials are key, or at least a resume demonstrating some time in the classroom, said Pedro Noguera, an NYU education professor. "Bloomberg defended Cathie Black even though she has no background in education, saying that her managerial experience was more than enough to make up the difference," he said.
Anthony Adams, president of Detroit's school board, said the decision-making process in New York was botched from the beginning. "The process in New York was handled by the mayor only," he said. "We're advocating a much broader process with a lot of stakeholders involved. We're being more consultative, so we'll end up with a better result." His search committee includes deans of education colleges and communicaty education advocates.
Adams added that he hopes to announce the name of Detroit's new chief academic officer -- not superintendent, given the district's emergency management -- by June.
The recent search for a new leader of New Orleans's Recovery School District is a textbook example of putting these lessons to use. Just one day before her exit, Black's deputy chancellor John White, who is a career educator, announced his departure to head the RSD.
To Louisiana's education chief Paul Pastorek, who recruited White, it was important that the next leader of the Katrina-ravaged district have experience in the classroom. That White had already been in the business of restructuring New York's schools was particularly attractive.
A life-long attorney himself, Pastorek said a traditional pathway into school leadership was not necessary -- as long as there was some time in the classroom. White rose up through the ranks of Teach for America.
Pastorek said that during the process, he was "keen on engaging" educators and the community to understand its educational needs.
These superintendent searches, and others in Providence, Chicago, Florida's Broward County and Montgomery, Maryland are coming to a head as the national education debate takes on a decidedly corporate tinge.
Duncan, the current U.S. Secretary of Education who defended Black in December, has been a long-time champion of charter schools, a model embraced by corporate types for its emphasis on accountability, since his days as CEO of Chicago's schools. Michelle Rhee and Klein rose to national prominence promoting similar big business-backed reforms.
"Some believers in this corporate model think there are generic management skills that simply transfer readily from corporation to corporation and from the private to the public sector, regardless of the particular industry or service provided," said Jeffrey Henig, a professor of political science at Columbia University's Teachers College.
The question remains: To what extent will the Black fiasco reverberate through the next generation of education reform darlings?
Aaron Pallas, a professor of sociology and education at Teachers College, guesses not much. "This will not derail the widespread efforts to look at expertise outside of education," he said. "I suspect this is going to be an aberration -- not viewed as any kind of bellwether."
Likewise, his colleague, Henig, isn't holding out for a sea change. "I don't think it will cast a shadow on the Michelle Rhee/John White model, or folks in charters and new venture funds," he said, referring to the recent wave of outside hedge funders who have stepped in to reform education.
Henig concluded: "At least Rhee and White have the educational credentials. And I don't think they were particularly Cathie Black fans, either. The collateral damage to their reputations will be less than if they had publicly aligned themselves with her and claimed her as one of their own."