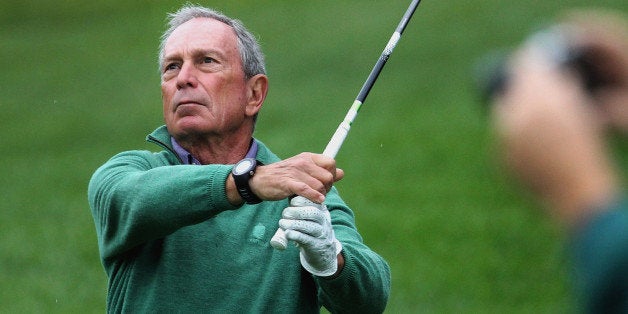 "What can I do?  I'm not a professional firefighter or police officer. Nothing I can do," Bloomberg told reporters outside St. Barnabas Hospital in the Bronx late Sunday night, while refusing to disclose his whereabouts earlier that day.
"All I can do is make sure that the right people from New York City, our police commissioner, our fire commissioner and emergency management commissioner are there."
According to the Journal, Bloomberg was hitting the links at Bermuda's Mid Ocean golf club early Sunday morning, and continued to play through until noon New York time, even though the crash happened at 7:20 a.m.
NYPD Commissioner Raymond Kelly, FDNY Commissioner Sal Cassano and OEM Commissioner Joseph Bruno all joined Gov. Andrew Cuomo and MTA chief Thomas Prendergast at the crash site on Sunday.
"Thoughts and prayers with those impacted by today's train derailment," the Tweet read. "If you are looking for a loved one who was onboard, call 311."
Cuomo held a number of press conferences throughout the day to update the public on the situation.
Bloomberg's successor, the city's Public Advocate and Mayor-elect Bill de Blasio, put out a statement shortly after the derailment Sunday, saying he'd reached out to Kelly about the accident and that his office would continue to monitor the situation.
"Our thoughts and prayers go out to the loved ones of those killed and injured in this morning's tragedy," de Blasio said in the statement.
"We stand ready to work with officials and authorities in any way we can to help those in need, and to learn the cause of this accident."
Aides to Bloomberg declined to provide information about his location on Sunday, instead directing people to the mayor's public schedule for the day -- which contained only his pre-taped radio address.
On Monday, the mayor's office again refused to say whether or not Bloomberg was in the city on Sunday.
Bloomberg's 12-year tenure at the helm of City Hall comes to an end in less than a month.
Calling all HuffPost superfans!
Sign up for membership to become a founding member and help shape HuffPost's next chapter
BEFORE YOU GO
PHOTO GALLERY
Metro-North train derails in NYC