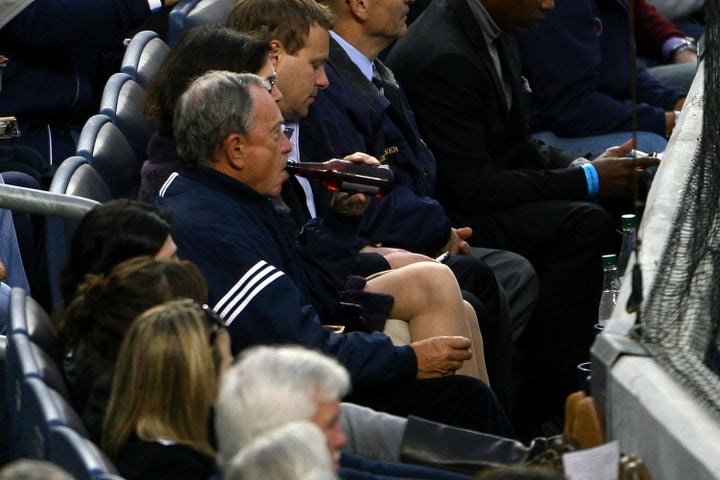 And now, the Bloomberg administration, perhaps taking a cue from local community boards, is going after booze. (See UPDATE below.)
The New York Post reports Mayor Bloomberg has plans to limit the sale of alcohol in the city, as well as advertising and promotions for bars and liquor.
The Partnership For A Healthier New York City initiative seeks to reduce "alcohol retail outlet (e.g. bar, corner store) density and illegal alcohol" and reduce "the exposure to alcohol products and bar advertising and promotion in retail and general (trains, buses, etc.) settings (stores, restaurants, etc."
Reached for comment, a spokesperson told The Post, "The city's goals for the Partnership for a Healthier New York are in line with our ongoing strategies of promoting healthy eating and physical activity and discouraging tobacco, excessive alcohol use and consumption of sugar sweetened beverages, Specific proposals, however, are still in the planning phase."
And although it remains vague, the program could pick up steam with the help of local community boards, namely those in the Lower East Side and Williamsburg, that have attempted to reduce the number of new liquor licenses in the neighborhoods, mostly in an attempt to reduce noise and general rowdiness.
Hizzoner's plan also cites the fact that alochol-related emergency room visits for underage New Yorkers doubled between 2003 and 2009. Alcohol is also a factor in nearly half of all city homicides and 28 percent of vehicle-crash fatalities. Another recent report showed that 42 percent of accidental subway deaths involve alcohol.
Despite some critics crying "nanny-state," Bloomberg's health initiatives have become a major part of his administration. At the end of December, he touted New Yorkers' record life-expectancy as proof of his efforts' effectiveness.
And during a press conference Tuesday, he defended the city's in-your-face anti-obesity ads, one of which features images of sugary drinks next to a man whose leg was amputated due to diabetes:
UPDATE 1/11/12 4:50 PM : Bloomberg has scratched the proposal to limit the number of establishments serving alcohol.
Asked if the mayor backed the effort to limit booze-selling businesses, Bloomberg spokesman Stu Loeser said, "No."

"One reason the mayor has been successful in office is because we think there are no bad ideas in brainstorming and then we weigh them against other concerns. We're deeply committed to encouraging entrepreneurs to start and expand small businesses in the city," the mayoral spokesman said.

Related
Popular in the Community