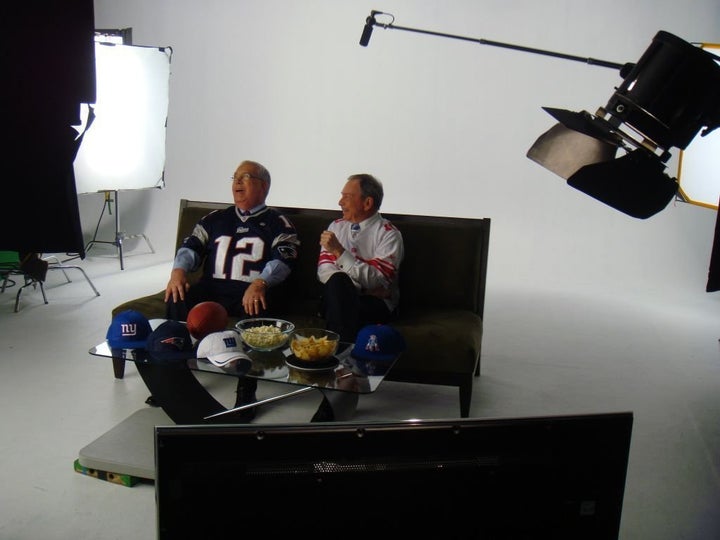 The longtime mayors of the Big Apple and Beantown may be routing for opposing teams during the Super Bowl, but when it comes to gun control, the two are on the same side.
New York City mayor MIchael Bloomberg and Boston mayor Thomas Menino will star in their very own Super Bowl ad this Sunday. In the 30-second spot set to air regionally, Bloomberg dons a Giants jersey and Menino, a Patriots jersey, while the two trade New York vs. Boston jabs before settling in and talking about guns.
The duo are longtime allies when it comes to gun control and co-founded the group Mayors Against Illegal Guns, which boasts the support of nearly 600 mayors across the country. The group, although supporting the second amendment, agree on a set of "common-sense reforms that would save lives."
In a telephone interview with The New York Times, Menino said the commercial was partly aimed at lawmakers in Washington. "It's a fun way to get a very serious message across to the decision makers," he said, adding, "If you want to hunt or you need a gun for protection of your business, O.K., but there's too many loopholes."
And Bloomberg advisor John Feinblatt told WCBS 880, "Despite the great rivalry between Boston and New York that will certainly be played out in Technicolor on Sunday, what we wanted to show was that the mayors of both these great cities agree, as most Americans do, that we just need to repair our broken background check system in the United States."
This isn't the first time Bloomberg has waded into the national gun control debate.
After the tragic shooting death of NYPD officer Peter Figoski in December, the mayor invited Congress to the funeral to witness firsthand the effect of illegal guns.
And in August, when the city saw a staggering 67 people shot in one three-day weekend, the mayor put some of the blame on Washington. "This is a national problem requiring national leadership," Bloomberg said, "but at the moment neither end of Pennsylvania Avenue has had the courage to take basic steps that would save lives."

Popular in the Community