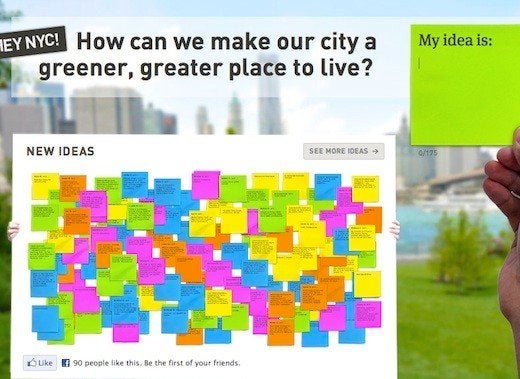 Mayor Michael Bloomberg unveiled a new website this morning in a ceremony at the Church of St. Luke and St. Matthew in Brooklyn, The New York Times reports, that allows New Yorkers to share policy initiatives and ideas to make the city a better place.
According to the Wall Street Journal, the platform, Change By Us, is "designed to channel financial backing to a handful of promising projects proposed and help neighborhood groups form and connect with local volunteers." Currently the focus of the projects is to make New York City more environmentally sustainable.
Created by the New York design firm Local Projects, the site lets users write an idea on a digital post-it note. All ideas are visible to the public. Proposals so far range from serious, thought-out ideas (Bronx River Cleanup) to silly complaints (No more traffic tickets!).
New Yorkers can sign up via Facebook or Twitter or log in directly.
You can follow the latest converstaions about Change by Us on Twitter using the hashtag #ChangeByUsNYC or by following @ChangeByUs_NYC.