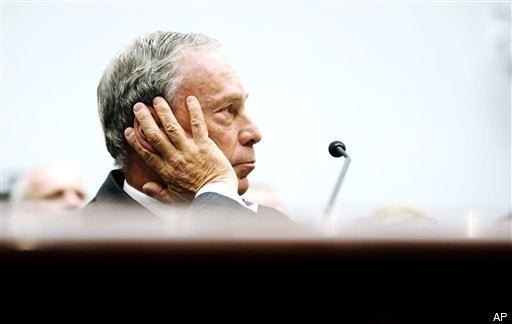 Mayor Bloomberg has survived hugely unpopular pursuits (including his overhaul of the city charter to give himself a third term) but snow seems to be his kryptonite.
A Marist poll released today reveals that Mayor Bloomberg's approval ratings are the lowest of his entire term. Currently only 37% of New Yorkers approve of the job Bloomberg is doing, compared to 50% of New Yorkers saying he was doing a great job this same time last year.
The new polls reflect voters' growing sense of anger and alienation at the mayor, from the unpopular decision to appoint Cathie Black as schools chancellor to the city's terrible response to the Christmas blizzard.
In fact 71% of those polled disapproved of the mayor's response to the storm -- a number outweighed only by the city's disappointment with the sanitation department, whose disapprovals are at 72%.
As another (and smaller) winter storm approaches New York, Bloomberg and the Sanitation department have another chance to improve their public image. "Mayor Bloomberg clearly will need a big shovel if he wants to dig himself out of this political storm, and it looks like the next opportunity is heading his way," says Dr. Lee M. Miringoff, Director of The Marist College Institute for Public Opinion.
Most surprising about the new poll is the reaction to the city's new schools chancellor, Cathie Black. Given the storm of criticism surrounding her appointment, the numbers here are rather tepid. 28% of those polled said they were unsure if she would succeed as chancellor, while only 16% said she would do poorly.
REAL LIFE. REAL NEWS. REAL VOICES.
Help us tell more of the stories that matter from voices that too often remain unheard.