There's a new ban in town. Mayor Michael R. Bloomberg isn't going after New York's sugary drinks this time though. Instead, he plans to eliminate poor self-esteem in young girls.
The city recently launched an ad campaign aimed at increasing girls' self-confidence through positive messages. According to the New York Times, the ads tell girls that they're beautiful as is and reject the "unattainable notions of beauty" seen elsewhere.
Story continues below photo.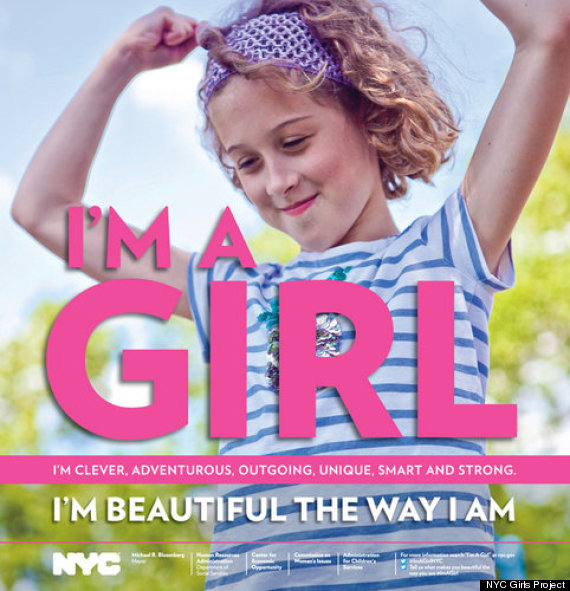 According to the initiative's website, New York city recognizes that girls are struggling with self-esteem, and the city wants "to help girls believe their value comes from their character, skills, and attributes -- not appearance."
Different affirmations appear on each ad along with the tagline "I'm a girl, and I'm beautiful the way I am." For example, one reads: "I'm clever, adventurous, outgoing, unique, smart, and strong." The Times also reports that there will be a 30-second video played in taxis, physical fitness classes offered for girls in 75-after school programs, and, of course, a #ImAGirl Twitter Campaign as part of the project.
Although the Bloomberg office launched the campaign, the brain behind the endeavor is the mayor's deputy press secretary, Samantha Levine, who serves as project director. She was "moved" by the horrifying tactics young girls take to look thin or improve their appearance. "I think being a woman in this society, it's sort of impossible to not be aware of the pressures there are around appearance, around weight, around trying to always look a certain way," she told the Times.
The New York Times cites The American Journal of Maternal/Child Nursing findings of "more than 80 percent of 10-year-old girls are afraid of being fat." The ads hope to target girls from 7 to 12 years old in an effort to prevent eating disorders, drinking, and bullying – issues that kids deal with all too often.
Koa Beck, a blogger at Mommyish, wrote that she thinks the campaign will be extremely beneficial to girls, especially those in less than positive situations. "Here's hoping these advertisements reach those young ladies who aren't fortunate enough to have this kind of support or awareness in their parents," she writes. "And for those that do, it's just more affirmation."
But over on The Cut, Kat Stoeffelisn't buying it. "There's something slightly contradictory about the NYC Girls Project message — 'Don't worry about how you look. You look beautiful!'"
Flaws aside, the overall message of this campaign is positive. And, for some, that's a start.