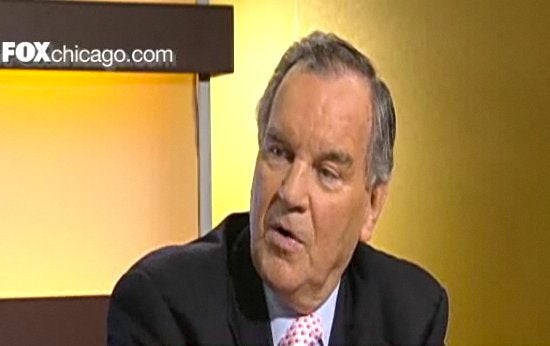 Former Mayor Richard M. Daley had little to say about Mayor Rahm Emanuel's performance in Chicago, but doled out veiled criticism by highlighting problems in the Obama administration while Emanuel was the President's Chief of Staff in his first live television interview since leaving office.
Emanuel has regularly mentioned problems he inherited with the office, a textbook move to lower expectations and buy time, the Chicago Reader's Mick Dumke explains. Emanuel has blamed an insufficient number of police officers on the streets, TIF problems and the too-short school day on the "lax policies" of his predecessor.
When Daley was asked during the interview if Emanuel's distancing his administration from Daley's "stings," he brushed it off, saying that "everyone has different styles." All the former mayor said about Emanuel's performance in office was that "he's doing a good job."
But when the conversation shifted to national issues, Daley made some pointed remarks about the Obama administration's decisions while Emanuel was his Chief of Staff--a position now held by the former mayor's brother, Bill Daley.
"For two years [the White House] spent all their time and effort on health care," Daley said in the interview. "Was it right? Health care is right, but there's more to America than one issue. It is basically jobs in the future. President Obama is talking about that. He's finally realizing that it's all about jobs."
The comment seemed to draw a sharp divide between the President's decisions during Emanuel's two years in the White House and changes since Bill Daley took the position.
"They had two years of difficult times and they put all their wherewithal in the health care bill, and jobs are always the key," Daley said.
Since leaving office, Daley said he is grateful to spend more time with his wife Maggie, who has been fighting breast cancer since 2002. What he misses most about being mayor? Interacting with his constituents at block parties, parades and other events across the city.
"I was a public servant, I served the public, and that's what we have to get back to. All elected officials are public servants," Daley told Fox Chicago. "I miss going around the city and taking notes, and secondly, meeting people. This is a great city."
Watch former Mayor Richard M. Daley's live interview with Fox Chicago here:
Calling all HuffPost superfans!
Sign up for membership to become a founding member and help shape HuffPost's next chapter