On the heals of a rally and prayers from the "Reverend Billy and The Stop Shopping Choir" Sunday afternoon, the beleaguered newsstand operator Jerry Delakas may get good news from the mayor's office today. After many vigils and rallies by the East Village community, Jerry may be about to work at his newsstand again.
The Astor Place Square newsstand was shut down in December by the city's Department of Consumer Affairs and while Mayor Bloomberg was still in office.
"We are in intensive negotiations with the Mayor and Corporate Counsel and it's looking very good," said Jerry's lawyer, Arthur Schwartz, principal attorney for public interest law firm Advocates for Justice.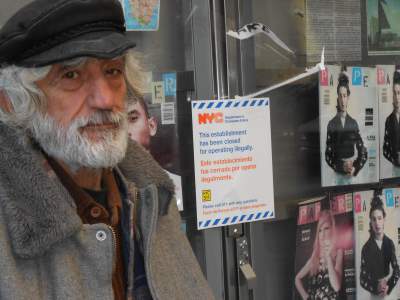 Jerry at his padlocked Astor Place newsstand. He could be back to work soon.
A feasible solution would end years of litigation between the city and this newsstand operator. Jerry has spent more than 26 years on the same corner and is 64-years-old. This reversal of city and court decisions to remove Jerry and put another "licensed operator" at the Astor Place location could be a sign the new mayor is more willing to find solutions than the previous administration, observers say.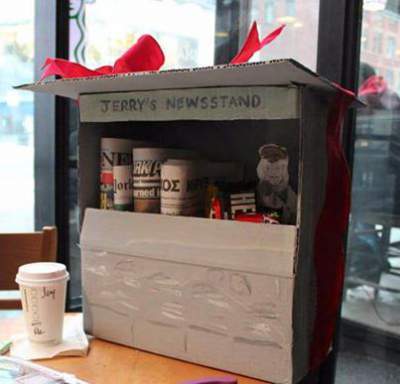 Kelly King, an East Village artist, made a model of Jerry's newsstand she gave to the mayor during a recent open house at Gracie Mansion. Along with the newsstand came Jerry's story.
At a 3 p.m. news conference at Jerry's Astor Place newsstand, Mr. Schwartz will announce the solution the mayor, the city's lawyers, and Mr. Schwartz have helped craft, ending a long saga for this newsstand operator. Since the closing in December by the city's Department of Consumer Affairs, Jerry has been going to his newsstand like a horse going back to his barn, said Kelly King, who was instrumental in bringing Jerry's story to the forefront. (See previous posts.)
Now, Jerry will be able to head to the barn and the door may be open as soon as this week once the issues with the licensing are settled. In a city that is demanding of any mayor's attention, Mayor Bill de Blasio is demonstrating early on that he is willing to help a sole proprietor stay in business, and in Jerry's case, stay out of the city's shelters.
This was Jerry only source of income and he's often remarked that he would like to spend the rest of his life on this corner. Thanks to Mayor de Blasio, Mr. Schwartz and a host of other community supporters, Jerry may indeed get his wish.
Calling all HuffPost superfans!
Sign up for membership to become a founding member and help shape HuffPost's next chapter