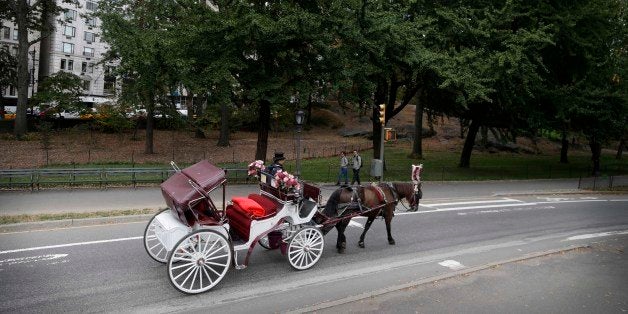 For the lucky among us, this is a happy, hopeful time of year. And nowhere is the holiday spirit more palpable than in Manhattan, where thousands flock to shop at FAO Schwarz, photograph Rockefeller Center's beloved Christmas tree, and ride through Central Park in iconic horse-drawn carriages sparkling with the colors of the season. But tourists' "To Do" lists may be about to change, as Mayor Bill De Blasio has introduced a bill to ban horse-drawn carriages by May of 2016, making good on a key campaign promise.
For opponents of the industry, the proposed bill comes as an early Christmas present. Components of the bill include: 1) a phase-out of the carriage horses (licenses to operate the carriages are set to expire May 2016 and would not be renewed) 2) a prohibition on disposing of the horses via slaughter and 3) retraining and job opportunities for the carriage drivers.
The carriage horse industry has fought back hard since De Blasio took office, enlisting professional help from the anti-animal welfare firm Calvary Group and actor Liam Neeson. Despite its efforts to cloud the issue, however, it's clear to most reasonable people that horses simply don't belong in Manhattan. While it isn't the industry's intention to be cruel, cruelty by design is cruelty nonetheless. Horses work seven days a week in heavy traffic and all weather conditions, breathing in fumes from city traffic. At night, they walk steep, narrow ramps to their tiny stalls. Many are involved in accidents; some die. Drivers can use Liam Neeson and propaganda all they want, but the facts remain.
Two leading advocacy groups are hailing the merits of De Blasio's proposed bill. Allie Feldman of NYCLASS (New Yorkers For Clean Livable And Safe Streets) calls it "the right creative solution that benefits all New Yorkers by adding jobs while also ending an unsafe and inhumane industry," and Elizabeth Forel of The Coalition to Ban Horse-Drawn Carriages believes the bill is "strong and fair, giving the drivers time to be trained in something else and offering green taxi medallions to carriage drivers who want to drive cabs."
But the horses need us as well, friends, and that is the purpose of this post. The bill must be passed in City Council, where about half of the members remain unconvinced. The bill needs 26 votes to pass. If you are among the thousands of New Yorkers who hope to see an end to this archaic industry, please contact your City Council-member and let him or her know that you support De Blasio's bill.
At Catskill Animal Sanctuary, a 110-acre sanctuary for horses and farmed animals, we know what life should look like for a horse. At CAS, horses are given room to roam, fields to graze and run in, and big stalls to sleep in at night. All horses deserve this, and none more so than the hard-working carriage horses of New York City.
May your December be merry and bright, and may 2016 be every brighter our horses!
Related
Popular in the Community