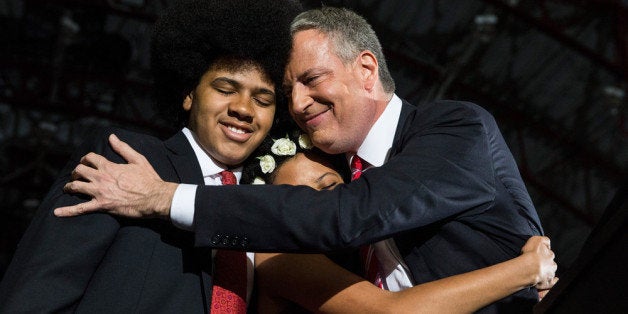 In less than 72 hours the Big Apple anointed a new mayor, was schooled in Greek mythology by #Hercules, and received a seemingly funny reminder that new-found "celeb" status should come with a manual on digital "Do's & Don't's."
First "Don't:" Thou shall not put anything in writing that you wouldn't "literally" want Mom and Dad to read.

As reported earlier, Mayor Bill de Blasio's son, Dante de Blasio, made an appearance online when his private iMessage made its way to the Web. Although innocuous in language, the post is indicative of how Dante's celeb-dom has thrust him, and his hair, into the public sphere.
While shoveling snow on Friday morning outside of their Brooklyn home, I wondered if Mayor de Blasio warned young Dante of the perils of over sharing on social media.
In "The Psychology of Sharing" the New York Times Insights Group looked into the motivations behind social sharing, findings that were mirrored in detail in Harvard University's own research suggesting "that humans so willingly self-disclose because doing so represents an event with intrinsic value, in the same way as with primary rewards such as food and sex."
This is significant because it tells us that sharing, in and of itself, is actually innate to human behavior. In seeking gratification we repeat the cycle, much like we use media to fuel our entertainment. If we're wired this way, then why is it so detrimental in a digital environment?
While the use of new media, like the Internet, had been confined to digitally literate individuals, it's commonplace, as of the past decade or so that the general public and companies at large have adapted to this medium. While the Web was a space that was used to store and disseminate information from a "trusted" source to a recipient, it's has now become a complex system of relationships where source and recipient are indiscernible. The rise of social networks like Facebook from the cavernous chatrooms of AOL's heyday has given way to the Neo Industrial Boom, through digital technology.
If we're agreed on the notion that individuals, particularly young people who are developing their decision making abilities, are not protected by anonymity then who bares the responsibility of humanizing the technology for them so that they are not victims of transformative new media? Should STEM courses feature ethics panel's or will parents with insurance be zapped with a guide through their mobile phone when their teenagers hit puberty and they've purchased a phone for them?
Surely it's a subject that requires debate and action beyond the confines of government oversight. It's my opinion that learned behavior can have just as much sway as learning to tweet your way to happiness. And so, I ask, Mr. de Blasio: What example will you share with Dante?
REAL LIFE. REAL NEWS. REAL VOICES.
Help us tell more of the stories that matter from voices that too often remain unheard.