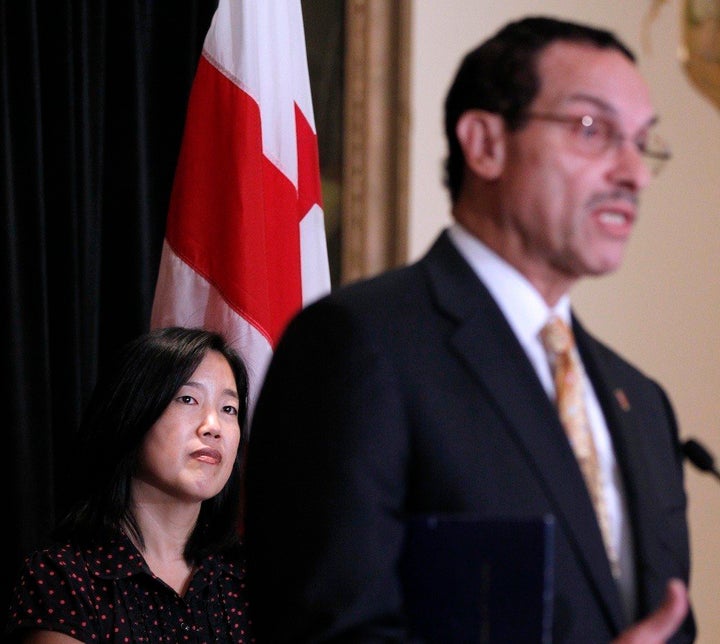 The recent announcement by Washington Mayor Vincent Gray that he will keep Kaya Henderson as schools chancellor, after her interim tour, would at first glance suggest that he is sticking with Michelle Rhee's controversial school reforms.
After all, Henderson was Rhee's deputy chancellor, and the two women are good friends. Just before being nominated as D.C. schools chancellor, Rhee called Henderson and made her swear a "pinkie oath" that she would join Rhee's team in D.C. You don't get much closer than that.
Henderson is, like many of Rhee's top management team, a Teach for America veteran. Gray must be aware of the resentment many of the teachers who worked to elect him feel toward TFA. And yet he's sticking by Henderson.
Gray chose to appeal an arbitrator's decision that the district must reinstate 75 teachers Rhee fired in 2008. Teacher firings were the biggest source of resentment toward Rhee, and not just among teachers themselves. As a favor to the unions -- especially given that the American Federation of Teachers is reported to have spent $1 million on his campaign in an attempt to get Rhee fired -- Gray could have let that slide. But he didn't.
Finally, Gray backed Henderson when she decided against bringing Patrick Pope back as principal of Hardy Middle School. Removing Pope from Hardy was an understandable education move that blew up on Rhee and became a PR nightmare. For Gray, insisting that Pope return to Hardy would have been easy payback to the Hardy parents who wanted very badly for that to happen (so much so that some allowed their kids to shave pro-Pope messages onto their scalps). But he didn't.
It does seem strange that Gray, who was Rhee's biggest detractor on the city council and made no effort to keep her after he was elected mayor, seems to be backing her reforms. Perhaps too strange to be true.
Bringing in his own chancellor would have meant taking ownership of the D.C. schools, which for years has been Washington's weakest public institution. With Henderson, if things don't work out Gray can always say he gave the Rhee reforms a serious try.
Hardy Middle School? Rhee's team was not happy with the student selection process Pope used that appeared to favor certain parents. Later, he infuriated district leaders by tolerating, even encouraging, a rebellion among Hardy parents. Pope burned a lot of bridges with the Rhee team. Insisting on returning Pope to Hardy might have pushed Henderson too far.
As for appealing the arbitrator's ruling to return the 75 teachers: Given what we know about those teachers -- one who considered working Mondays and Friday unnecessary, another who didn't believe in using lesson plans - if Gray had tried to save their jobs, it would have sent all the wrong messages about improving schools in D.C.
In truth, Gray has yet to be tested on his resolve about school reform. The first signs of that may arise in the budget process. To preserve academic programs, will he allow teacher layoffs? Will he close undersubscribed schools? For Rhee, the crunch came when the council instructed her to cut summer school programs to absorb a budget trim. She refused and chose instead to lay off teachers, most of them teachers deemed by principals to be weak.
The real test of resolve will come with IMPACT, Rhee's teacher evaluation system that is admired nationally, while despised by many D.C. teachers. Currently, 733 teachers are classified as "minimally effective" and are at risk of termination this school year. Gray's panel to review IMPACT issued a skeptical report on the system, saying teachers viewed it less as professional development than a "sorting and termination tool."
Gray knows the controversy over Rhee's teacher firings helped get him elected. Why risk getting scorched by that same political anger? The mayor has ways to shift IMPACT into neutral: Just get the word out to principals to ease up on evaluation grades. Quietly, subtly, make sure that hundreds of at-risk teachers "improve" and dodge termination.
There are risks to that, of course. Gray knows that plenty of weak teachers remain in the D.C. system. And he has to know that the startling academic turnaround at Sousa Middle School, a school located in his own Ward 7, occurred only when nearly all the staff was replaced.
For Gray, assessing Rhee's record in D.C. presents a dilemma. His supporters despise her. But Gray has good reasons for ignoring all the noise emanating from a virtual cottage industry of Rhee detractors determined to discredit her and derail her reforms. Michael Casserly, executive director of the Council of the Great City Schools, is a true expert on D.C. schools, with a stack of detailed reports going back years. The simple truth, says Casserly, is that between 2007 and 2009 Rhee made progress in D.C. that wasn't being made in other urban districts.
None of this should detract from the good news of Henderson's appointment. Having Henderson at the helm means the progress made in previous years has a good chance of continuing. The tough decisions that will determine that progress, however, are still ahead.
Popular in the Community