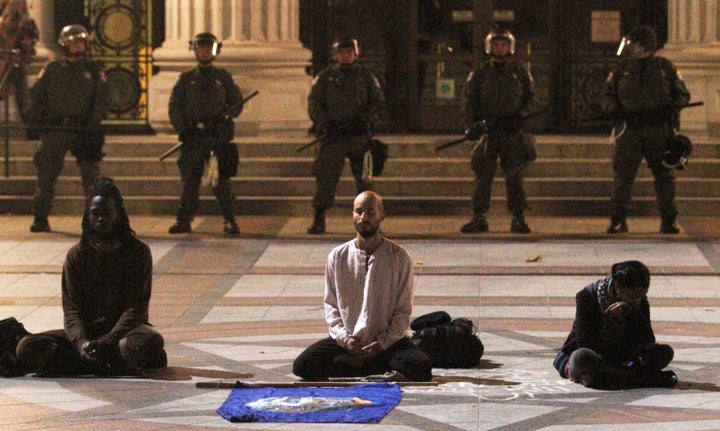 WASHINGTON -- As a platoon of Oakland Police Department officers began clearing out Occupy Oakland's encampment for a second time at Frank Ogawa Plaza downtown, one of Mayor Jean Quan's advisers resigned in protest. Quan's legal adviser Dan Siegel announced his decision via Twitter early this morning.
No longer Mayor Quan's legal advisor. Resigned at 2 am. Support Occupy Oakland, not the 1% and its government facilitators.
Siegel's resignation should not come as much of a shock. The attorney said he had come close to resigning over the city's first raid, in which the police used tear-gas and rubber bullets to disperse the activists.
"I did think about it," he told The Huffington Post in an interview Monday afternoon. Siegel relented when Quan reversed course amid condemnation over her handling of the Occupy protests. Quan apologized for the raids and let the activists retake their old space.
But with Quan's latest reversal, Siegel suggests the mayor is showing weakness in the face of the city's entrenched powers. "I do think she was overrun by the opposition," he explained. "It was a combination of councilmembers, the chamber of commerce and some administrators in the city, including the city administrator and chief of police."
Quan justified her latest sweep of the Occupy site on the growing allegations of violence surrounding the site.
"We came to this point because Occupy Oakland, I think, began to take a different path than the original movement. It was no longer about the pieces of the financial system or foreclosures or the unemployed," Quan said, as reported by MSNBC. "The encampment became a place where we had repeated violence and last week a murder," she said. "We had to bring the camp to an end before more people got hurt."
Siegel said there is no evidence that the Occupiers are to blame for the murder, and that the victim had been a sometime participant at the Occupy camp. Siegel compared Quan to a character in a Greek tragedy. "Circumstances have put someone in a position where they wind up doing something against their own goals and values," he said. "That's what occurred here."
"I didn't agree with it," Siegel said of Monday morning's raid. "I really do think it's an extremely important movement that hopefully will continue to grow and have a big impact on American society. So given the choice between expressing my solidarity with the Occupy movement and remaining a legal adviser to the mayor when we were clearly not on the same page was really a pretty easy choice for me."