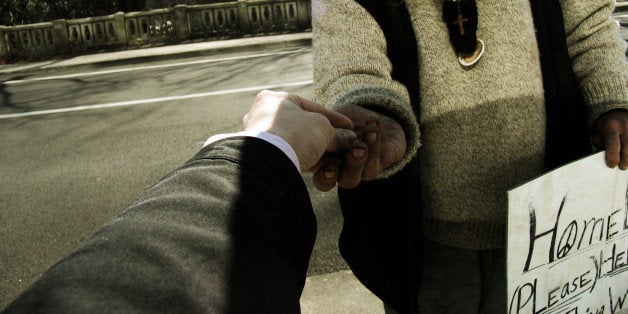 If you're considering giving a homeless person some spare change, you may as well just hand him drugs instead. At least that's what a mayor of a wealthy California community thinks.
Maryann Edwards, mayor of Temecula, Calif., recently unveiled her plan to "eliminate" homelessness -- a plan that involves using no tax dollars. Rather, it will rely on the resources of nonprofits and churches to "provide support and a path to self-sufficiency" to the area's 80 homeless people, the Press-Enterprise reported last month.
But some don't quite see Edwards' approach as much of a "hand up," considering her reluctance to incorporate tax dollars into her plan.
"It's a little difficult to see the hand up in Temecula's strategy. A very affluent community, Temecula could probably do a lot more to help the city's tiny homeless population out of its own taxpayer revenues," Rick Cohen wrote in the Nonprofit Quarterly. "It could probably generate services and supports for the homeless that look more like service and less like policing … The strategy looks like it eliminates homelessness by driving out the homeless."
The specifics of the "policing" Cohen refers to relates to the city's intentions to increase surveillance and inspections where homeless people typically reside, implement ordinances that will minimize panhandling and maintain a visible presence in order to "deter unwanted transient behaviors."
Edwards responded directly to Cohen's criticism in the story's comments section. (She confirmed to ThinkProgress that she had penned the note, herself.)
She also told ThinkProgress that she sees no need to burden taxpayers with helping to put an end to homelessness.
The mayor noted in her comment that her plan is multi-pronged. Through its partnership with the Community Mission of Hope, a program that provides food, hygiene supplies and support, the city will offer housing, job placement, substance-abuse counseling and also make the public aware that those who appear to be struggling on the streets have chosen to live in a compromised way.
People need to be made aware that the remaining homeless people panhandling on the off ramps are homeless by choice. They have rejected all forms of help and have chosen instead to play on the sympathy of generous residents. Through the communication piece, people will know that donating money is the same as donating drugs or alcohol. People will know that food was/is available, but the homeless have turned it down in favor of maintaining their homeless lifestyle. People will know that by giving food, money, or temporary shelter to a homeless person, they are actually enabling the homeless person to continue to live in the creek and use heroin.
The debate surrounding whether it is beneficial to give money directly to the homeless continues to ensue among experts.
But other researchers have found that giving charity to people on the streets does help.
Back in 2009, the Joseph Rowntree Foundation in York, England, approached 15 homeless people and offered them the opportunity to partake in a budget program. Thirteen people agreed to join and were asked what they needed most. Each person was allotted 3,000 British pounds (a little more than $5,000) for the year, and at the conclusion of the social experiment, 11 people who had initially been reluctant to leave the streets, moved into accommodations.
However, there is less room for debate regarding Edwards' point that people living on the streets are doing so simply to "play on the sympathy of generous residents." When a homeless person declines assistance from outreach workers -- it often has nothing to do with wanting to take advantage of passersby.
David Pirtle, for example, has schizophrenia and currently works as an advocate for homeless people with mental illness. But before he became an activist, Pirtle was homeless. He lost his job in 2004 and starting living on the streets, consequences he attributes to not properly treating his schizophrenia, he told NPR in 2012.
He told the news outlet that it was sheer fear that usually prompted him to reject help.
"All I can say is that my fear of the unknown, of what might be waiting for me at that shelter, was worse than my fear of the known risk, you know, of staying out on the street," Pirtle told NPR. "That was where I was comfortable. And I think people, we're creatures of habit. We get comfortable in the most uncomfortable positions, and that just becomes home."
Annie Moody, who currently lives on Skid Row, has been arrested 59 times and said she is just not interested in finding a permanent dwelling. Even if she were handed the keys for free, she would reject the offer, she told The Los Angeles Times.
REAL LIFE. REAL NEWS. REAL VOICES.
Help us tell more of the stories that matter from voices that too often remain unheard.
BEFORE YOU GO
PHOTO GALLERY
The Hungriest States In America