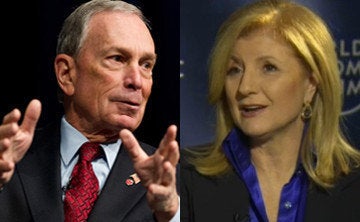 Conversations about how government isn't working are all too common -- and for good reason. Washington is paralyzed by special interest politics and partisan gamesmanship.
Elected officials serving their local communities are just as frustrated with Washington as the rest of the American people. Local leaders are pragmatic problem-solvers, not partisan warriors. Citizens expect safe streets, good schools, affordable services -- and it's up to local governments to deliver.
In recent years, as Washington has sunk further into a swamp of dysfunction, local leaders are rising to meet many of the toughest challenges facing the country -- from economic growth and environmental protection to public safety and poverty.
Cities have become the new laboratories of democracy, and there are promising policy experiments happening all across the country. New Orleans has dramatically overhauled its school system. Baltimore has developed a new innovation fund to uncover cost savings. And Cincinnati has built a cross-sector coalition to improve results for its children from cradle to career.
Solutions to many of our most pressing challenges will need to be pioneered in cities -- and, based on what is already happening, we have great faith and optimism that they will.
Today, on behalf of The Huffington Post and Bloomberg Philanthropies, we are excited to launch a new platform that celebrates the boldness and creativity of mayors and cities across the country. Here you can weigh in and help choose the Mayors Challenge Fan Favorite -- the civic innovation that Americans most want to see succeed.
The Bloomberg Philanthropies' Mayors Challenge is a competition designed to inspire America's mayors to generate innovative ideas that solve major challenges and improve city life. The response to the first-ever Challenge has been extraordinary. The 305 cities that applied come from 45 states and represent more than 64 million Americans. The submissions cover a diverse range of issues from a diverse range of cities.
The 20 finalists are now vying for a grand prize of $5 million and four additional prizes of $1 million. They just submitted their refined ideas -- and now you can see them, hot off the press. Even better, here's your chance to pick the one you find most exciting and inspiring.
In this new section, you'll find video submissions from the 20 finalist cities pitching their ideas and hear directly from their mayors. From today through March 6, you can vote in our Mayors Challenge Fan Favorite Selection and help pick America's favorite idea.
This selection is about more than the American Idol of urban innovation. It's about creating a conversation among engaged citizens about what municipal government can do -- and how it can help lead our country forward.
We are eager to elevate these local leaders and solutions, and even more eager to see the best ones replicated nationally. Watch a few, or watch all 20. Vote. Share. Help us spread these promising ideas. Maybe post a few of your own. There's never been a more exciting time for government innovation -- and with Washington stuck in the mud, there's never been a greater need for it.
This post is an entry in the Mayors Challenge Fan Favorite Selection, a partnership between The Huffington Post and Bloomberg Philanthropies that allows readers to vote on their favorite idea among the 20 Mayors Challenge finalists. The Mayors Challenge is a competition to inspire American cities to generate innovative ideas that solve major challenges and improve city life. To view the ideas from the 20 finalists, click the grid below -- and then vote for your favorite here! And follow the conversation on Twitter with hashtag #MayorsChallenge.
Bloomberg Philanthropies' Mayors Challenge finalists:
Popular in the Community