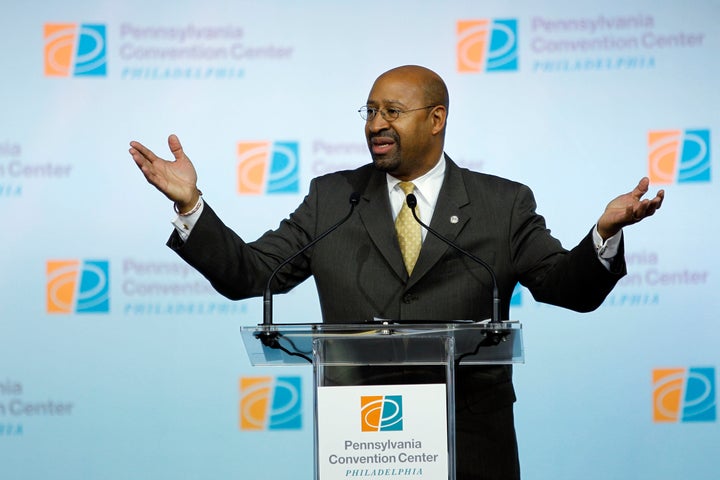 CHICAGO -- Near the end of a two-day summit here that brought together mayors and federal officials to talk about city design, the mood turned confrontational.
It started when Philadelphia Mayor Michael Nutter, in the middle of a Friday discussion on the federal government's role in city development, turned toward the Washington officials who were sitting with him on stage and expressed his disappointment.
"Mayors could never get away with the kind of nonsense that goes on in Washington," he said. "In our world, you either picked up the trash or you didn't. You either moved an abandoned car or you didn't. You either filled a pothole or you didn't. That's what we do every day. And we know how to get this stuff done."
That evidently hit a nerve, as cheers erupted through the Grand Ballroom of the Hilton hotel, where many in the audience were mayors. Manny Diaz, former mayor of Miami, who sat on stage with Nutter, gave an impromptu speech criticizing Washington lawmakers. Other mayors stood up and took the microphone during the question and answer session -- not to ask questions, but to get things off their chests.
The event, co-sponsored by the National Endowment for the Arts, the American Architectural Foundation and the U.S. Conference of Mayors, became, for a few minutes, a forum for mayors to express a difficult truth: Two-and-a-half years after the worst financial crisis since the Great Depression, the nation's cities still struggle with chronic budget gaps that can't easily be filled. Tax revenue has plunged as property values have fallen and payrolls have shrunk. Local governments, many of which are legally required to balance their budgets, have made cuts that a few years ago would have been unthinkable.
Municipal budget woes stem partially from crises on the state level, which in turn aren't helped by a lack of federal assistance. Federal dollars from the American Recovery and Reinvestment Act covered less than half of states' combined budget shortfall during this fiscal year, according to a recent report from the nonpartisan Center for Budget and Policy Priorities. Come next fiscal year, which for many states begins this July, states' combined shortfall will exceed $110 billion, with only $6 billion in federal aid available, according to the report.
That leaves cities out in the cold, as states focus on solving their own problems. In Newark, aid from the state of New Jersey fell by 40 percent between 2008 and 2010, contributing to a budget crisis that eventually prompted the city, one of the country's most dangerous according to FBI data, to lay off 13 percent of its police force late last year. In Milwaukee County, a community that has contended with a decade-long erosion of bus service, a transit cut in the coming state budget could deal a critical blow to the region's public transportation.
"We get the brunt of what the recession really entails. We're also the last to come out of that," Ed Pawlowski, the mayor of Allentown, Pennsylvania, said in an interview after the panel discussion. "While the economy is getting slowly better, cities are still struggling in a significant way."
Mayors want federal money. They say they can put it to quick and efficient use, creating jobs and helping improve the economy from the bottom up. Nutter gave an example: He closed Philadelphia's crumbling South Street Bridge in 2008, initiating a two-year repair project that was completed on budget and a month early last fall, he said. But federal funds are running dry, as Washington lawmakers have become seemingly obsessed with a desire to cut the federal deficit.
In April, lawmakers almost shut down the federal government as they argued over a few billion dollars in spending cuts. Now, some are saying they will not vote to increase the debt ceiling, and risk leading the nation into default, just to enforce budget austerity.
The four federal officials who sat on stage during the discussion -- Derek Douglas, special assistant to the president on the White House Domestic Policy Council; Roy Kienitz, under secretary for policy at the Department of Transportation; Salin Geevarghese, senior advisor at the Department of Housing and Urban Development; and Rocco Landesman, chairman of the National Endowment for the Arts -- became punching bags.
"You guys need to keep your day jobs. You'd make lousy mayors," said Jennifer Hosterman, mayor of Pleasanton, California, addressing the federal officials as she stood on the ballroom floor. "To hear from the four of you all of your gyrations and concerns and discussion about how we communicate with local government -- we at local government just have to make it happen."
The moderator, Carol Coletta, the former executive director of the NEA initiative the Mayors' Institute on City Design, tried to ease the tension. "What are you asking them to do?" she said. "I mean, what is it that they're keeping you from doing?"
Hosterman talked about her efforts to come into compliance with California's Global Warming Solutions Act. She described months of intense, focused efforts to make her city more efficient. She has specific goals in mind, she said, but she needs more resources.
"Love the dialogue -- thank you very much for that," she said. "But we need money."
The audience laughed in assent, clapping loudly.
The federal officials on stage were speaking in broad, theoretical terms. But the mayors wouldn't stand for that. They knew what needed to get done, they said. What they wanted from Washington was the dollars to do it.
"We should not be expecting or depending on top-down permission from the White House or Washington to have us advocate for this stuff," said R. T. Rybak, mayor of Minneapolis, who stood up and addressed the other mayors. Earlier, Mayor Nutter had complained about the seeming hypocrisy of federal lawmakers who go to ribbon-cuttings and ground-breakings, even if they never supported the legislation for those projects. Rybak heartily commiserated.
"I've seen those guys at the ribbon cuttings. And it pisses me off," he said. "But I go out and organize at election time and tell people exactly who delivered and who did not."
Douglas, of the White House Domestic Policy Council, said federal officials are doing what they can to help. But political gridlock can muck up the process.
"We do hear you," he said. "If you look at the president's budget proposal for FY12 and you go look at the transportation section that he proposed -- this is what he's asking for -- the stuff you're talking about is in there. That's what he requested. Is he going to get what he requested?"
"We can ask for everything under the sun," Douglas added. "But just because we ask for it doesn't necessarily make it so."
But the mayors were not satisfied. Diaz, the former mayor of Miami, said that the conversation in Washington is the opposite of what it should be. Instead of cutting spending, he said, lawmakers should be finding ways to support job-creation and help the economy grow.
It's the mayors, he said, who create jobs. But the mayors aren't getting the federal support they need.
"We've got to figure it out. All of us have very, very difficult budget times right now. But notwithstanding that, we have to figure out how to do it," he said. "As a matter of fact, there's a greater argument to move the country forward now, because we're in the dumps, than when things were hopping five, 10 years ago."
Kienitz, of the Department of Transportation, suggested that Diaz run for U.S. Congress. "You could provide that leadership that we need," Kienitz said.
"Thanks," Diaz replied, "but I don't want a job in Washington."
Popular in the Community