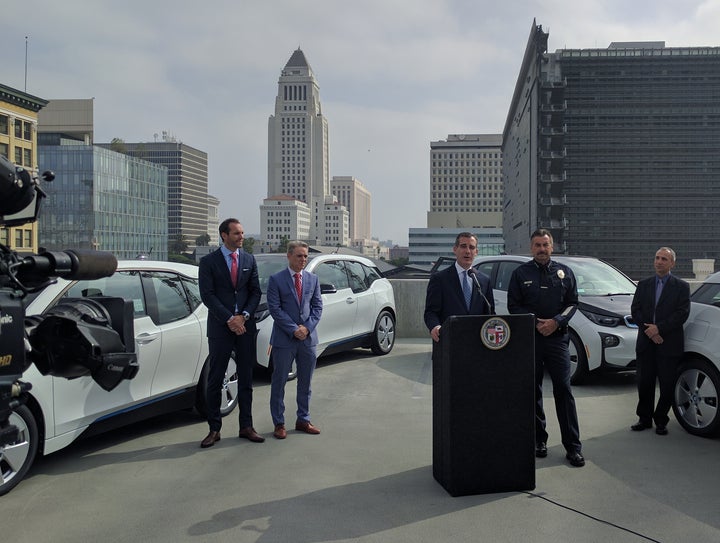 As our country faces a likely roll back to federal climate change policies any day, now is the time more than ever for cities to lead the way. Mayors know that cities are on the front lines of climate change, and understand the needs and opportunities of their communities to reduce greenhouse gas (GHG) emissions while growing the economy.
In Los Angeles, Mayor Eric Garcetti has made climate action a central part of his agenda, while creating the economy of the 21st century and improving the lives and environmental health of all Angelenos. As the Chief Sustainability Officer for Los Angeles, I am—along with our great sustainability team—working hard to support the Mayor's vision and leadership to take bold actions to cut carbon emissions and fight climate change head-on.
In April 2015, Mayor Garcetti released the Sustainable City pLAn, a comprehensive vision and actionable road map, with long and short term goals, that has been delivering results across the city. On March 3, we released our 2nd annual report documenting our progress on the Sustainable City pLAn--we are on track to complete over 90% of the 61 targets we set for 2017, and have met or exceeded two-thirds of them already.
While we have much work to do on many fronts, L.A. has reduced GHGs by 20% since 1990 (putting us half way to our 2025 target of 45%), achieved 20% water conservation, launched the first EV car share program for disadvantaged communities, approved the most robust building energy and water efficiency ordinance in the nation, and has the most publicly available electric vehicle (EV) charging stations in the United States.
Los Angeles' contribution to the fight against climate change is not restricted to these pace-setting local achievements; it's also about building partnerships with cities across the U.S. and around the world, including with megacities who are members of C40. Following the 2016 election, Mayor Garcetti led 70 other mayors—representing over 41 million Americans—from red and blue states to write a letter to then-President-elect Trump highlighting the significant human and economic costs of inaction, and urging him to work with cities and to remain in the Paris climate agreement. These mayors are all part of the Mayors National Climate Action Agenda (MNCAA), and together they vowed to "forge ahead even in the absence of federal support" to reduce GHG emissions and prepare for the realities of climate change.
Increasing the use of EVs is an important part of that equation that also improves air quality, and that's why we set goals in the pLAn to increase publicly available EV charging stations to 1,000 by 2017, and set the most aggressive EV fleet purchasing goal of any city or state in the US—50% or more of all new City of L.A. fleet vehicles procured each year must pure battery EVs. Now L.A. is leading the nation with more than 1,300 public EV charging stations—including on street lights and power poles—plus 260 pure battery EVs, saving the city money on fuel costs and maintenance.
With their important purchasing power, cities are also coming together to demonstrate demand to automakers and OEMs that if they build more EVs that meet their needs--including trash trucks, buses, and pick up trucks--cities want to buy them. Initially the West Coast cities of Los Angeles, San Francisco, Seattle, and Portland jointly released an EV Request for Information (RFI) in January.
Since then, 26 other MNCAA cities joined the EV RFI and a now total of nearly 115,000 vehicles and trucks were included that could be electrified. These cities represent every part of the country, from Austin, Houston and San Antonio in Texas to New Orleans and Atlanta in the Southeast, to Denver and Chicago, and up to the Philadelphia, New York and Boston in the Northeast.
Cities want and need Washington to lead on reducing greenhouse gas emissions and preparing our communities for the realities of climate change. Regardless, Los Angeles and cities across this nation have the the responsibility to lead the fight against climate change, while driving innovation, creating green jobs, and saving money for taxpayers.
Popular in the Community