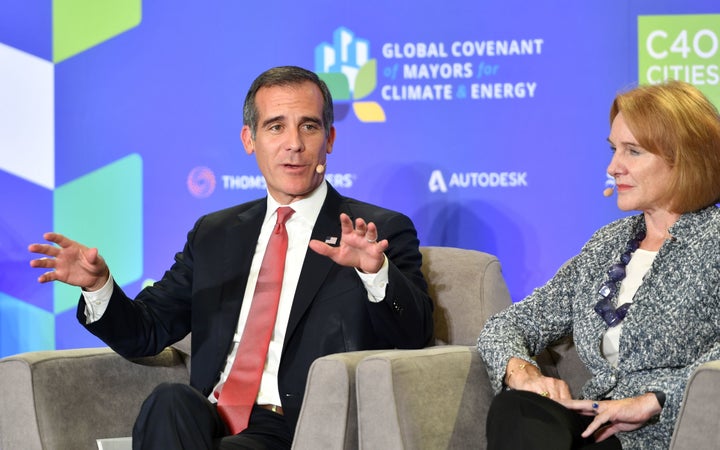 SAN FRANCISCO ― President Donald Trump may have pledged to withdraw the United States from the Paris climate agreement, but on Thursday mayors across the country vowed to uphold the country's commitment to reduce carbon emissions.
"American cities ― Republicans and Democrats and independents alike ― are saying this is real and we will take action even if Washington doesn't," Los Angeles Mayor Eric Garcetti said during a press conference at the Global Climate Action Summit, which California Gov. Jerry Brown is co-hosting in San Francisco this week.
Garcetti was one of about half a dozen mayors to speak at the press conference as they described their work as part of the C40 Climate Leadership Group, a network of major cities committed to addressing climate change.
The actions that cities, states and businesses have taken to cut carbon emissions have already accomplished almost half of the U.S. commitment for 2025 under the Paris agreement, according to researchers at the University of Maryland and the Rocky Mountain Institute, an independent think tank. The researchers estimate that these efforts will take the United States two-thirds of the way to the goals made in Paris by 2025 "despite the absence of federal support on climate action," according to a statement released by summit organizers.          
They say the three-day conference has drawn more than 4,000 people, including business leaders, environmental activists, scientists and politicians, as well as global climate change leaders such as Paris Mayor Anne Hidalgo, the chair of C40.
One of the summit's goals is to generate momentum and encourage governments to more aggressively pursue greenhouse gas emission reductions by 2020. On Thursday, Trump's lack of action loomed large. Brown started things off Thursday with a declaration that history would not remember the president well for promoting more coal power and less stringent pollution standards for power plants and vehicles.
We're not going to wait for leadership from the White House.

San Francisco Mayor London Breed
"I think he'll be remembered, on the path he's on now — liar, criminal, fool," Brown said. "Pick your choice."
Members of the C40 said not only are they making headway in reducing greenhouse gases, but that they are adding jobs while doing so. In 2016, for example, unemployment dropped 14 percent in Los Angeles, while the city reduced carbon emissions by 11 percent, Garcetti said.
Reducing carbon emissions while increasing economic growth can go hand in hand, said former New York City Mayor Michael Bloomberg who also spoke at the press conference and is president of the board of the C40 Climate Leadership Group. He noted for example that under his tenure, New York City cut emissions by nearly 20 percent in just six years while creating a record number of jobs.
Today, nearly half of the C40 cities that have led the way in reducing emissions are from the United States, said Bloomberg. He credited these cities as the reason why the United States has reduced emissions more than other large countries over the past decade, including a reduction last year to the lowest levels in 25 years.
"Cities are home to a growing majority of people, and they account for about 70 percent of global carbon emissions, so the path to victory really must go through cities," said Bloomberg.
Like other leaders at the conference, Bloomberg noted that advances and progress on emissions reduction are being made without any help from Trump.
"The U.S. is already halfway to the commitment that we made back in Paris," Bloomberg said. "Cities have helped to make that possible, and they will help ensure that we get the rest of the way there no matter what happens in Washington."
While Trump has declared climate change a hoax, mayors are keenly aware of the effects at the local level.
Garcetti noted that he grew up in Los Angeles in the 1960s and '70s, at a time when the smog was so thick, he couldn't see the nearby mountain range on some days. From cancer clusters to high asthma rates, the ramifications of bad air quality are very real for Angelenos, he said.  
"For all of us in this work that we're doing, it's not just about the health of our planet, it's about the health of the people that we represent," Garcetti said.
Today, Los Angeles is holding itself accountable on its emission reduction goals on numerous fronts, said the mayor. Among the city's goals: To become the No. 1 solar city in America, to convert the city's Department of Water and Power into a coal-free utility, and to work to become carbon neutral by 2050.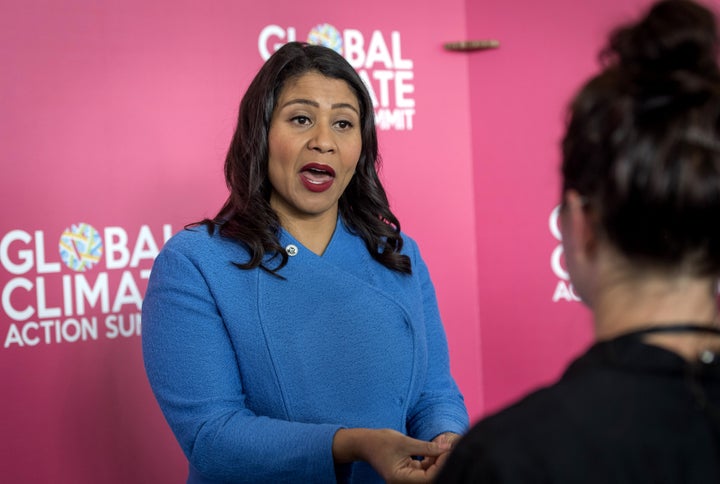 San Francisco Mayor London Breed kicked off the first official day of the summit on Wednesday with a call to action for cities across the world to prioritize the battle against global warming. On Thursday, she told HuffPost that while her city is well on its way to achieving its goals, her hope is that more cities step up as well.
San Francisco has reduced its waste by 50 percent since 1990, and now recycles or composts 77 percent it, according to C40 statistics. The group describes the city as "one the most sustainable cities" in the United States.
"We're not going to wait for leadership from the White House," said Breed. "We are going to act."
Calling all HuffPost superfans!
Sign up for membership to become a founding member and help shape HuffPost's next chapter