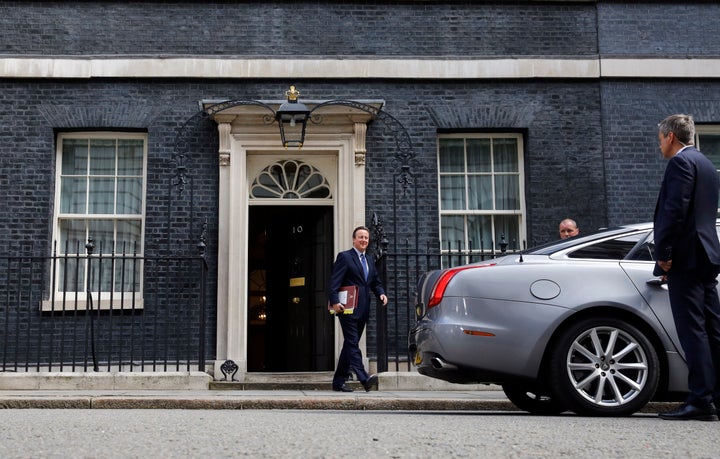 Theresa May will take over the job of British prime minister from David Cameron on Wednesday and form a government with the monumental tasks of extricating Britain from the European Union and uniting a fractured nation.
May, who has been interior minister for six years and is seen by her supporters as a safe pair of hands to steer the country through the disruptive Brexit process, will become Britain's second woman prime minister, after Margaret Thatcher.
"I think around the cabinet table yesterday the feeling was that we have our Angela Merkel," said Jeremy Hunt, health secretary in Cameron's team which met for the last time on Tuesday.
"We have an incredibly tough, shrewd, determined and principled person to lead those (Brexit) negotiations for Britain," Hunt told Sky News television.
German Chancellor Merkel will be May's most important counterpart on the continent as the Brexit process unfolds. Both women are renowned for their firmness, pragmatism and discipline.
Britain's decision to leave has rocked the bloc it joined 43 years ago, and thrown decades of European integration into reverse.
Cameron, who led the "Remain" campaign, announced the morning after the June 23 referendum that he would stand down, triggering a leadership contest in the ruling Conservative Party. The contest had been due to last until September but ended unexpectedly on Monday when May's last rival pulled out.
After taking part in his last weekly session of Prime Minister's Questions (PMQs) in parliament's House of Commons at midday (1100 GMT), Cameron will make his way to Buckingham Palace to tender his resignation to Queen Elizabeth.
After her own visit to the palace to be formally entrusted with the job by the monarch, May will then enter Number 10 Downing Street as prime minister in the afternoon.

The shocks of the referendum result, Cameron's resignation, and disarray in the main opposition Labour Party have plunged Britain into its deepest political crisis in modern times.
Apart from the task of executing Brexit, May must try to unite a divided party and a nation in which many, on the evidence of the referendum, feel angry with the political elite and left behind by the forces of globalization.
She is expected to immediately start putting together a new cabinet, a complex political balancing act in which she will try to satisfy opposing camps in her party.
Before the referendum, May had campaigned for Britain to remain in the EU, albeit in a low-key fashion. Since the vote, she has repeatedly said that "Brexit means Brexit" and her backers say she is determined to make the exit a success.
"Of course Theresa is going to want to make sure she's got a balanced ticket that represents the views of different parts of the party," cabinet minister Chris Grayling, who campaigned for Brexit and managed May's leadership campaign, told BBC radio.
May has said she plans to set up a new government department to lead the process of quitting the EU which would be headed by someone who had campaigned for Brexit.
"That's very sensible. It will ensure confidence among those in the party who did campaign to leave that they have a champion who believes in what they campaigned for," Grayling said.
Financial markets, which had been extremely volatile since the referendum, reacted positively to news on Monday that May would become prime minister earlier than expected, with sterling making strong gains against the dollar and the euro.
Stock markets traded within sight of their highest levels this year on Wednesday as the prospect of stimulative economic policy across the developed world eased immediate concerns over the impact of the Brexit vote.
REAL LIFE. REAL NEWS. REAL VOICES.
Help us tell more of the stories that matter from voices that too often remain unheard.