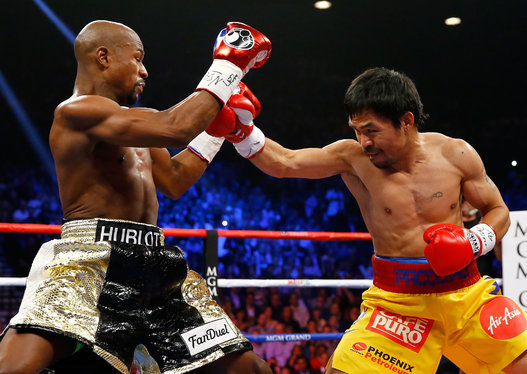 Floyd Mayweather is undoubtedly one of the best boxers of his generation. He embodies the American work ethic and his competitive spirit is legendary. "Money" has earned every penny of his millions with hard work and dedication; nobody can take that away from him.
However, he's also the "Compubox Champ." When his fights are analyzed by a computer, the numerous times he runs from an opponent or clinches an opposing fighter (after experiencing a solid shot) is never part of the mathematical equation. To the contrary, his style is perfect for a computer, not a boxing fan, scoring the match. In the Mayweather era of boxing, quick jabs and perpetual movement away from the opponent is what earns a $100 million check.
"Money" Mayweather has perfected a formula, one that almost ensures that his athleticism and knack for clinching and evading will either tire out his opponent or garner enough points to win the bout. As a result, he's consistently ahead in the Compubox score because his jab is counted while his evasion isn't factored into the equation. In a world where statistics drive the salaries of players in every sport, Mayweather has honed his style seamlessly to the efficiency and raw numbers lauded by Compubox.
Gone are the days of Hagler and Hearns going toe to toe; today's boxer wins by the punch count, regardless of the power of the punch or what takes place before or after the punch. The irony with this new era in boxing is that Compubox was never meant to score fights. As stated by its owner in Boxing News Online, the computer program was never meant to replace the judges:
CompuBox was never designed to score fights. The program was created to provide a barometer of a fighter's activity. We've never said and we never will say that we're the be-all and end-all when it comes to scoring fights, as there are more elements to take into consideration.
Yes, Mayweather is efficient and his defense is superb, but did he truly "beat" Pacquiao, or just rack up enough points to win a computer-scored boxing match? As the owner of Compubox states, "there are more elements to take into consideration" other than punch count or efficiency.
Manny Pacquiao, on the other hand, is a fighter. He fights. He doesn't instinctively clinch or evade an opponent's onslaught as if the ring were a velodrome. While he might have landed fewer shots, Pacquiao's combinations kept Mayweather either on the ropes or running. He was the aggressor, while Mayweather was constantly weary of his potential for a knockout blow.
Even with a bad shoulder hampering his effectiveness, Shane Mosley and Evander Holyfield scored "The Fight of The Century" for Pacquiao. Holyfield said after the fight that he thought Pacquiao won. According to Mosley, "It was seven rounds out of (12) for Manny." As for a recap of the boxing match, Evander Holyfield made the following assessment in a recent ABS-CBN News.com article titled "Holyfield: I thought Pacquiao won":
"I thought Pacquiao was doing well. I don't know how people scored the fight, I thought he was doing well," said "The Real Deal" in an interview with ESPN.

From Holyfield's perspective, the judges should have scored the bout in favor of the aggressor. And in the case of the "Fight of the Century" he thinks the aggressor is Pacquiao.

"The fact of the matter, you're the more aggressive one, you hit him with the shots... Pacquiao seem to hit him (Mayweather) more times than he hit Pacquiao," said the four-time heavyweight king.

He added that it takes two fighters to fight.

"You got one guy trying to catch the other guy, pretty much," Holyfield said, referring to Pacquiao. "You have one guy moving [around]."
Echoing Holyfield's sentiment, Shane Mosley said, "It looked to me that Manny was putting more punches, more combinations, and landing more and more aggressive, and (he) really wanted to make the fight." Therefore, although the judges were unanimous, not all boxing legends or fight fans scored the fight for Mayweather.
Also, for those who think Mayweather dominated the fight, Mike Tyson seemed to think the match was even up until the last two rounds and tweeted, "These last two rounds will decide the winner."
Sorry, but Holyfield, Mosely and Tyson all felt that the fight was either extremely close, or in the case of Mosley and Holyfield, that Pacquiao won the match. Clearly, these boxing legends favored the aggressive and attacking Pacquiao, while the announcers and judges seemed enamored with the cat and mouse game we now call boxing.
If every punch is met with a clinch and every flurry ends with a stroll around the ring, then is this still considered boxing?
True, I expected more form "The Fight of The Century" after spending $100. But after viewing the match, though, I knew instantly that one boxer came to fight. I also knew that another boxer showed up to implement the sporting version of a computer formula in the ring. If there's any doubt as to what transpired on May 2, 2015, just read how many times the word "clinch" is found in SB Nation's "Mayweather vs Pacquiao fight: Live round by round results blog":
Manny backs him to the corner and might have landed a left before they clinch.

Three-punch combo from Manny, who tries to open up but gets clinched.

Manny rushes, landing with a right before getting clinched.

Pacquiao to the body, clinched.

Pacquiao rushes, clinched.

Counter right lands. Clinch from Floyd.

Clinch by Floyd.

Manny digs a left to the body. Clinch.

Straight left by Manny on the counter. Clinch.

Manny with a body shot as he's clinched; the ref admonishes Mayweather for holding.

Flurry by Manny, clinched.

Manny rushes, clinched.

Manny goes to the body, gets clinched.

Manny with a pair of lefts as Floyd circles out. Clinch.
So, how does a boxer fight an opponent who continually clinches him after landing a shot? Does the true winner of a championship boxing match clinch this often during the fight? In addition, why doesn't Compubox deduct points for clinching and constant evasion by one boxer from the more aggressive fighter?
Where's the computer program that scores aggressiveness?
Like Evander Holyfield said, "it takes two fighters to fight." Yes, Mayweather won. But how did he win? How did Pacquiao lose? Compubox stats aside, we know who the aggressor was and we know who was dodging whom.
If you saw this fight without the announcers, Compubox, or judges, how would you have scored it?
Finally, what better way to end any commentary on Mayweather vs. Pacquiao than a message from Cambodia's Prime Minister. Prime Minister Hun Sen is quoted in Sports Illustrated as making the following statement:
I send a message to American judges to provide an explanation for why Floyd won. Floyd was just running around -- blocking and avoiding -- while Pacquiao repeatedly threw more and more punches, punching him to lie against the ropes.
I believe Prime Minister Hun Sen speaks for a great many boxing fans with his sentiments of the fight.
Therefore, I want a rematch between Mayweather and Pacquiao. However, I want the rematch judged by Shane Mosley, Evander Holyfield and Mike Tyson, without Compubox and without announcers. I'd pay a lot more than $100 to see that kind of boxing match.
Related
Popular in the Community