Travel is more than the seeing of sights; it is a change that goes on, deep and permanent, in the ideas of living.— Miriam Beard
How to Do Exceptional Things Inexpensively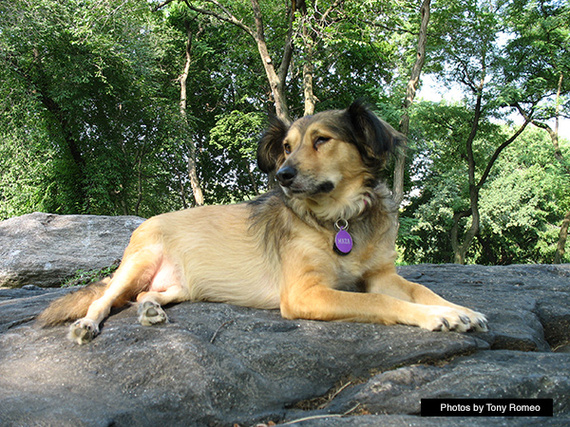 Maza Transformed, in Central Park
The first time I saw her, she was dragging a heavy chain fastened around her neck. Each step the skinny and weak dog took was an effort painful to watch. We borrowed tools in a tiendita, then stood on the end of the chain speaking softly as the dog allowed us to cut it off. My partner Tony and I were renting a house in a small village outside of Oaxaca, Mexico, and after leaving the dog a bit of roast chicken purchased in the market, we returned home thinking that was that.
When I saw the dog a week later, she had an infection in her left eye. I added antibiotics to dinner leftovers I'd started carrying, and by the time we were leaving for the States, the infection had cleared up. But she'd lost sight in the eye.
We loved Oaxaca and returned to the same house for two months in the spring. Not only had "our" dog made it through the winter, I was pleased to see she was fatter. "She must be finding food somewhere," I commented to Tony. Only now she had a dislocated hip (most likely from being kicked) and was limping around on three feet. I'd already observed her shying away from aggressive street dogs on our last visit; apparently she wasn't doing too well with people either. The part Sheltie dog was too sweet and friendly for her own good.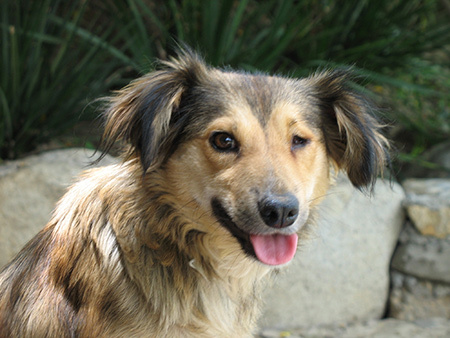 One early morning Tony and I walked into our village to do a little shopping and noticed a small crowd gathered at the produce market. Squeezed between the concrete wall and an abandoned vegetable stall, our dog had given birth. I couldn't believe it hadn't occurred to me that she looked fatter because she was pregnant! Overhearing people in the crowd discussing how to "dispose" of the litter, we asked them to please not do anything for a few minutes. When the dog heard my voice, she slunk out from her hiding place and crouched safely behind my legs. "You know we're really screwed now," Tony laughed, holding my hand as we ran home for some kind of box. For more than a month, I'd been repeating like a mantra that I wasn't bringing a dog back to New York. When we returned and settled the puppies in a small carton, Tony cautiously picked up the mother. We weren't sure how she would react, but once in his arms, she laid her head on his shoulder and let out a deep audible sigh that brought tears to our eyes.
From CLAW, started by Cora Bailey in the shantytowns of South Africa, to Fatemeh Motamedi who opened the first animal shelters for dogs and cats in Iran with her own money, there are extraordinary men and woman committed to protecting children and animals in every country of the world. The Brooke Hospital for abused horses and donkeys in Pakistan is another oasis. So when I telephoned La Pelu, an adoption organization I remembered reading about in The Oaxaca Times, I was hopeful they would help me.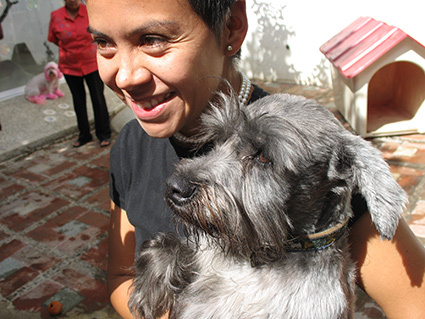 Arlette Cuevas, founder of La Pelu, arranged to meet us at her vet the next day. She'd been so kind on the phone, I wasn't at all surprised by the cute young girl in flowing low-slung skirt waiting to greet me with open arms. While studying Hotel and Restaurant Management in Barcelona, Arlette volunteered for various veterinarians and shelters. Upon returning home to Oaxaca, all she wanted was to help improve the welfare of animals in Mexico, and she recruited both her mother and father (an attorney who often did pro bono work for the indigenous Indian communities) to the cause. Their mission is to petition for more humane treatment of dogs and cats at the city shelter and speak at various schools trying to reverse the resistance to spaying and neutering of pets so embedded in the culture.
The regulations for bringing pets into the United States are surprisingly simple. There's no quarantine if they receive the necessary shots and get a certificate from a vet guaranteeing good health within 10 days of leaving a foreign country. Logistics can be another story. Our rental was over and we were booked to return to Manhattan. It was Arlette who found the airline-worthy crate; Arlette who got the health certificate stamped and dated (our dog has a passport!); and incredibly, Arlette who volunteered to drive seven hours from Oaxaca to Mexico City to ensure the new member of our family a non-stop flight to New York. All we did was meet the plane and settle the dog into her first New York City taxi!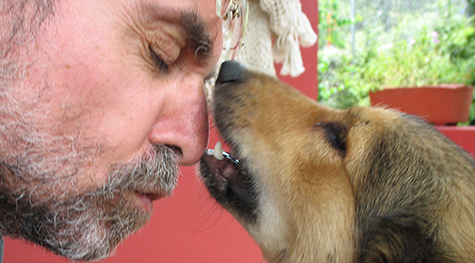 Saying goodbye before the flight to New York
We named our dog Maza after Margarita Maza, the daughter of a prominent Italian merchant who fell in love with the Zapotec Indian Benito Juárez, the future Mexican national hero. When they ran away together, Margarita displayed the same iron determination as her husband, surviving exile and numerous assassination attempts through the years. She once crossed the Sierra Madre Mountains at night on foot with their five children. The name seemed fitting.
From the first moment I saw Maza, something about her told me she wanted more than a full stomach and a place to be safe; this dog wanted to be part of a family. Now on frigid New York winter nights when I listen to her breathing deeply enveloped in the eiderdown quilt on our bed, or watch her plump tummy as she rolls in autumn leaves, I know we gave her that. What she gives us, is beyond words. Just as I was writing this post, I met a woman named Hannah and her 16-year-old dog Annie in Central Park. Annie couldn't walk, so Hannah brought her to the park to lie in the cool grass each day. She told me a pat of butter was Annie's favorite treat. I told Hannah that the care she was giving her dog spoke volumes about who she was. Embodied within her was the reminder that along with the bad, surrounding us is almost unimaginable good.
Click on the green comment box to the left of the article as you read. Let me hear about your experiences. Ask questions. I'm happy to offer suggestions and look forward to solving challenges together. And check back every month for my latest travel tips.
Next blog: Are You Sure You Want to Sign Up for That Tour?
*Disclaimer: I receive no compensation for my recommendations.