It was bone-chilling cold back home in Upstate New York on Dec. 6, 1969, when I flew off to my first trip south of the border. A couple of feet of snow had already piled up - so it didn't take much to pry me away from my desk at the Utica, N.Y., headquarters of Mohawk Airlines (yes, the ad client of TV's Mad Men). Especially for a freebie to the tropics.
It was billed as a "familiarization trip" for people in the travel industry. A planeload of travel agents, writers, airline sales reps and public relations people like myself had gathered in Phoenix for a hop down to Mazatlan on Air West. Our mission: to check out Mazatlan's dream for the future.
They called it the "Zona Dorada" (the Golden Zone), and it was going to be built along a dozen miles of virgin Pacific beaches north of the city. Our job was to talk up the project back home. Sure, I could handle that.
Getting off the plane I experienced my first 80-degrees-in-the-shade Mexican welcome. Coming from Upstate New York, it was wonderful. So were the ice-cold cervezas waiting for us in the terminal.
Next we jumped into vans for a 20-mile ride on an awful, pot-holed road (it's now a modern highway) skirting the city and ending up at our host hotel way out on the lower end of the northern beaches. It was the Playa Mazatlan, one of the area's first two resort-hotels (it's still there) along with the Playa del Rey (it isn't).
There they stood - with nothing but barren sand dunes and a few jackrabbits as far as we could see - like a pair of sentinels guarding the gates to Mazatlan's future.
Over the coming years, our hosts said, dozens of luxurious hotels would pop up along the golden sands of the new resort strip. And there'd be championship golf courses, tennis courts, convention centers, discos, shopping malls and even a huge marina.
The Zona Dorada, they predicted, would rake in more riches - in tourism dollars - than the early Spanish mines in these parts.
A Dream Really Comes True
I'm not privy to the cash, but our hosts' visions - frankly, we thought they'd been smoking something at the time -- were right on the money. Look down the beaches today and you'll see mile after mile of tropical palaces, all told with a whopping 13,000 rooms.
And sure enough, a little inland you'll spot the shopping malls, the golf courses, a 300,000-sq.-ft. convention center, not one but several marinas and all the other tourism lures conjured up nearly a half-century ago. What's more, a third of a million passengers are expected to pour off the gangplanks of 110 cruiseliners slated to stop here this winter.
Meanwhile, the city's once-seedy downtown area (about a 20-minute taxi ride from the hotel zone), has come a long way, too. Its crown jewel is a 180-block throwback to the elegance of Mazatlan's colonial era.
A walk through the historic district takes you past lovely tree-lined plazas, painstakingly restored homes and shops, an eye-popping cathedral, museums, art galleries, sidewalk cafes, jazz clubs, boutique hotels and what's billed as the only functioning opera house (originally built in 1869) along the Mexican Pacific.
Edging the district are a number of the city's original hotels, built in the 1920s and 1930s when word got out that Mazatlan was the place to go to land big gamefish like marlin, swordfish and sailfish - and, perhaps not coincidentally, when alcohol prohibition was on the books (1920-1933) north of the border. "There were speakeasies (illegal bars) all over the States, but the law was a great excuse for movie stars to hop on their yachts and sail down here to get a drink," we were told on our fam trip by Gilberto Limon, Mazatlan's legendary public relations man.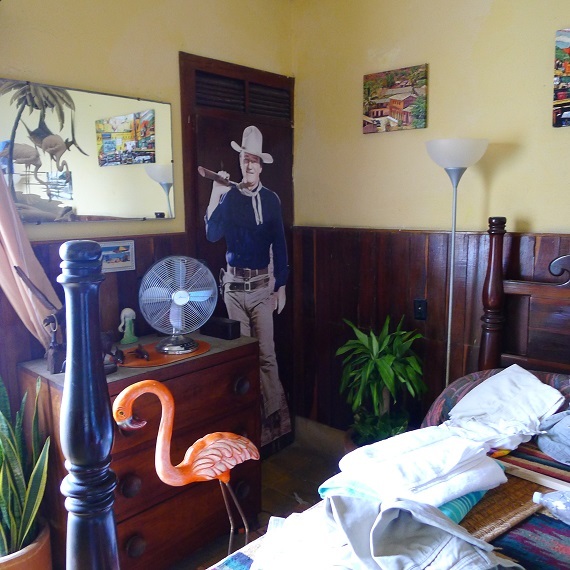 Current occupant rents John Wayne's room at the Belmar Hotel in Mazatlan's downtown pre-Zona Dorada area.
Well, the folks who conjured up the Zona Dorada had their dreams come true there and in later developments up the coast. Downtown continues to blossom. Air West and Mohawk got gobbled up by bigger airlines. And I went on to public relations posts with a bunch of other airlines. I retired from Denver-based Frontier Airlines about a dozen years ago, and I now dabble in travel writing.

All photos by Bob Schulman.