In the months since Sen. Mazie Hirono (D-Hawaii) was diagnosed with stage 4 cancer, her crusade to save the Affordable Care Act has only intensified.
Doctors discovered the cancer in May and removed Hirono's right kidney soon after. Weeks later, the 69-year-old underwent another surgery to have a lesion removed from one of her ribs ― but not before delivering a stern warning to her colleagues on the Senate floor.
"Trumpcare would be a disaster to the American people, and we're fighting it tooth and nail," Hirono said in June. "Tomorrow I'm going into surgery to remove the lesion I have on my rib, but I'm going to be back as quickly as I can to keep up the fight against this mean, ugly bill."
True to her word, Hirono hasn't backed down.
On Tuesday, she made her way to Capitol Hill to vote against a Senate health care bill seeking to advance the repeal of the Obama-era legislation. Vice President Mike Pence cast the tiebreaking 51st vote in favor of the bill.
Minutes later, Hirono was on the steps of the Capitol.
"It's personal, gosh darn it," Hirono told a crowd of people protesting the bill's passage. "I am the poster child, along with John McCain, frankly, for the proposition that we are all only one diagnosis away from a major illness."
Sen. John McCain (R-Ariz.), who was diagnosed with brain cancer last week after undergoing eye surgery, was greeted with a standing ovation on the Senate floor Tuesday. McCain voted with his party to advance a bill that would strip millions of Americans of their health insurance.
Standing next to Sen. Elizabeth Warren (D-Mass.), Hirono said she's doing "fine" ― thanks in large part to the kind of treatment and health care that many Americans could lose if the ACA is repealed.
"Some of you may know that, in the last three months, I found out that I have stage 4 kidney cancer," Hirono said. "Boy, that really threw me for a loop."
"The great thing was, I had health care, so I wasn't sitting there worrying about how the heck I was going to pay for the care that I needed," she continued. "I could concentrate on the kind of care that would make me well and keep me here on the steps on the Capitol to fight with you guys, because this is going to be for the long haul."
The contrast between Hirono and McCain, and between their respective stances on health care, hasn't been lost on some.
"Senator Hirono is recovering from her second surgery for stage 4 kidney cancer," Facebook user Jim Becker wrote in a post Tuesday that has since gone viral. "She showed up today and voted to protect the health insurance of 20+ million people."
"Real heroes walk their talk and honor their professed values when it actually matters," he added.
Becker's post prompted Twitter users to praise Hirono as a "hero" and a "warrior."
"This is going to be a long fight," Hirono told the protesters Tuesday. "But there are fights worth fighting for, and this is one of them, because it affects every single one of us."
Before You Go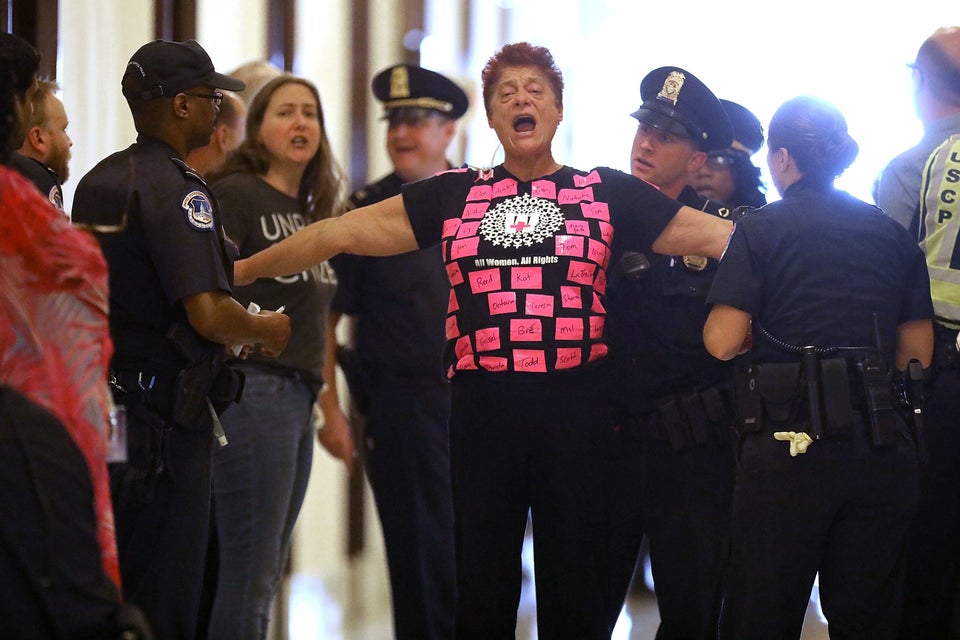 Health Care Protests At U.S. Capitol
Popular in the Community