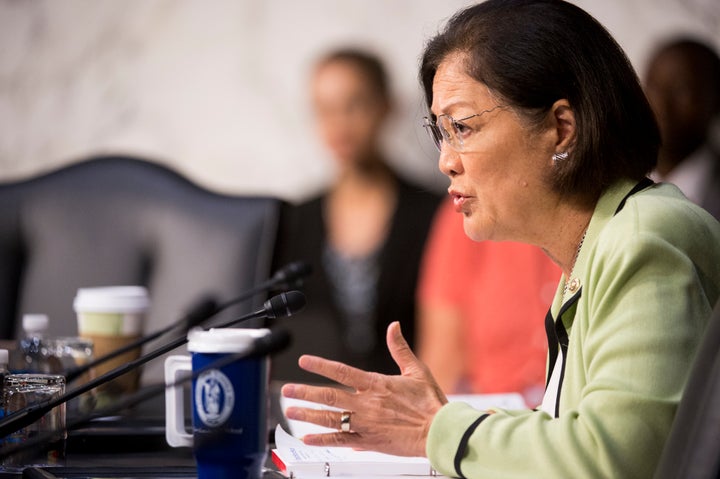 WASHINGTON ― For the past seven months, Sen. Mazie Hirono (D-Hawaii) has been asking President Donald Trump's nominees the same two questions.
"Since you became a legal adult, have you ever made unwanted requests for sexual favors or committed any verbal or physical harassment or assault of a sexual nature?"
"Have you ever faced discipline or entered into a settlement related to this kind of conduct?"
It's how she starts off her questioning in every confirmation hearing she sits through for the five Senate committees she's on. She's asked nominees to top defense and energy department jobs. She's asked dozens of people nominated to be federal judges. She recently asked the secretary of veterans affairs, Robert Wilkie. "Never," he replied.
By HuffPost's count, Hirono has posed her questions to nearly 100 nominees since she began asking in January. Each of these nominees is under oath, on camera and often has their spouse and children sitting behind them in the audience.
It's pretty awkward. But not for the Democratic senator.
"Not anymore," she said in a recent sit-down in her Senate office. "The questions have never been asked before. And why is that? Because it would take a woman to ask questions like that, I would say."
Here's Hirono in April asking the now-commanders of U.S. Pacific Command and U.S. Northern Command if they've ever sexually harassed anyone, right after Sen. Tom Cotton (R-Ark.) used his time to talk about Santa Claus.
The Hawaii Democrat said she decided to make the issue a priority because of the Me Too movement, as she saw "every potential" for Congress to ignore the wave of people coming forward about being sexually harassed or assaulted by powerful leaders in Hollywood, in media and, yes, in government.
Has anyone ever said yes to her questions?
"Of course not," she said with a weak laugh. She noted, though, that it's a federal crime to lie under oath to a U.S. senator.
Hirono plans to bring up the issue soon with a high-profile nominee: Brett Kavanaugh, Trump's Supreme Court pick. The Senate Judiciary Committee, which she sits on, is expected to hold his confirmation hearing next month.
"I think it's a legitimate area of inquiry," she said. "It's something that will get asked."
Kavanaugh, who is currently a judge on the D.C. Circuit Court of Appeals, may get more questions on sexual harassment than most. Democrats have drawn attention to his decades-long relationship with former Judge Alex Kozinski, who abruptly retired last year after 15 women accused him of harassment. The two have remained close over the years and it's raised questions about what he knew about Kozinski's bad behavior.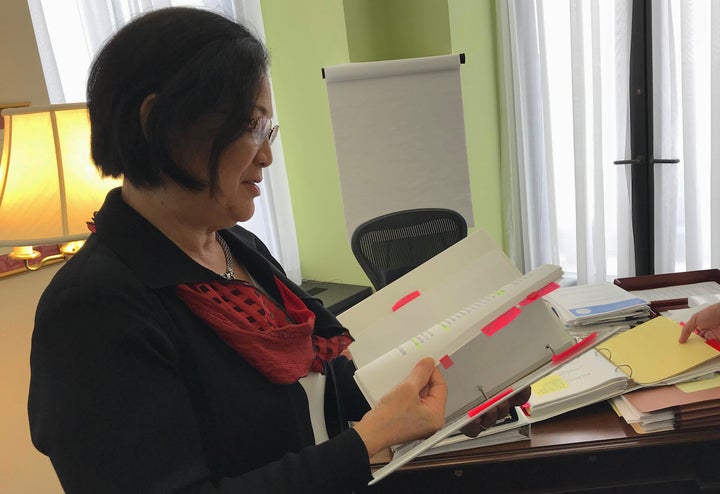 Hirono has other concerns about Kavanaugh, too. She's worried how he would rule on women's reproductive rights ― he once argued that it would be an undue burden on Catholic employers to fill out a form saying they did not want employees to get contraceptive coverage ― and on challenges to the Affordable Care Act. She said he also has a pattern of narrowly interpreting laws that regulate clean air and water.
The amount of preparation she's doing for the Supreme Court hearing was evident by the four large binders on her desk, each full of hundreds of pages of records on Kavanaugh. She's got tabs on dozens of pages and notes scribbled throughout. She started flipping through one of the binders to show all the notes she's been taking.
"What?? What the heck is that?" reads one message she wrote to herself.
Another page had a pink sticky note with one word on it: "What?!"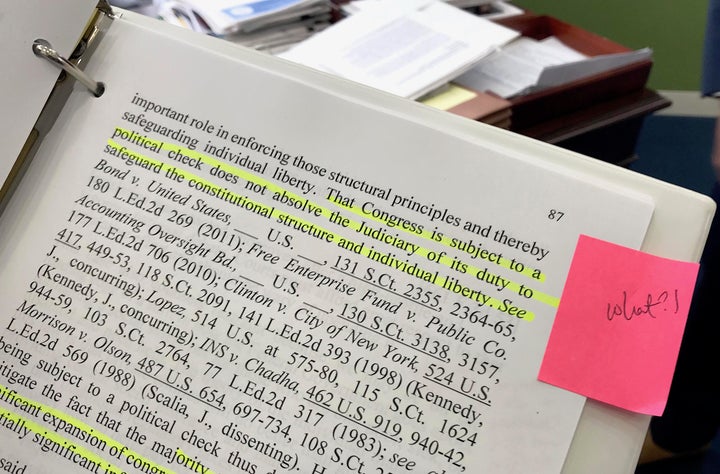 Hirono knows it is unlikely that Democrats can stop Kavanaugh's confirmation. Republicans are in the majority, and red-state Democrats up for re-election in November may end up supporting him.
But she said it's crucial that Democrats put up a big fight, if only to remind the public what they stand for.
"There are some battles that are worth fighting, regardless of the outcomes," said Hirono. "I'm hopeful the people in our country will realize these judges who are appointed for life are going to make decisions that affect their life every single day ― and that this is the lasting legacy of Trump."
Popular in the Community