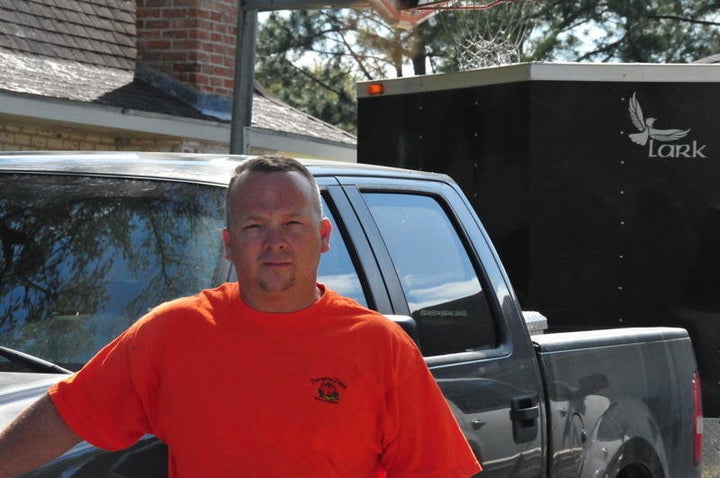 As part of our Bearing Witness 2.0 project, the Huffington Post is rounding up local stories of formerly middle-class families who are now struggling to stay afloat. If you or someone you know has a story to tell, please e-mail me at LBassett@huffingtonpost.com.
When Frank Harris completed his MBA degree in May of 2005, he never expected to end up mowing grass for a living. But after losing his $103,000-a-year upper management job at Lowe's, just as the job market was crashing in December 2008, he didn't see many other options.
"I thought the MBA would differentiate me from anyone else," said Harris, who lives with his wife and two children in Lafayette, Louisiana. "I thought if times got tough, I'd be able to find a job or have an advantage to get out the retail industry. Every weekend, every holiday, it was a rougher life than I wanted to have. I wanted to be able to spend more time with my young family. But here we are, December would be two years down the road, and the only thing I've been able to do is continue to grow my little one-man grass cutting business."
Harris says he currently has 36 customers and counting, which, combined with his wife's teacher salary, is enough to pay the bills and take care of their kids. But he works long, odd hours, and his job stability is often dependent on the weather and the season.
"I work part-time in the mornings for a packaging company and make a little money there, particularly through the fall when there isn't as much grass to cut. Thank God for the time change, because now I can work until dark at least. Then I get home, take a shower, plop down in front of the computer and fill out as many job applications as I can."
Harris' wife Angela, who stayed home to raise the kids when he was making enough money to support them both, has gone back to work as a special education teacher to supplement his income and provide the family with health benefits. She also teaches in an after-school program and works as an occasional server and bartender for a friend's catering company. The Harrises now have six jobs between them, compared to the one Frank had before.
"I am completely exhausted, physically and emotionally," Angela said. "Frank is doing the best he can to be the provider of our family, but he has his emotional ups and downs to deal with too. It is extremely hard to remain positive when you are an experienced and proven man with an MBA and you can't even get an interview."
Frank, who now makes about $45,000 a year mowing grass, says he doesn't mind the job itself -- his clients have been very respectful to him, and one of them even helped him overhaul his resumé. The hardest part about his job, he says, is not having as much time for his kids.
"That's been the biggest change, the difficult part. My daughter Hayley had a dance recital and I wasn't able to go. We needed the work, the money. In the past I had a little flexibility to take a long lunch to see the recital, but I can't do that anymore. At least she understands it better than my son -- Hayden is four, and every time he sees me putting on my jeans, he's like, 'Daddy, are you leaving again?' It pulls at my heart strings a little. But we have to do what we have to do."
Angela Harris says the hardships they have endured have only made their marriage stronger.

"I encourage Frank daily, as he is working very hard to earn a living for us, even if he is not utilizing that expensive college education or all those years of hard work climbing the corporate ladder. He comes home extremely tired, scraped, burned, bruised, and sore, seven days a week. I can't see how beat up his heart and pride are, but I know he has had some pretty low days that only God could have gotten him through. Our marriage suffered at first, but it is now stronger than ever as we have learned to rely on each other, understand each other and accept each other for our individual strengths and weaknesses."
Frank Harris remains positive as well, despite all the lifestyle changes he and his wife have had to adjust to. "I'm just fortunate in the fact that I can still physically do this and tolerate the heat and have the skill set to do handyman stuff that will pay the bills," he said. "I know I won't be able to do it forever."

Calling all HuffPost superfans!
Sign up for membership to become a founding member and help shape HuffPost's next chapter