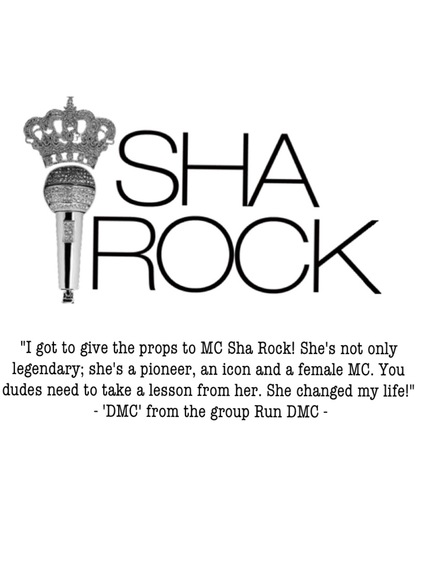 November is Hip-Hop History Month! As we all know, there is no such thing as history without a pioneering woman. Words cannot express the admiration I have for MC Sha-Rock from the '70s Hip-Hop group Funky Four Plus One More, for giving women a public voice back then in such a male-dominated culture. She was the first female emcee to record in an all-male Hip-Hop group.
I remember the first time I heard MC Sha-Rock. I'm digging in the crates of my youth and the culture of what's now called Hip-Hop. The culture takes me back to days of jumping double-dutch in the James Monroe projects in the South Bronx, where not only your friends jumped rope, but your moms and aunts jumped with you. My nostalgia of the culture makes me feel the stinging of getting my ears burned while getting my hair "pressed" by my auntie during a hot-combing session. It reminds me of 10-cent Now and Laters hard candy. The '70s was about watching Good Times and The Jeffersons on television, and relating to strong black men in both situations.
This was when housing projects were mostly occupied by the working middle class, living in working communities, and supporting a working family structure. This was before the crack epidemic of the '80s where urban housings projects began to become a dimmer reality that still exists to this day. This was back when the benches in the projects were where you heard the neighborhood news and all the new music. These were the formative times within Hip-Hop, and the culture was always represented at the jams in the parks, usually centered within housing projects. This was the South Bronx, home of the culture of Hip-Hop.
So one day, on my park bench in the projects, was the news of the day: there was a female rapping on a song with four dudes. Really?! I mean, we all knew "Rappers Delight", which was all dudes, and I heard Lady B -- the first female emcee solo artist on vinyl. But a female rapping with four other dudes? How did she get down with this? How come I wasn't on the track? (Maybe because I was only 9 years old.) Regardless, I learned to spit the entire song "Rappin and Rocking The House" by Funky Four Plus One More, because of the amazing female emcee named Sha-Rock. I would sing her verse in front of my mirror. When we played superheroes and the other girls wanted to be Wonder Woman or The Bionic Woman, I always wanted to be MC Sha-Rock or Pam Grier. Sha-Rock made me feel like I had a voice, and I could and would be heard. Being a 9-year-old, nappy-headed girl from the projects, a voice was what I needed. (Please, no comments about the word "nappy" to describe hair. This was the '70s when this was the only word black folks used to describe what I had, and I'm proud of it.)
This female emcee who made history back in '79 made me feel like I could do anything! So without any further delay, please give it up for my interview with the amazing MC Sha-Rock!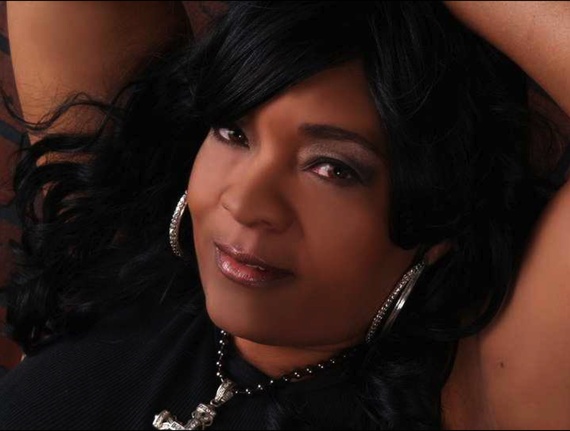 What is your history with the culture (before it was named Hip-Hop)? And what was your favorite or most memorable moment with Funky Four Plus One More?
I started as a straight up B-girl, carrying records to the parties, and my presence elevated from there. I just want everyone to know my official title: I am the First Female of Hip-Hop Culture. My favorite Hip-Hop history moment within my group, Funky Four Plus One More, was when we made history on February 14, 1981. We became the first Hip-Hop group ever to appear on national television. We appeared on Saturday Night Live, hosted by Deborah Harry from the band Blondie. At the time we were on The Sugar Hill Records label, and hanging out downtown at the punk rock music clubs. Fab-Five Freddy brought Deborah Harry to hear our show, and she liked us. She also liked our label mates, Grandmaster Flash and the Furious Five, but she chose our group because we had a female, and she wanted the world to experience this.
There is so much respect for you within the Hip-Hop community and culture. Can you tell us about some of the admiration you receive?

I think the first time I really realized it on a big level was when VH-1 honored The Beastie Boys, and they said that Funky Four Plus One More inspired them. I remember them from back in the club days when we would perform and they would be in the audience. Also, DMC from the Hip-Hop group Run DMC told me that when they were recording their album Tougher than Leather, he told Jam Master Jay that he wanted to sound like Sha-Rock on the echo chamber. I was known for having the reverb on my voice. It means a lot for someone of that stature (multi-selling platinum group) to admit that a female inspired them. Even Sean "Diddy" Combs was quoted as saying he was in love with my voice, and the way that I rhymed was mind-blowing.
In your opinion, what time period was the biggest evolution in Hip-Hop music?

Well, I'm from the beginning, so of course I stress the relevance of that time period. But I tend to think it was the '80s when it became more universal and Hip Hop started traveling overseas -- especially with Africa Bambaataa and The Zulu Nation bringing forth the elements of peace, unity, love, and having fun. The world was able to not just listen but experience Hip-Hop culture within their own culture.

What are you currently doing within the culture of Hip-Hop?
I was recently appointed a position as a National Advisor for the Cornell University Hip-Hop Library. I'm also currently planning a tour with other quintessential women in early Hip-Hop, such as Queen Lisa Lee, Roxanne Shanté, Jazzy Joyce, and many others. The repertoire of artists keeps being updated, so you can check in on the site: Real Queens of Hip-Hop

For more information on the first female of Hip-Hop culture MC Sha-Rock, please visit www.mcsharockonline.com
Calling all HuffPost superfans!
Sign up for membership to become a founding member and help shape HuffPost's next chapter