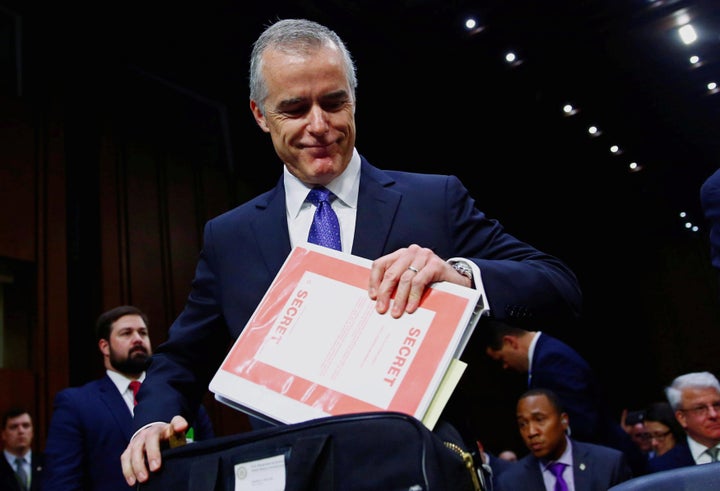 Republicans on the House Judiciary Committee are preparing to subpoena the Justice Department for memos penned by Andrew McCabe, the FBI deputy director fired earlier this year for his handling of the Hillary Clinton email probe, according to multiple reports. The subpoena could be issued as soon as Thursday.
Committee rules dictate the minority be given two days' notice before a subpoena is served. Committee Chairman Bob Goodlatte (R-Va.) confirmed to Politico that "he intends to issue the subpoena after the waiting period elapses."
The decision to subpoena the McCabe memos follows a bombshell New York Times report published Friday that said Deputy Attorney General Rod Rosenstein had considered making covert recordings of President Donald Trump in the White House. The paper said Rosenstein had also discussed invoking the 25th Amendment to remove the president from office. 
The Times said sources for the article had been "briefed on the events themselves or on memos written by FBI officials," including ones penned by McCabe.
Rosenstein criticized the article as "inaccurate and factually incorrect."
"I will not further comment on a story based on anonymous sources who are obviously biased against the department and are advancing their own personal agenda," he said. "But let me be clear about this: Based on my personal dealings with the president, there is no basis to invoke the 25th Amendment."
Some House Republicans have called for Rosenstein, who is in charge of the special counsel's Russia investigation, to testify under oath. The conservative House Freedom Caucus issued a formal call on Tuesday for Rosenstein to either testify or resign. 
McCabe, who was fired from the FBI just days before his retirement date, supposedly for lying about the Clinton email investigation, has neither confirmed nor refuted the Times' article, saying only that he did not leak his memos to the media and that he had no clue as to how the press obtained them. 
Republican lawmakers have been demanding for months to see McCabe's memos, which were turned over to special counsel Robert Mueller for his investigation into Russian interference in the 2016 presidential election. The Justice Department, however, denied a request over the summer to release the memos to congressional Republicans, citing an ongoing investigation.
"Give us the McCabe memos — I asked for those back in July in the meeting with the Justice Department," Rep. Jim Jordan (R-Ohio) told The Washington Post on Monday.
Jordan added, however, that he didn't "know how accurate they are" or if McCabe could be trusted. 
Calling all HuffPost superfans!
Sign up for membership to become a founding member and help shape HuffPost's next chapter
BEFORE YOU GO