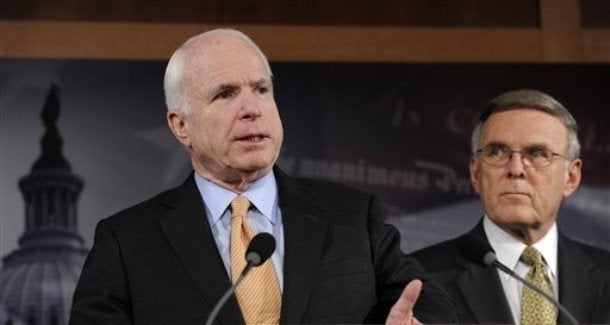 Sen. John McCain now appears to oppose climate-change legislation, an abrupt switch that could seriously threaten any movement on such a bill.
"Nearly 1000 page Climate Change legislation -- appears to be a cap & tax bill that I won't support," McCain wrote in a Twitter message Monday, a reversal of the position he took on the Senate floor in March.
Two months ago, McCain and his close friend Sen. Lindsey Graham, the South Carolina Republican, took the floor in strong support of climate-change legislation. This marked a return to form for McCain, who co-sponsored a 2002 climate-change bill with longtime friend Sen. Joseph Lieberman (I-Conn.), but had tamped down his rhetoric during the 2008 presidential campaign.
"Let me just say to my colleagues, I'm proud of my record on climate change," McCain said in March. "I've been all over the world and I've seen climate change, and I know it's real, and I'll be glad to continue this debate with my colleagues and people who don't agree with that."
Though he stressed the need for investment in nuclear power and so-called 'clean coal' -- as well as bipartisanship rather than a budget-reconciliation process -- McCain lauded a prior cap-and-trade system dealing with acid rain, which is often cited as a model for climate-change law.
"I believe that what we did in addressing acid rain, which was through a cap-and-trade kind of dynamic, that we were able to largely eliminate the problem of acid rain in America," McCain said. "So it has been done before and we can do it again."
Without McCain's help, however, a new climate-change bill seems unlikely to gain the necessary bipartisan support.
McCain's Senate office did not immediately respond to a request for comment.
Reporting contributed by Ryan Grim
Popular in the Community