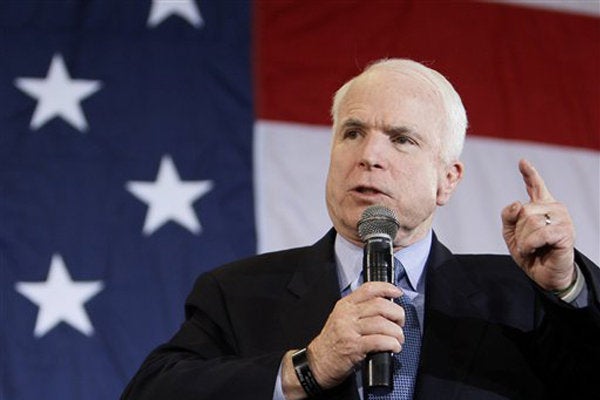 On the eve of the Florida Republican primary, Sen. John McCain launched a robo-call campaign attacking his rival Mitt Romney that some gay rights groups say amounts to gay baiting.
The call, which comes at the end of a hotly contested election that could very well determine the GOP nominee, reads as follows [emphasis added]:
"Mitt Romney thinks he can fool us. He supported abortion on demand, even allowed a law mandating taxpayer-funding for abortion. He says he changed his mind, but he still hasn't changed the law. He told gay organizers in Massachusetts he would be a stronger advocate for special rights than even Ted Kennedy. Now, it's something different."
According to The Atlantic's Marc Ambinder, the robo-call was pulled on Tuesday.
In 1994, Romney did write a letter to the state's Log Cabin Club -- a gay Republican group -- promising to be a stronger advocate for gays than Kennedy. Romney was challenging Kennedy for his U.S. Senate seat.
But the timing of the robo-call -- launched the day before the all-important primary -- and the tone -- specifically the reference to "special rights" of homosexuals -- has raised concerns and suspicion.
"It's ironic that Sen. John McCain is using the same tactics that George Bush used against him in 2000; surreptitiously trying to exploit anti-gay prejudice for votes," said Human Rights Campaign President Joe Solmonese. "So much for John McCain being above that."
"I think this is definitely an attempt at gay baiting," added Jon Hoadley, executive director of the National Stonewall Democrats.
According to many in the community, the robo call hit is not simply a timely attempt to scare voters away from Romney, but a reflection of McCain's true colors on social issues.
"Sometimes McCain gets a pass because he wasn't a staunch supporter of the federal marriage amendment," said Hoadley. "But he showed his true colors when he campaigned...to pass the marriage ban in Arizona." (McCain starred in two television advertisements supporting the ban.) "When the community is looking at McCain, they need to look at the true record he was adamantly opposed to one of the groundbreaking victories in 2006," Hoadley said.
McCain last year opposed hate crimes legislation that would have covered gays and lesbians, and he has vocally supported the "Don't Ask Don't Tell" ban on gays in the military. In a statement last May, McCain said "the national security of the United States" would be "put at grave risk" if homosexuality was openly expressed in the military.
McCain's supporters acknowledge that while he hasn't always been the most progressive senator on gay and lesbian issues, they say that at least there is consistency in his stance (as opposed to Romney). And they argue that his statement about Romney's position was factual, not incendiary.
"That is not gay baiting that is a statement of fact. I know people who worked for Romney during the campaign and left in disgust... because he reversed himself during the campaign," former Arizona Congressman Jim Kolbe, a gay Republican and a McCain supporter, told the Huffington Post. "Now I disagree with John on some of the [social] issue but at least he has been straightforward and consistent."
In fact, McCain's positions have not been entirely consistent. In 2004, he said he would not support a constitutional ban on gay marriage, calling it "antithetical in every way to the core philosophy of Republicans." Two years later, McCain told televangelist Jerry Falwell that he would back a constitutional ban if state laws prohibiting gay marriage failed.
Popular in the Community