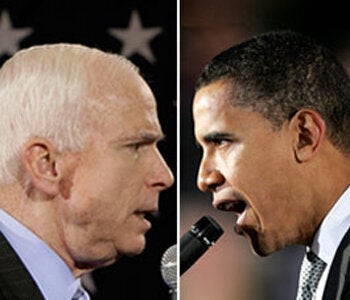 Make that a "slutty dumb blonde" joke.
Much has been written about John McCain's latest television ad -- the one that compares Barack Obama to Britney Spears and Paris Hilton -- in the less-than- 24 hours since it was unveiled. (Click here for Greg Sargent's assessment.) But missing so far from the commentary is a rap against the sexism that imbues the ad's message.
Over images of Hilton and Spears interspliced with those of Obama's Berlin speech before hundreds of thousands adoring Europeans, the narrator asks, "He's the biggest celebrity in the world. But is he ready to lead?"
The sound of a large crowd chanting Obama's name is dialed up -- fast becoming a trademark of McCain's TV ads. Perhaps he hopes swing voters and "hard-working white people" will be frightened by the thought of a mob chanting a foreign-sounding name.
Now, one thing this world has no shortage of is big celebrities. Some of them are men -- Republican men, even. Some of them are intelligent women who are not blonde, and who are certain to wear panties in public. But using Arnold Schwarzenegger and Oprah Winfrey in place of Paris and Britney would hardly have made the point that the McCain folks are clearly trying to make: that the elegant Obama, described as fussy by one McCain aide, by virtue of his celebrity, is just like female celebrities, who are, of course, slutty, stupid or mentally disturbed.
I mean, for what else could a woman possibly get famous?
Ben Smith reports McCain aide Tucker Bounds' comments about Obama's reaction to the ad: "Like most celebrities, he reacts to fair criticism with a mix of fussiness and hysteria." Note that "hysteria" is a gendered term rooted in the Greek word for womb.
Speaking of famous blonde women -- perhaps the most famous woman in the world, and one with a giant brain -- Hillary Clinton will be keynoting, TPM reports, the second night of Democratic National Convention, the anniversary of women's suffrage. Good move!
REAL LIFE. REAL NEWS. REAL VOICES.
Help us tell more of the stories that matter from voices that too often remain unheard.