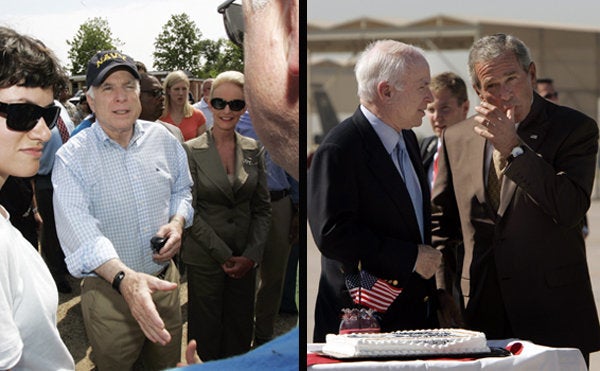 Lucky for GOP presidential candidate John McCain, The Associated Press has a report on his New Orleans visit that omits what he and his supporters have said about the city. McCain is in New Orleans on what he calls his forgotten areas tour.
John McCain toured still hurricane-damaged areas of New Orleans and declared that if the disaster had happened on his watch, he would have immediately landed his plane at the nearest Air Force base...

...McCain was unsparing in his criticism of the Bush administration. He said Congress must share some of the blame, too.

Drawing a sharp contrast to President Bush, McCain said he would have landed his plane "at the nearest Air Force Base and come over personally."
But on the day Hurricane Katrina actually ravaged New Orleans, Senator McCain wasn't far off from President Bush. In fact, the two were standing right next to each other. Check out the slideshow of the two celebrating McCain's birthday on the tarmac.
While traveling in New Orleans today, McCain told voters that such a disaster of government response "will never happen again in this country." And yet, the Democratic National Committee points out that McCain voted against relief measures for Katrina victims multiple times, as well as voting against an investigation into the failures of the government response. McCain also voted against providing additional funding for first responders' communication systems, despite claiming today:
We know that we had a situation where first responders were unable to communicate with each other. Where government agencies were getting information by watching cable television, rather than having a flow of information themselves.
As for solutions, John McCain told reporters he didn't know if he'd rebuild the lower 9th ward as president. "That is why we need to go back is to have a conversation about what to do -rebuild it, tear it down, you know, whatever it is," he said.
Pastor John Hagee -- whose endorsement Sen. John McCain (R-AZ) said this past Sunday he was "glad to have" -- told NPR's Terry Gross that "Hurricane Katrina was, in fact, the judgment of God against the city of New Orleans." "New Orleans had a level of sin that was offensive to God," Hagee said, because "there was to be a homosexual parade there on the Monday that the Katrina came."
McCain first dodged the issue of Hagee when he brought up by a New Orleans voter during a town hall. Watch here.
McCain later told reporters the comments were "nonsense" no less than eight times, despite saying this weekend that he still is glad to have Hagee's endorsement.
It's nonsense, it's nonsense, it's nonsense, it's nonsense, it's nonsense. I dont have anything additional to say. It's nonsense, it's nonsense, it's nonsense, I don't have anything more to say...it's nonsense. I reject it categorically.
McCain has still not rejected John Hagee's endorsement.
Popular in the Community