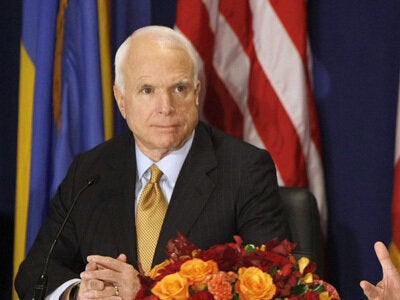 John McCain, losing ground as the economic crisis deepens, sought today to beat Barack Obama to the punch by suspending his campaign, postponing Friday's presidential debate, and calling for an emergency meeting between the President, congressional leaders and both nominees to produce legislation addressing the threat of a Wall Street collapse and a dangerous recession.
McCain's abrupt announcement, in an email sent out at 2:56 PM Wednesday, appeared designed to pre-empt Obama, who, according to aides, had already initiated efforts to seek a bipartisan solution. At 3:09 PM, just 14 minutes after the McCain email, Bill Burton of the Obama campaign sent out the following statement:
"At 8:30 this morning, Senator Obama called Senator McCain to ask him if he would join in issuing a joint statement outlining their shared principles and conditions for the Treasury proposal and urging Congress and the White House to act in a bipartisan manner to pass such a proposal. At 2:30 this afternoon, Senator McCain returned Senator Obama's call and agreed to join him in issuing such a statement. The two campaigns are currently working together on the details."
Later in the day, Obama rejected McCain's proposal to postpone the first debate. "This is exactly the time the American people need to hear from the person who in approximately 40 days will be responsible for dealing with this mess," Obama said. "What I've told the leadership in Congress is that if I can be helpful, then I am prepared to be anywhere, anytime. What I think is important is that we don't suddenly infuse Capitol Hill with presidential politics."
The contest to stand out as the stronger and more competent figure reflects the political imperative to appear equipped to grapple with the crisis facing the country. McCain's sudden pivot to a more sophisticated, statesman-like position demonstrates the Republican's awareness that his evident lack of intellectual comprehension over the past week, as well as his attempts to project 'populist' anger, were diminishing his stature.
In his statement, McCain suggested that he had initiated the emergency process: "I have spoken to Senator Obama and informed him of my decision and have asked him to join me."
Colby political scientist Sandy Maisel observes that, "If Obama in fact reached out first, as he claims, and then McCain turned it into a political issue, I cannot imagine how the people will not react negatively to McCain. If, on the other hand, McCain were to refute Obama's claim of an 8:30 phone call this morning, then McCain could look like a leader and presidential. My instinct is that this was a desperate move by McCain's staff to gain some traction from a situation in which he has clearly been slipping--and desperate moves rarely work."
Along similar lines, Sam Popkin, a political scientist at the University of California at San Diego, noted that canceling a presidential debate, as McCain is trying to do, can be seen as a sign of weakness. Popkin cited Jimmy Carter's cancellation of his debate against Teddy Kennedy in 1980, during the Iranian hostage crisis, as an example of a candidate trying to protect his flank in a hostile environment.
If there is a 'summit' meeting that produces two-party measures, a key political element of any conciliation will be the battle between McCain and Obama to define who is the 'leader' and who is the 'follower.' McCain's 2:56 PM email was the opening salvo.
Wednesday morning, the Washington Post reported: "Economic Fears Give Obama Clear Lead Over McCain in Poll." The Washington Post/ABC News survey, which gave Obama a 52-43 lead, found that: "Turmoil in the financial industry and growing pessimism about the economy have altered the shape of the presidential race, giving ...Obama the first clear lead of the general-election campaign... More voters trust Obama to deal with the economy, and he currently has a big edge as the candidate who is more in tune with the economic problems Americans now face."
The poll followed a growing chorus of criticism from the left and right of McCain's erratic response to the turmoil gripping Wall Street. On Tuesday, conservative columnist George F. Will wrote:
"Under the pressure of the financial crisis, one presidential candidate is behaving like a flustered rookie playing in a league too high. It is not Barack Obama." Will's column goes on to describe "McCain's fact-free slander," "McCain's Manichaean worldview," and McCain's approach to politics as "always operatic, pitting people who agree with him against those who are 'corrupt' or 'betray the public's trust,' two categories that seem to be exhaustive -- there are no other people."
And the decisively Republican Wall Street Journal opined: "In a crisis, voters want steady, calm leadership, not easy, misleading answers that will do nothing to help. Mr. McCain is sounding like a candidate searching for a political foil rather than a genuine solution. He'll never beat Mr. Obama by running as an angry populist like Al Gore, circa 2000."
In a striking admission to Tom Beres, a reporter for WKYC in Cleveland and Akron, McCain said yesterday that he had not read the three-page legislative proposal presented to Congress by the Treasury Department: "I have not had a chance to see it in writing. I have to examine it."
In his Wednesday 2:56 emailed statement, McCain declared:
"America this week faces an historic crisis in our financial system. We must pass legislation to address this crisis. If we do not, credit will dry up, with devastating consequences for our economy. People will no longer be able to buy homes and their life savings will be at stake. Businesses will not have enough money to pay their employees. If we do not act, ever corner of our country will be impacted. We cannot allow this to happen."
McCain then sought to place himself above partisan politics: "Tomorrow morning, I will suspend my campaign and return to Washington... I am calling on the President to convene a meeting with the leadership from both houses of Congress, including Senator Obama and myself. It is time for both parties to come together to solve this problem. We must meet as Americans, not as Democrats or Republicans, and we must meet until this crisis is resolved. I am directing my campaign to work with the Obama campaign and the commission on presidential debates to delay Friday night's debate until we have taken action to address this crisis."
McCain set a deadline on the talks, and he categorized the economic emergency as similar to the situation following the attacks on 9/11/2001:
"I am confident that before the markets open on Monday we can achieve consensus on legislation that will stabilize our financial markets, protect taxpayers and homeowners, and earn the confidence of the American people. All we must do to achieve this is temporarily set politics aside, and I am committed to doing so. Following September 11th, our national leaders came together at a time of crisis. We must show that kind of patriotism now. Americans across our country lament the fact that partisan divisions in Washington have prevented us from addressing our national challenges. Now is our chance to come together to prove that Washington is once again capable of leading this country."
Reviews of McCain's performance on the economy have not been kind:
"McCain seems to be floundering as he tries to escape the dead weight of the philosophy of his party, to which he has subscribed throughout his career. Theodore Roosevelt had a reputation as governor of NY of standing against the great corporations and the free-market rapaciousness they represented. I see little of that in McCain," said Bryan Jones, political scientist at the University of Texas.
Ohio Wesleyan government professor and Hoover Institution fellow Carl Pinkele noted: "Empirically, so far, the advantage is decidedly with Obama and the Dems generally. The news coverage to date suggests Obama is the 'cooler' under the recent pressures and seems to be more capable of handling risks without undue panic."
University of North Carolina sociologist Andrew J. Perrin contends: "I don't think either has been great, but Obama wins this round in my book. McCain is trying to re-fashion himself as an economic populist, which is going to be literally impossible with anybody who heard of him more than three months ago."
Popular in the Community