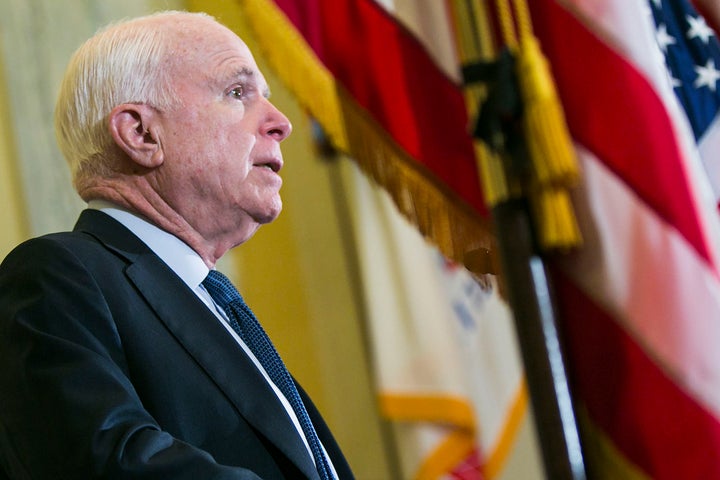 McCain, apparently interviewed in his office this week ahead of a July 4 trip to Pakistan, was asked by interviewer Moeed Pirzada whether the current president of Afghanistan, Ashraf Ghani, is too technocratic and isolated to deal with the resurgent Taliban and other threats in his country.
"Do you think Taliban are the only issue or is something else needed in Afghanistan?" Pirzada asked.
"I believe that I have to be very frank," McCain said, explaining that he believed Ghani, who took office in 2014, was a vast improvement on his predecessor, Hamid Karzai.
"I don't blame Ashraf Ghani. I blame the United States of America for not consolidating the gains that we made," McCain said. "And this president has this idea for the last eight years that if we pull out of conflicts, those conflicts end."
Obama did run on a platform of ending the military conflicts begun under President George W. Bush, and achieved his goal -- at least temporarily -- in Iraq. There are now U.S. troops in that country assisting efforts to contain the Islamic State militant group.
Obama announced last fall that he would keep thousands of U.S. troops in Afghanistan until at least 2017.
The interviewer's question was prompted at least in part by the latest issue of The New Yorker, which includes a long look at Ghani and his tendency to hole up in his headquarters with the bulk of his staff, rather than appearing in public. The suggestion from Pirzada was that perhaps the Afghan leader shares some blame for the failings in his nation.
McCain, however, went all in against Obama, saying the White House bears responsibility not only for Afghanistan's troubles but for the recent airport attack in Turkey as well.
"Let me give you an example of what just happened. In Istanbul, the rise of terrorism and a base for terrorism in a place called Raka [Syria, where the Islamic State is based], and that is now, that ISIS group is now establishing a beachhead. Guess where? Afghanistan," McCain said. "We see abject failure of American policy and no strategy. I don't blame Pakistan for that. I don't blame Ashraf Ghani for that. I blame this president of the United States, who is a failed leader."
McCain walked back his Orlando comments to some extent after he made them, but still insisted that Obama's policies led to the June 12 massacre at the Pulse nightclub.
UPDATE: 6:30 p.m. -- The campaign of McCain's opponent in this year's Senate race, U.S. Rep. Ann Kirkpatrick (D-Ariz.), denounced the senior senator on Friday.
"Arizonans should be shocked and appalled that McCain would go to the foreign press and 'blame the United States of America' for Taliban gains in Afghanistan. These reckless, insulting comments have become commonplace for John McCain because he's changed after 33 years in Washington," Kirkpatrick said in a statement. "McCain is all out of 'straight talk' because he cares more about trying to shift blame and saving his political career than focusing our efforts on keeping Americans safe."
Watch McCain's interview with Pirzada below.
Popular in the Community