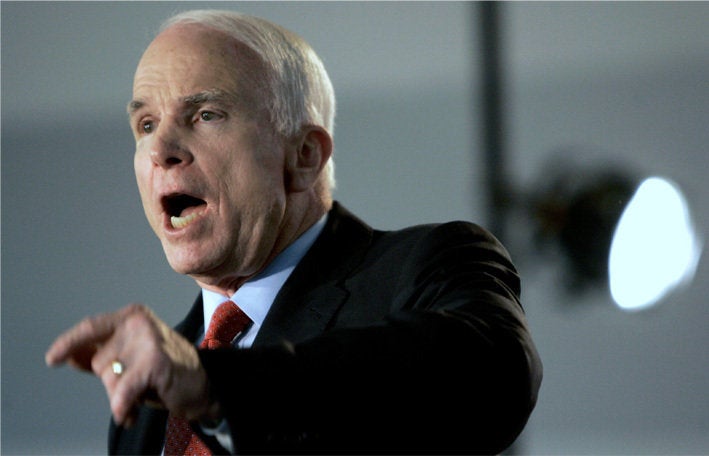 Sen. John McCain promises that, as president, he would "cut taxes and balance the budget." But his current economic plan would create deficits as deep as 5.7% of GDP by the end of a two term presidency -- the highest federal budget deficit in 25 years -- and would accumulate the biggest debt since the second World War, according to a new analysis by the Center for American Progress Action Fund. McCain's current fiscal plan would recklessly exacerbate the fiscal irresponsibility of the Bush Administration further by gutting revenues far below the average level of the past 25 years.
For the past 25 years, deficits have never been more severe than 5% of GDP, with surpluses as high as 2.4% of GDP in the year 2000. Under McCain, yearly deficits would increase sharply, beginning with $505 billion in FY2009 (3.4% of GDP) and skyrocket to $1.2 trillion (5.7% of GDP) by FY2017. In 2018 these deficits would reach 6% of GDP, tied with the largest deficits since WW2 in 1983. Current Bush policies would keep the deficit in 2017 to $660 billion (3.1% of GDP).
Calling all HuffPost superfans!
Sign up for membership to become a founding member and help shape HuffPost's next chapter