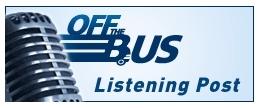 WHO
: Senator Mel Martinez (R-FL)
WHAT
: Press conference call to discuss John McCain's new ad "God's Children" and Immigration
WHEN
: Friday, July 11 at 11:00 a.m. EDT
SUMMARY
Sen. Mel Martinez (R-FL) highlighted Sen. John McCain's ties to the Latino community and his work on immigration reform as his discussed McCain's new ad, "God's Children." Martinez claimed that McCain fought for true immigration reform in the Senate whereas Sen. Barack Obama, at the behest of labor unions, submitted an amendment that would have killed the guest worker program in the bill. "Senator McCain valiantly fought the good fight at the height of the primary at whatever political risk it would bring," Martinez said of McCain's commitment to comprehensive immigration reform.
The above audio was recorded as part of the OffTheBus Listening Post project.
HOW TO SUBSCRIBE TO THIS FEATURE
A) Receive e-mail alerts about new uploads by clicking the "Get E-mail Alerts" link at the top of this post. B) Subscribe to the OffTheBus Listening Post podcast by plugging
http://www.gcast.com/u/OffTheBus/main.xml
into your RSS scraper, or the "Subscribe to Podcast" window under the "Advanced Menu" in iTunes. C) Check the
OffTheBus Listening Post Homepage
for a full directory of recordings: D) Sign up for our Listening Posts "OTBpresscasts" twitter feed.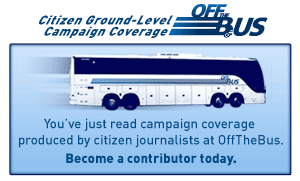 REAL LIFE. REAL NEWS. REAL VOICES.
Help us tell more of the stories that matter from voices that too often remain unheard.