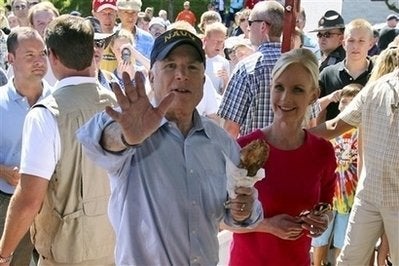 Not 90 minutes after Obama campaign manager David Plouffe made political hay out of John McCain's association with a deal that could cost over 8,000 Ohioans their jobs, the Arizona Republican's campaign whipped themselves into a fine lather of outrage.
On a Friday conference call organized to "discuss Barack Obama's attempt to politicize potential job losses in Wilmington, Ohio," McCain's campaign put Mary Houghtaling on the witness stand. Ms. Houghtaling, who had asked McCain whether he could do anything to stop a widely announced plan by shipping company DHL to abandon its Wilmington hub, received the following answer from McCain in July: "I gotta look you in the eye and give you straight talk. I don't know if I can stop it or not or if it will be stopped."
That response is now being used by Obama against the presumptive Republican nominee, given that McCain campaign manager Rick Davis's lobbying firm has been intricately involved with DHL in the past.
In response Friday, Houghtaling was furious at Obama over his campaign's radio ad, which she said was "politicizing" the tragedy happening to "our little town." She said her husband, a pilot, would likely lose his job as a result of DHL pulling up stakes.
"I am offended," she told a group of reporters on an afternoon conference call. "That [Obama] would use me under this situation, when I'm probably going to be looking at foreclosure. It's a shameful, horrible thing to do ... to promote him. It isn't fair, It's wrong."
Then, with a quavering voice that hinted at tears, Houghtaling said: "We don't need any more bad things in Wilmington. We just need to be happy in Wilmington for one weekend. Please take the ad down, Senator Obama."
Truly, a more sympathetic surrogate for the McCain campaign's position would be difficult to find. Though leveraging the pain of an economic victim in a partisan conference call inevitably carries a hint of politicization, as well. But as you might expect from campaign operatives, such self-awareness was not on the program.
In fact, to listen to McCain spokeswoman Nancy Pfotenhauer tell it, the campaign was not even engaged in negative campaigning. Seeking to paper over a factual slip made by Houghtaling -- who suggested that McCain had called for a hearing on DHL that Rep. John Conyers actually asked for -- the press aide said: "We're not running ads attacking Sen. Obama."
This occurred at approximately 4:45 pm, or 20 minutes after eagle-eyed reporters may have noticed a McCain campaign email that announced a new ... wait for it ... radio ad attacking Barack Obama on the economy. Entitled "Recipe," it includes the line: "If elected President, Obama's promises would mean even more taxes on income, electricity, oil, small business, seniors, your life savings, your family. Painful taxes when times are tough enough." (And as the Huffington Post reported yesterday, a leaked internal McCain memo described the campaign strategy to paint Obama as a "job-killing machine.")
Yes, politicizing the pain of average Americans' economic pain was an absolutely terrible, irresponsible nasty thing to do on a Friday afternoon.
Calling all HuffPost superfans!
Sign up for membership to become a founding member and help shape HuffPost's next chapter